Nike (NKE) reported blowout earnings Thursday after the bell and the market liked what it heard and saw, with the stock rising by 15% when it opened for trading on Friday. The company smashed all expectations and even guided higher, a combo that launched it to an all-time high.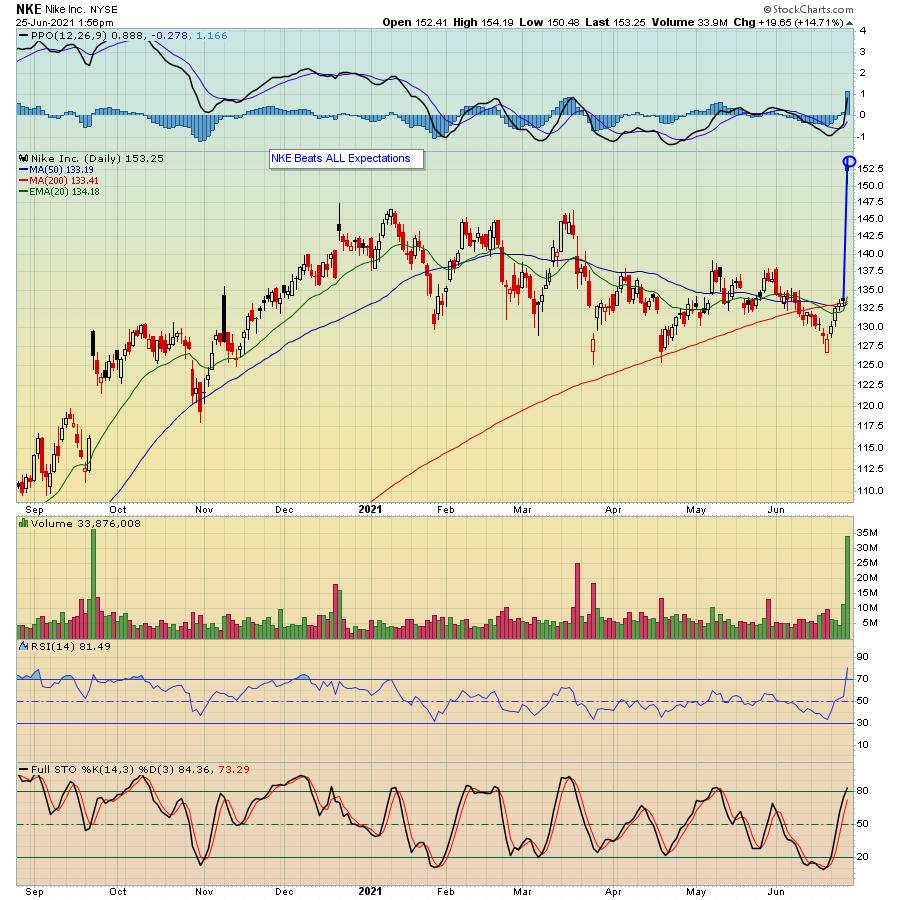 Of course, there's no way of knowing what overall market earnings will look like when they start coming out in droves in just a few weeks. But with both the NASDAQ and S&P hitting record levels this past week, it shows that expectations are indeed high.
There's also no way of knowing how investors will react to a company's earnings report. For example, I've seen plenty of times where a company beat all expectations and the stock sold off on the news. Why? Maybe because investors had already factored in the possibility of strong results. And I've seen times when a company missed their numbers, but the stock rose after they reported. Why? Maybe because they raised their earnings forecast and the past became less important than the future.
Whatever the case, it makes sense to try to identify those companies with charts that might offer clues pertaining to their earnings -- i.e., which companies are showing characteristics that indicate they could beat expectations? In fact, our Chief Market Strategist Tom Bowley has created a ChartList -- our "Strong Future Earnings ChartList" -- that does just that. The list, which was just updated this past Friday, contains 234 companies that belong to strong industry groups and have SCTR scores greater than 80. These are companies that are favored by Wall Street, suggesting that perhaps we'll see better than expected quarterly revenues and earnings as we approach their respective earnings dates. And if you would like to see one of the companies on the list that Tom believes fits the bill, just click on this link to sign up for our FREE EarningsBeats Digest that comes out every M, W and F; Tom will reveal the stock in this Monday's Digest. In addition, Monday's Digest will provide readers with a full description of all of the powerful EarningsBeats ChartLists our members have access to, which helps them make smart, strategic trading decisions.
NKE shareholders were rewarded handsomely when the company beat all expectations. Identifying those companies that show promising charts ahead of their earnings could put you in a position to profit nicely.
At your service,
John Hopkins
EarningsBeats.com