After the 2011 top, gold entered a four-year bear market that trimmed nearly -50% off its value. In December 2015 the final price low was hit and gold subsequently rallied over +20%, making a new high in March of this year. Since then, it began a period of correction/consolidation, and there are now signs that that activity is coming to an end.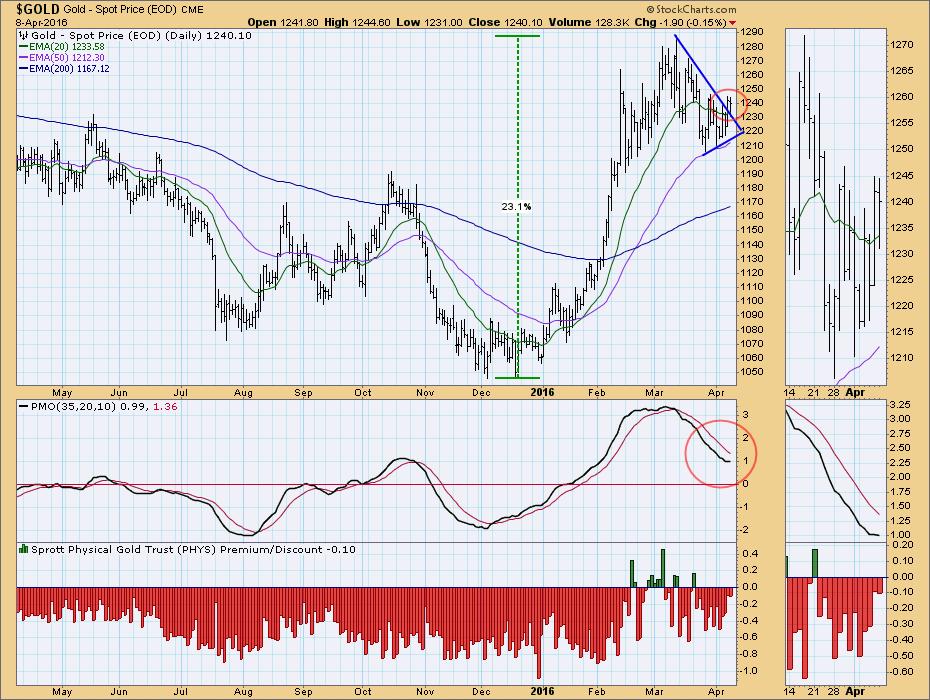 ---
It should be noted that, during the rally the 20EMA crossed up through the 50EMA, generating an Intermediate-Term Trend Model (ITTM) BUY signal, and then the 50EMA crossed up through the 200EMA, generating a Long-Term Trend Model (LTTM) BUY signal. This has created a very bullish climate for gold, and other bullish signals will be more reliable (but by no means perfect) than if gold were in a bear market.
Last week we saw two promising signs: (1) price broke above a short-term declining tops line, and (2) the PMO is very close to turning up. In our reports a short-term PMO BUY signal occurs when the PMO crosses up through its signal line; however, an even shorter-term BUY signal is when the PMO turns up. We don't track these direction changes because they happen too frequently, but with certain PMO configurations a PMO change of direction can be worth our attention.
On the above chart the PMO has fairly smooth descent from its March top. If a smooth clean bottom forms, it will be the first clue that a new rally could be beginning, and it would give us an additional technical justification to consider opening long positions in gold.
Well, those are some of the positive things with this situation. What can we see that is not so positive? Most obvious, the PMO has not retreated below the zero line to where it could have bottomed in oversold territory, a more preferable scenario; however, it was very overbought and it has sufficiently relieved that condition. Otherwise we are looking for the PMO to bottom, then cross up through the signal line, similar to what it did in August and December.
CONCLUSION: Gold is in a bull market, and it is possible that we are watching a setup for the next up leg of the bull market rally. The critical next ingredient, in my opinion, is the impending PMO bottom, the shortest-term indication we would use to consider opening new long positions. After the PMO bottom, we would look for a confirmation, which would be given when the PMO crosses up through the signal line. Please keep in mind that these are observations, not a recommendation to take any specific action.
---
Technical analysis is a windsock, not a crystal ball.