An oversold rally began on Monday, when a Clinton win was assumed to be in the bag. Early Wednesday morning a Trump win was obvious, and the futures markets went crazy with panic -- at one point the Dow futures were down almost -800 points in pre-market trading -- but by Wednesday's market open, things had settled down. Before the close, price had broken out of the declining trend channel on a huge advance. On Thursday SPY approached but failed to exceed the previous all-time high, and on Friday it pulled back to support, presumably in preparation for another breakout attempt next week. Volume faded on Thursday (hinting at a pullback), then contracted even more on Friday when the pullback took place. All normal.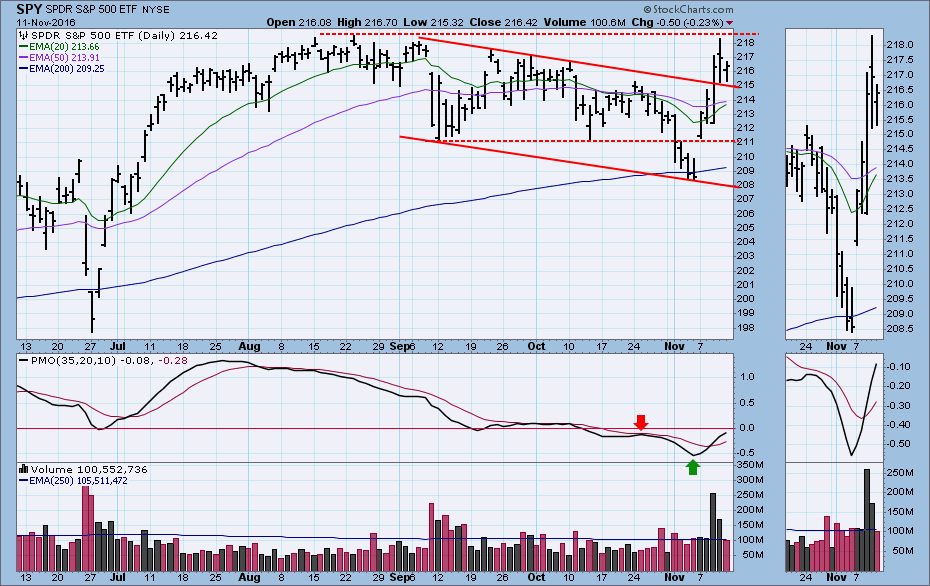 ---
When I see this kind of reversal and breakout, I am immediately interested in seeing how much strength is showing in ultra-short-term climactic indicators, which will show us how broad participation is. The chart below shows climactic activity with two indicators -- the CVI (OBV climaxes) and Participation-UP (price climaxes). As you can see, current readings fall short of the readings we saw at the rally launches in February and June.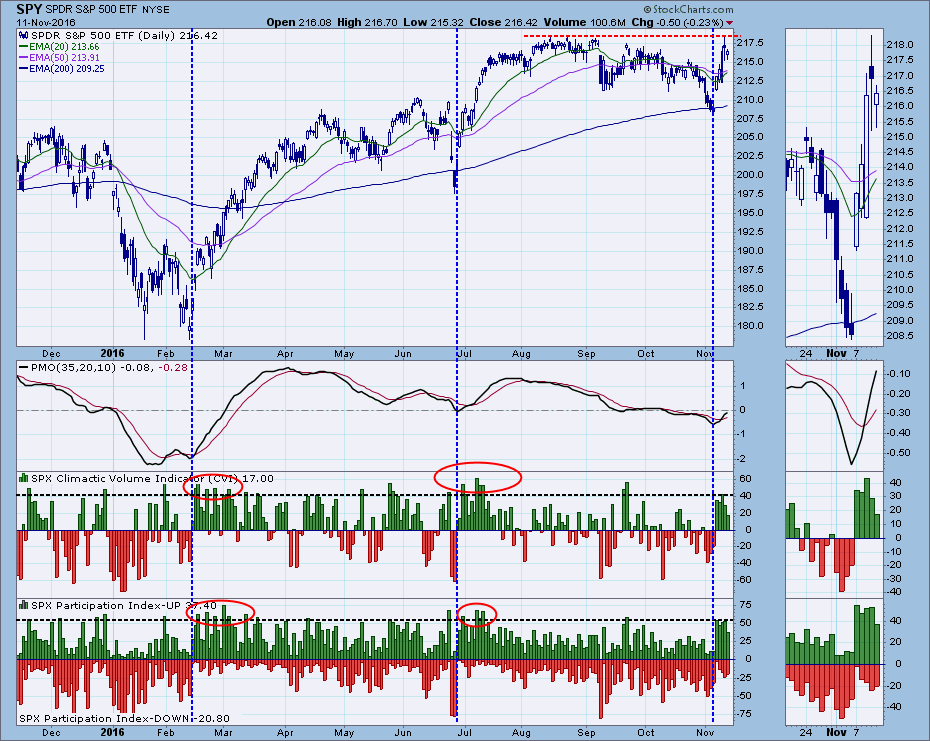 I should note that the Dow Industrials and the S&P 600 Small-Cap Index have broken out to new highs, but broader indexes have not. What happens with the S&P 500 will probably be typical of broader market results, so this is where I will stay focused.
CONCLUSION: So far, the stock market seems to be pleased with the results of our election. SPY broke out from a declining trend channel, tested overhead resistance, then pulled back on lower volume. This looks like a good setup for a break to record highs. The only problem I see is that short-term participation was a bit light when compared to rally launches earlier this year. This is not a major problem, but I would like to see it expand along with any price breakout.
---
The NEW DecisionPoint LIVE public ChartList has launched! Click on the link and you'll find webinar charts annotated just before the program. Additional "chart spotlights" will be included at the top of the list. Be sure and bookmark it!
---
Come check out the DecisionPoint Report with Erin Heim on Wednesdays and Fridays at 7:00p EST, a fast-paced 30-minute review of the current markets mid-week and week-end. The archives and registration links are on the Homepage under "Webinars".
---
Technical Analysis is a windsock, not a crystal ball.
Happy Charting!
- Carl