A little more than a week ago, CAMP broke trendline resistance after posting better than expected earnings results. CAMP's top line was $69.2 mil (actual) vs. $68.0 (estimate), while its bottom line also beat Wall Street estimates, $.29 vs. $.25. The breakout occurred on huge volume and after rising to nearly 22.00, RSI moved into VERY overbought territory above 80 as CAMP needed a breather technically to unwind. Over the past few days that's exactly what we've seen with CAMP's reward to risk from a long entry perspective greatly improving. The top of gap support resides at 18.75 and the rising 20 day EMA was at 18.69 at last check. Those two levels along with back test trendline support just above 19.00 should provide an entry zone for those that have been awaiting a pullback. Take a look at the current technical picture: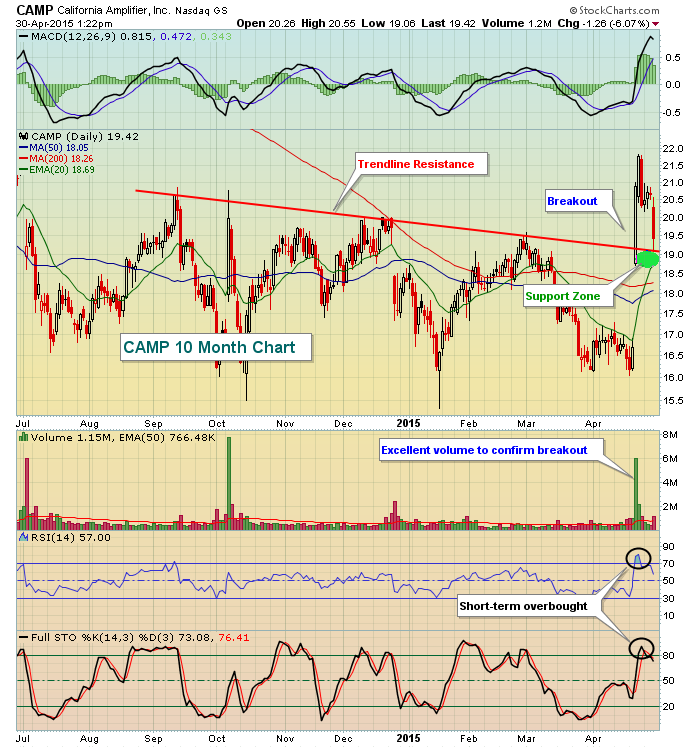 Happy trading!
Tom
About the author:
Tom Bowley
is the Chief Market Strategist of
EarningsBeats.com
, a company providing a research and educational platform for both investment professionals and individual investors. Tom writes a comprehensive Daily Market Report (DMR), providing guidance to EB.com members every day that the stock market is open. Tom has contributed technical expertise here at StockCharts.com since 2006 and has a fundamental background in public accounting as well, blending a unique skill set to approach the U.S. stock market.
Learn More