Selling pressure was quite intense on Tuesday as some 497 stocks in the S&P 500 declined on the day. This means there were only three winners on the day: CableVision (CVC), American Airlines (AAL) and Sigma-Aldrich (SIAL), which is going to be acquired by Merck. Cablevision, which is the green box on the MarketCarpet image, rose on news of a "content carriage" deal. American Airlines, which has an extremely pale green box, was up after an upgrade.
Overall, the stocks with the red boxes were down and showing weakness, while stocks with the white boxes held up better than the market and showed relative strength. Some of the white boxes have been highlighted with a blue circle. I am usually not interested in single stocks bucking the selling pressure. Instead, I am looking for strength in specific industry groups that may carry over in the coming days and weeks. And, of course, I did notice strength in one industry group within the industrials sector.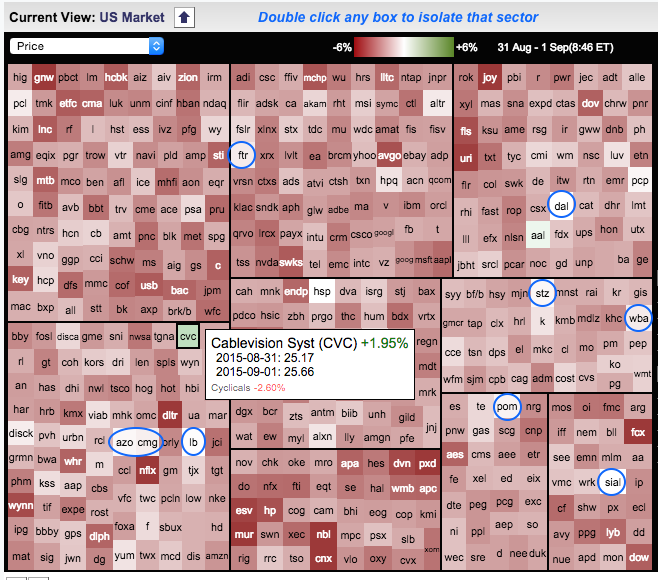 Click this image for a live MarketCarpet
---
Chartists can click on one of the squares in the MarketCarpet to expand on that particular sector. The chart below shows the industrials sector and three stocks in one industry group stand out: American Airlines (AAL), Delta Airlines (DAL) and Southwest Airlines (LUV). DAL and LUV stand out because they were down less than the broader market and showed relative strength within their sector. This tells me that airline stocks were holding up relatively well and these are some charts that merit further investigation.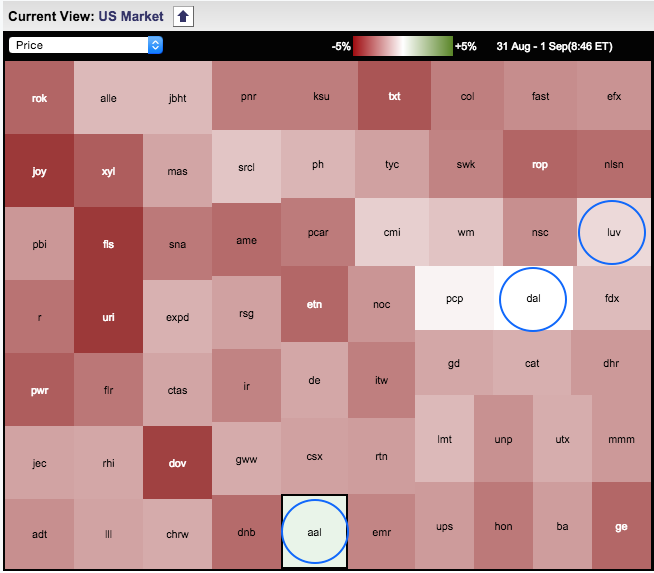 Click this image for a live MarketCarpet

*********************************************************
Thanks for tuning in and have a great day!
Arthur Hill CMT