Refiner stocks are showing relative strength and absolute strength. The table below shows nine refiner stocks from the Oil Refiners ETF (CRAK). Eight of the nine are part of our StockCharts Technical Rank (SCTR) universe and six of the nine have SCTRs above 90. Calumet (CLMT) is a small-cap stock that is not part of our SCTR universe for small-caps. CLMT, however, is challenging resistance on the price chart and a breakout would forge a 52-week high. Elsewhere, Phillips 66 (PSX) and Tesoro (TSO) hit 52-week highs today and show upside leadership.

---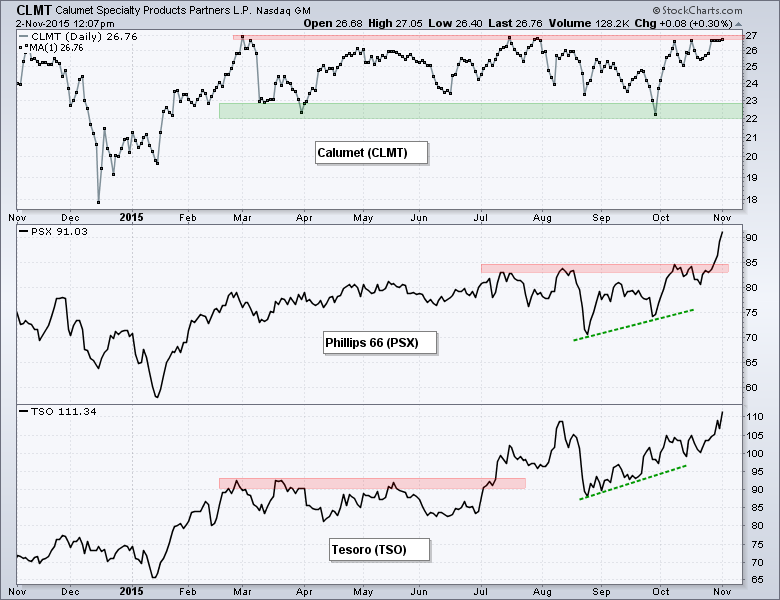 The Market Vectors Oil Refiners ETF (CRAK) has a short trading history, but it is a bullish history because the ETF is close to a new high today. The ETF has over two dozen stocks from all over the world. Five of the top ten stocks come from the US and these five stocks account for over 30% of the ETF. Admittedly, CRAK is thinly traded and not ideal for trading. Nevertheless, it represents the refining group quite well and chartists can use it as an industry benchmark.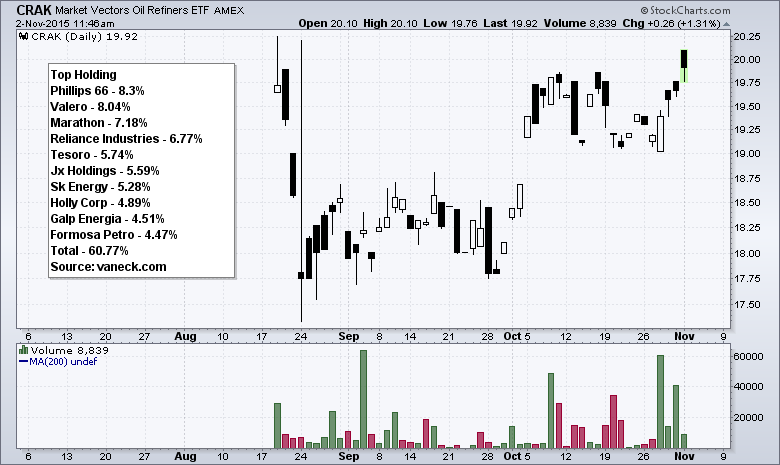 Note that the symbol, CRAK, refers to the crack spread, which is the difference between the price of crude and the price of refined products. This spread, therefore, represents the profit margin for refined products. You can calculate the crack spread at the CME website (here).


****************************************
Thanks for tuning in and have a good day!
--Arthur Hill CMT
Plan your Trade and Trade your Plan
*****************************************