Honeywell (HON) is part of the diversified industrials ($DJUSID) that saw excellent relative strength in the fourth quarter of 2015. General Electric (GE) reported excellent quarterly results in October and moved to its highest level in 15 years last week. HON appears to be on a path to do the same. Take a look at the chart below: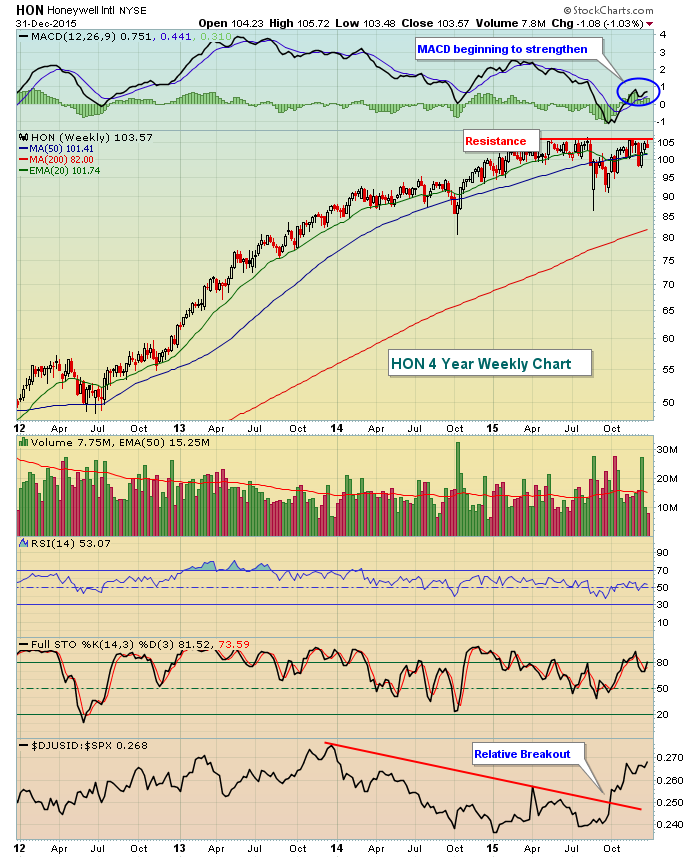 At the very bottom of the chart, you'll see that the diversified industrials group broke a two year downtrend line at the beginning of the fourth quarter. Money has been rotating toward companies like GE and HON. HON's high close was 106.16 and it threatened that level to close out 2015. Look for continuing strength in this space and a high volume breakout on HON to confirm its next leg higher. Obviously, it would help to see the S&P 500 break to fresh all-time closing highs above 2131. But if there's further trendless action in our major indices, a pullback on HON to the 98.00-102.00 range would appear to represent solid reward to risk entry into a leading stock and industry group as we bring in a brand new year.
Happy New Year and Happy Trading!
Tom