I ran a scan of NASDAQ 100 stocks with RSIs between 40-45 and it returned eight stocks - ATVI, BIDU, FB, JD, PCLN, QVCA, VIAB, VOD. I ran this scan because RSI 40-45 many times offers up great support to an uptrending stock. So the next step, of course, was to review the eight charts to see if I liked the setup of any. VIAB was at an interesting price support level near 34-35, but most of these stocks were seeing their RSIs rise to 40-45. I was looking for an uptrending stock that has seen recent weakness and an RSI that has fallen to 40-45. That left me with priceline.com (PCLN). Here's the chart: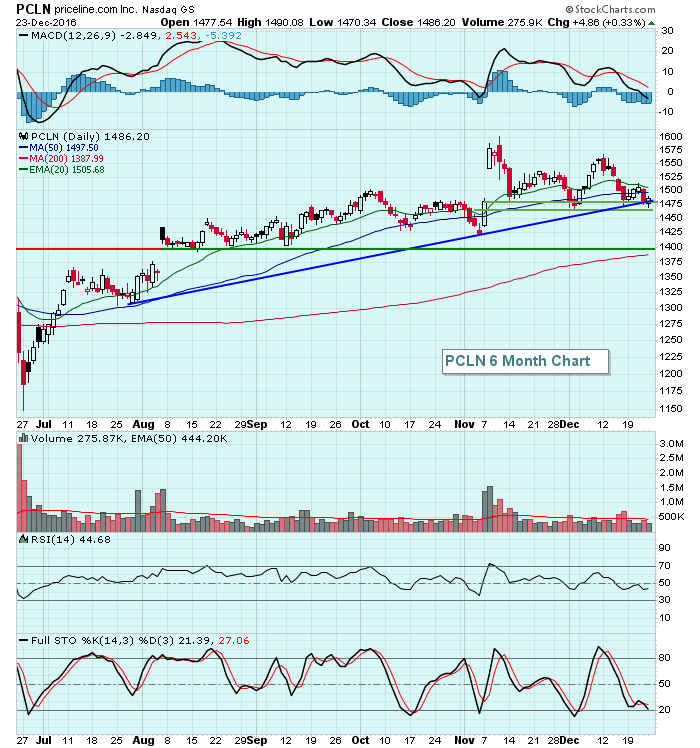 Most of PCLN's short-term bottoms over the past six months have occurred with its RSI somewhere south of 50. Other than one brief RSI drop below 40 in early November, that 40 support level has held. Friday's test of both price support (1465) and gap support (1475) provides a solid reward to risk entry into PCLN. Should 1465 be lost, PCLN's next major support level would be price support near 1400.
Happy holidays and happy trading!
Tom