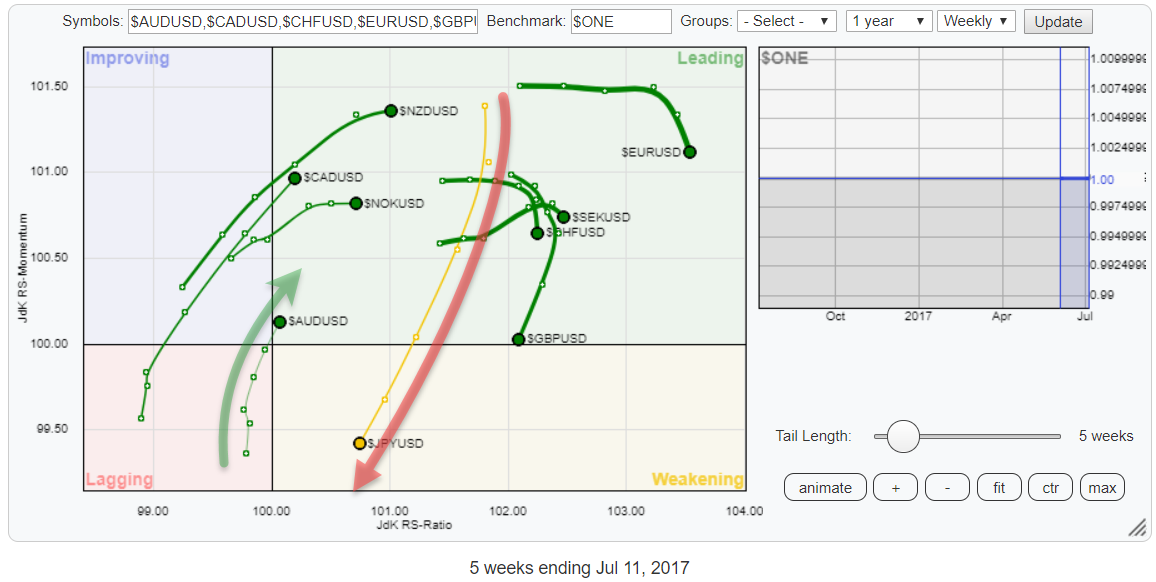 The Relative Rotation Graph above shows the relative rotation, on a weekly basis, for the G10 currencies using the USD as the base.
For a better understanding of how to use RRGs to monitor currency rotation please refer to this blog article on the subject.
Looking at the RRG above there are two things that catch my eye.
The first thing is the fact that ALL nine currencies on the RRG canvas (the USD is the tenth currency and the base/benchmark for this RRG) are positioned on the right-hand side of the plot indicating general weakness for the USD against all other currencies. Or strength for the major world currencies versus the US dollar, just a matter of how you want to look at it ;)
The second observation is the long orange tail on $JPYUSD heading lower inside the weakening quadrant and heading for lagging. This means that the JPY rapidly started weakening against the USD over the past five weeks (closely followed by the second in line $GBPUSD), more or less going against the tide which makes it an interesting currency to watch more closely.
We could stop here and simply put on a short USD/JPY trade but if I can find another currency moving opposite of $JPYUSD I can profit from the "scissor" move on both sides of the strength/weakness versus the USD.
Currencies that fit this requirement would be NZD, CAD, and AUD (NOK to a lesser extent as it is already moving flat). As AUD seems to be just starting its move it most likely has the best potential left. The NZD, for example, has already made a big move.
To find out if such a trade makes sense we need to bring up the $AUDJPY chart: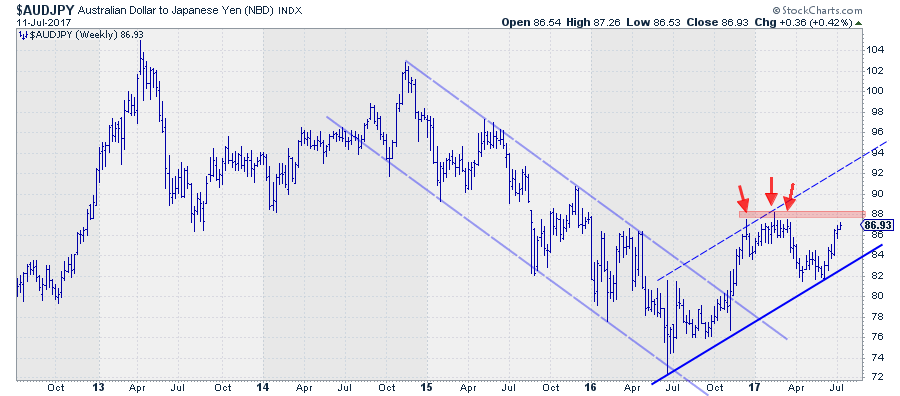 The big downtrend spanning two years from late 2014 to late 2016 is clearly visible and so is the break in November 2016. After an initial rally, $AUDJPY peaked around 88 (three attempts) which makes it the resistance level to watch in coming weeks.
A break beyond JPY 88 will confirm the current strength AUD/JPY and very likely trigger an acceleration higher!
Julius de Kempenaer | RRG Research
RRG, Relative Rotation Graphs, JdK RS-Ratio, and JdK RS-Momentum are registered TradeMarks by RRG Research
Follow RRG Research on social media:
If you want to discuss RRG with me on SCAN, please use my handle Julius_RRG so I will get a notification