The Dow Industrials is in a clear uptrend with a fresh 52-week high just last week. Note that this senior Average is hitting these new highs without much help from its second largest component, Goldman Sachs. For reference, the Dow Diamonds (DIA) is up around 13% year-to-date and GS is down around 3.5%. The Dow is a price-weighted average and this means the stock with the highest price carries the most weight. Goldman Sachs has been the biggest component in the Dow most of the year, but Boeing recent overtook it with a big surge in late July. BA is currently around $236 and accounts for 7.36% of the Dow, GS is currently around $230 and accounts for around 7%.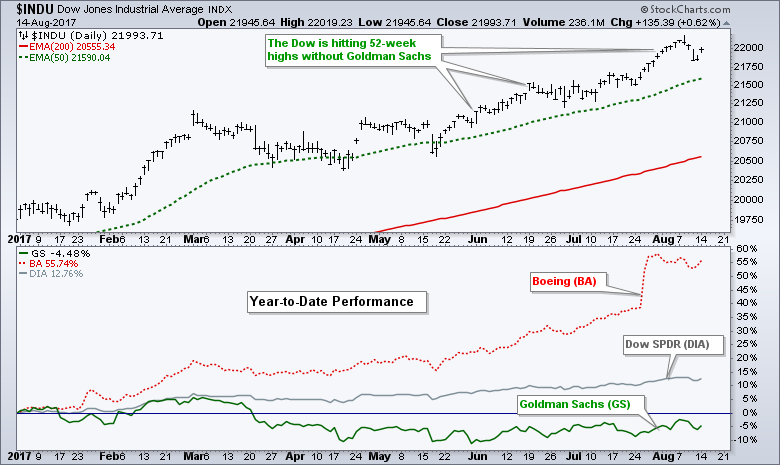 ---
The chart below shows Goldman Sachs falling from mid February to early June and then slowly rising the last two months. Note that the decline started after a 63% advance and the stock was certainly entitled to a correction. Furthermore, notice that the decline retraced 38.2-50% of the prior advance and this is normal for a correction within an uptrend.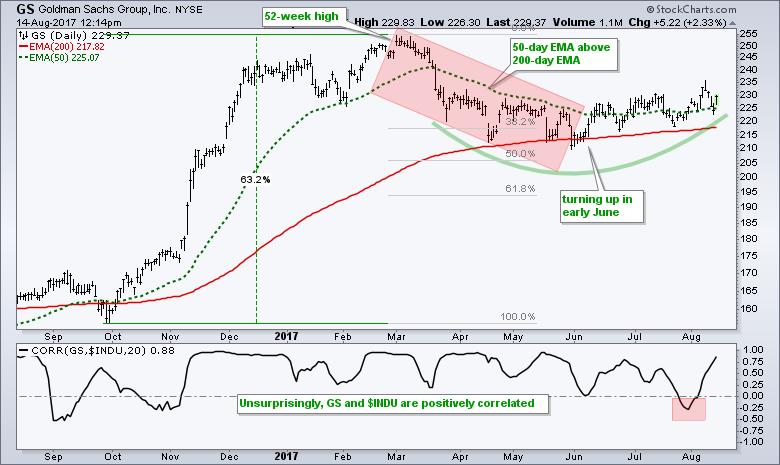 The green parabola marks a slow transition from correction to uptrend as the stock turned up around the 200-day EMA. The 63% advance and 52-week high suggest to me that the long-term trend is up. The upturn over the last few months indicates that the correction for the Dow's second largest component is ending and this suggests that the bigger uptrend is resuming. This is clearly positive for Goldman Sachs and should help the Dow.
Follow me on Twitter @arthurhill - Keep up with my 140 character commentaries.
****************************************
Thanks for tuning in and have a good day!
--Arthur Hill CMT
Plan your Trade and Trade your Plan
*****************************************