I have to admit I love breakouts of long-term basing patterns and the Dow Jones U.S. Auto Parts Index ($DJUSAP) is currently in the midst of the mother of all basing patterns. Dating back to 2014, we've seen a number of price resistance tests that all finished the same way - with failure. I don't know if we get through this time, but if we do, you might want to consider an auto parts stock or two in your portfolio. Here's a visual look at the long-term consolidation: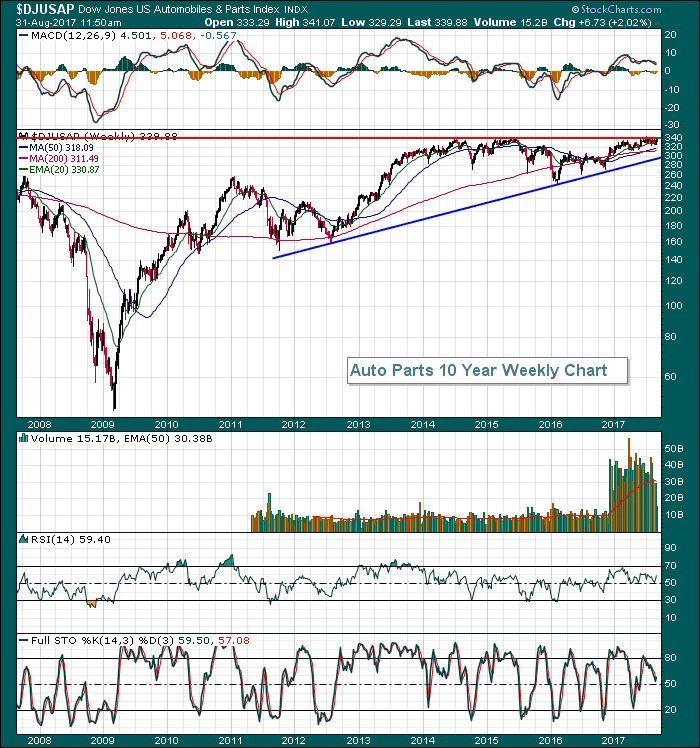 The lows have been creeping higher for the past several years, but the highs have been stymied in the 340-342 area. There was one intraday move to 345 in July. Otherwise, 342 has been a brick wall. Look for a solid breakout on above average volume for confirmation to enter the space.
A few stocks that look technically solid, recently reported better than expected quarterly revenues and earnings, and should benefit by a breakout in the industry group would be Dana Corp (DAN), BorgWarner (BWA), Lear Corp (LEA) and WABCO Holdings (WBC).
Happy trading!
Tom