The US Dollar ETF (UUP) is made of five currency pairings. The Dollar/Euro ($USDEUR) pair accounts for 57.6%, Dollar/Yen ($USDJPY) weighs 13.6%, Dollar/Pound ($USDGBP) is 11.9%, Dollar/Canadian ($USDCD) is 9.1% and Dollar/Swiss ($USDCHF) is 3.6%. Clearly, the Dollar/Euro relationship is the big driver here and Dollar/Yen is a distant second. Chartists interested in the twists and turns of the greenback should also keep an eye on the yield spreads. The chart below shows UUP with the 10-year yield spreads for the US and Germany, and the US and Japan. Notice that there is a strong positive correlation between UUP (top window) and the spread between the 10-yr T-Yield ($UST10Y) and the German 10-yr Yield (middle window).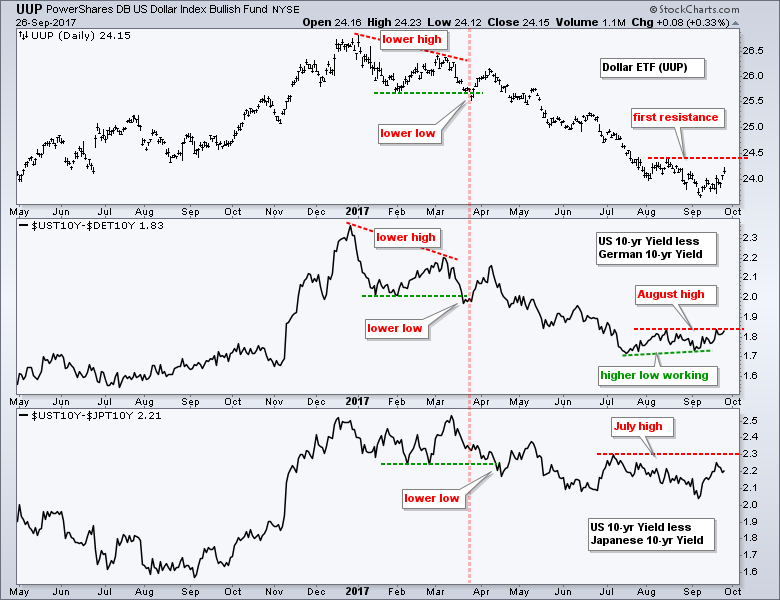 UUP and the US-German yield spread peaked in December and moved lower throughout 2017. UUP continued to a new low in early September, but the yield spread did not exceed its July low. Thus, a higher low could be forming in this key spread and a break above the August highs would suggest that the spread is widening again. This would mean the US 10-yr yield is starting to rise faster than German 10-yr yield and this would be positive for the Dollar. The bottom window shows the spread between the US 10-yr and the Japanese 10-yr turning up the last two weeks. A break above 2.3 would also be positive for the Dollar.
Follow me on Twitter @arthurhill - Keep up with my 140 character commentaries.
****************************************
Thanks for tuning in and have a good day!
--Arthur Hill CMT
Plan your Trade and Trade your Plan
*****************************************