Airlines ($DJUSAR) absolutely "took off" in today's action as buyers emerged to drive nearly every airline higher. Spirit Airlines (SAVE) surged 7.10%. JetBlue Airways (JBLU) popped 7.08%. Delta Air Lines (DAL) jumped 6.62%. One fundamental reason for the group's strength was DAL's announcement that it reaffirmed its third quarter unit revenue and margin guidance, excluding the costs associated with Hurricane Irma. Perhaps more important, however, is the simple fact that it's October. While many are fearful this time each year because of famed market crashes in 1929 and 1987 that occurred during October, don't count airlines as a group that worries too much about the month. Seasonally, it doesn't get any better than October as the following seasonal chart shows:
---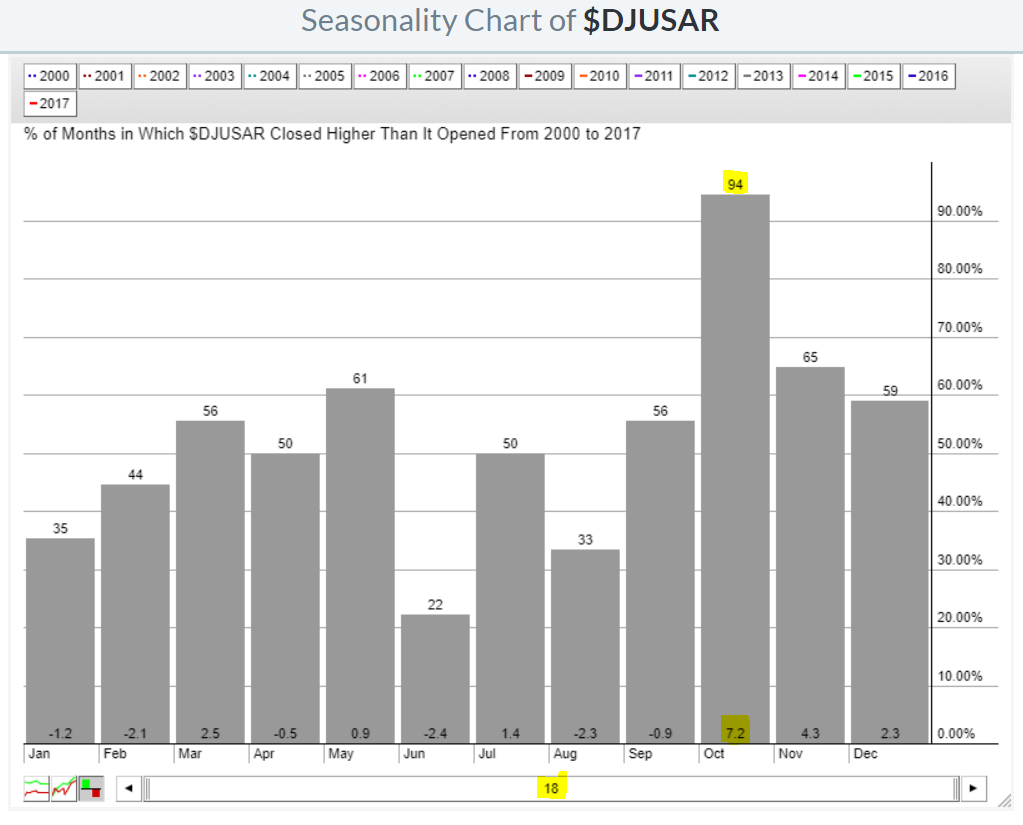 Over the past 18 years, the DJUSAR has moved higher during October 94% of the time with average monthly gains of 7.2%. That's a seriously bullish seasonal tendency and there's more good seasonal news ahead for November and December as those two months have posted average monthly gains of 4.3% and 2.3%, respectively, in the DJUSAR.
A few days ago, I referred to this seasonal strength in my Trading Places blog article "Airlines Looking To Rally In October?" Technically, it appeared that airlines were positioned for strength ahead to match their seasonal tendency. It sure looks like that fourth quarter bullishness has begun.
Happy trading!
Tom