Retail stocks surged last week and discounter TJX Companies ($TJX) bounced off support with high volume. Technically, the big trend is still down because the 50-day EMA is below the 200-day EMA and TJX is below the 200-day EMA. These EMAs are not shown on the chart to keep it clean.
Despite the overall downtrend, TJX looks promising from a bullish standpoint because it reversed at support on big volume. Notice how the stock formed a massive spinning top after last week's gap down. The spinning top shows indecision because the open and close are in the middle of a large high-low range. Basically, prices gapped down with an open at 67.60, fell further with a dip to 66.44, bounced with a surged to 69.59 and ended up near the open with a close at 67.94. There was a whole lot of pushing and shoving during the day, but not much change from open to close.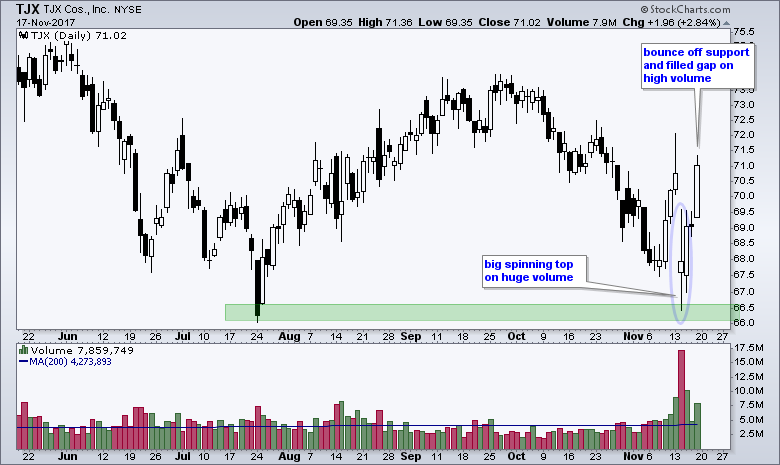 Indecision can lead to a directional change and TJX reversed course with a bounce the next three days. This bounce off support is impressive because it occurred with high upside volume on two of the last three days. Also note that competitor Ross Stores (ROST) hit a new high and discounter Big Lots (BIG) broke out.
Follow me on Twitter @arthurhill - Keep up with my 140 character commentaries.
****************************************
Thanks for tuning in and have a good day!
--Arthur Hill CMT
Plan your Trade and Trade your Plan
*****************************************