The two sector Performance charts below show a rather dramatic shift in market leadership over the last two months. First, note that these PerfCharts are using the nine equal-weight sector ETFs. In contrast to the cap-weighted sector SPDRs, these equal-weight ETFs provide us with a performance picture for the "average" stock in the sector. The top PerfChart shows performance from October 12th to November 10th. Notice that technology (magenta) and energy (teal) are the clear leaders with the biggest gains (black arrows). In contrast, the consumer discretionary and finance sectors were down slightly, while the industrials and healthcare sectors fell over 1%.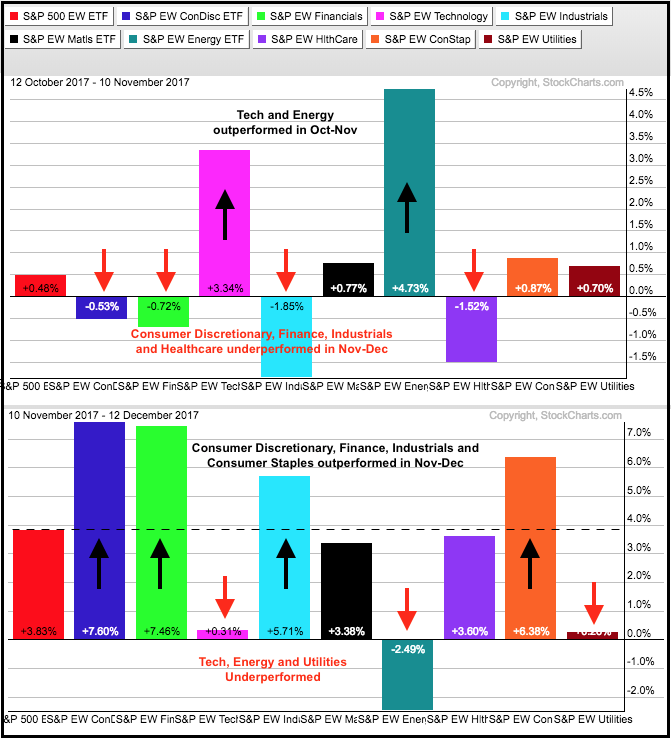 ---
The bottom PerfChart shows performance from November 10th to December 12th, which covers the last 22 trading days. What a difference a day, or rather 22 of them, makes. Consumer discretionary (blue) and finance (light green) are the clear leaders with the bigger gains. Industrials (light blue) and consumer staples (orange) are also leading with 5+ percent gains. The technology (magenta) is up just a fraction and lagging, while the energy sector is down 2.5% and under some selling pressure recently. Note that the technology is simply flat, not down.
Programming note: I will be on MarketWatchers Lives at 12PM ET on Thursday, December 13th (open to all). Among other things, I will be talking about inflationary pressures in some ratio charts, TLT and IEF at their moment of truth, correlations to rising yields, sector performance and stocks to watch.
****************************************
Thanks for tuning in and have a good day!
--Arthur Hill CMT
Plan your Trade and Trade your Plan
*****************************************