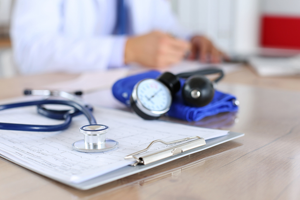 Centene (CNC), which is part of the healthcare sector, sports a steady uptrend over the past year and recently surged towards its 50-day SMA.
First and foremost, the long-term trend is clearly up because the stock recorded a 52-week high in January, the 50-day SMA is above the 200-day SMA and price is above the 200-day SMA.
The stock fell back in early February and moved below the 50-day SMA. Even though this may seem short-term negative, it is still viewed as a correction within a bigger uptrend. This means the pullback may present more of an opportunity than a threat.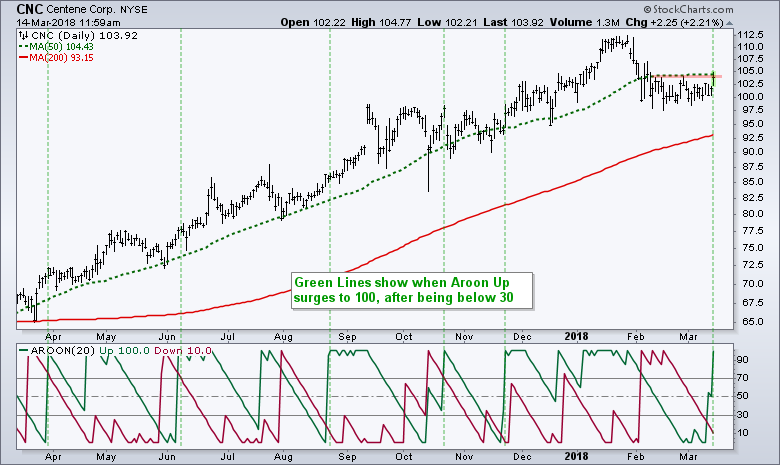 The indicator window shows Aroon Up (green) moving to 100, after being below 30. In fact, notice that both Aroon Up and Aroon Down were below 30 last week. This means there is little directional movement either way. Put another way, it means there is a consolidation on the price chart.
The surge to 100 in Aroon Up indicates that the consolidation could be resolved in favor of the bulls. The green lines show prior instances when both Aroons were below 30 and Aroon Up then surged to 100.
We are also getting close to a short-term breakout on the price chart. Notice that CNC hit resistance around 104 in mid and late February. A close above the 50-day SMA would also trigger a short-term breakout.
---
Plan Your Trade and Trade Your Plan.
- Arthur Hill, CMT
Senior Technical Analyst, StockCharts.com
Book: Define the Trend and Trade the Trend
Twitter: Follow @ArthurHill
---