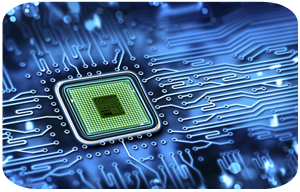 The Semiconductor iShares (SOXX) has been locked in a trading range the last few months, but the big trend is still up and a recent candlestick reversal could signal the start of an extended advance.
It is important to keep perspective, even when looking at a short-term pattern. In the case of SOXX, keep in mind that the ETF was up around 172% from September 2016 to March 2018 and hit a 52-week high in March. This is a massive move and the ETF is entitled to a rest after such an advance.
I think the long-term trend is still up because the 50-day EMA is above the 200-day EMA and price is above the rising 200-day EMA. Throw in a bull market in stocks and this means we should be favor on bullish setups and patterns.
The price chart below shows the index gapping down in early August and continuing below 180 in mid August. After another gap down on August 17th, the ETF formed two hammer-esque candlesticks with long lower tails. These show dips below 178 and recoveries with closes above 179. The ETF then surged with a long white candlestick above 182 on Tuesday. All told, we have a four candlestick reversal from August 16th to August 21th.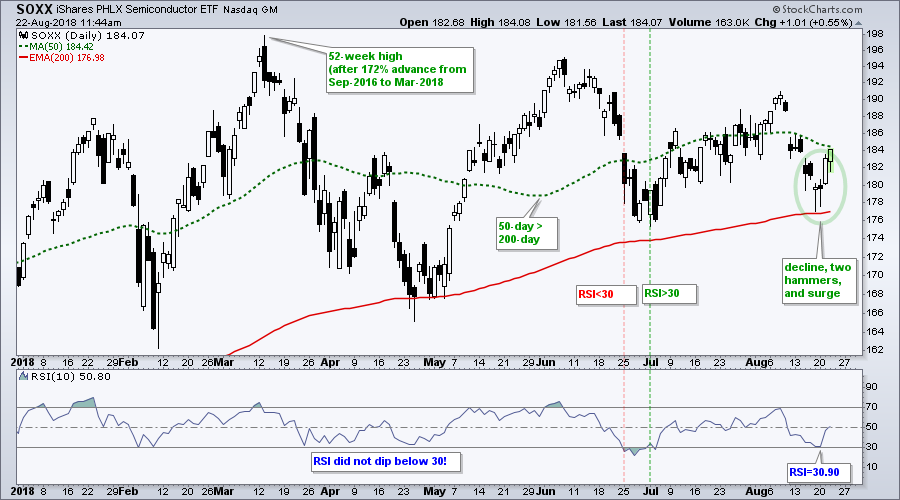 The combination of bull market, long-term uptrend and 4-candlestick reversal are bullish for the Semiconductor iShares (SOXX). Also notice that RSI almost became oversold with a dip to 30.90 last week. I would consider this reversal valid as long as 180 holds and re-evaluate on a close below this level.
---
On Trend on Youtube
Available to everyone On Trend with Arthur Hill airs Tuesdays at 10:30AM ET on StockCharts TV and repeats throughout the week at the same time. Each show is then archived on our Youtube channel.
Topics for Tuesday, July 17th:
Bull Flags in XLK, HACK and SKYY
XLI Breaks out as XLF Fills Gap
XLE - Support Break vs. Oversold Setup (plus XES, USO)
XRT Leads Consumer Discretionary SPDR (plus ITB)
IAI Tests Support as KRE Turns Up (plus SCHW and ETFC)
Stocks to Watch: ANSS, FFIV, JBHT, LMT, ULTA and more
---
Plan Your Trade and Trade Your Plan.
- Arthur Hill, CMT
Senior Technical Analyst, StockCharts.com
Book: Define the Trend and Trade the Trend
Twitter: Follow @ArthurHill
---