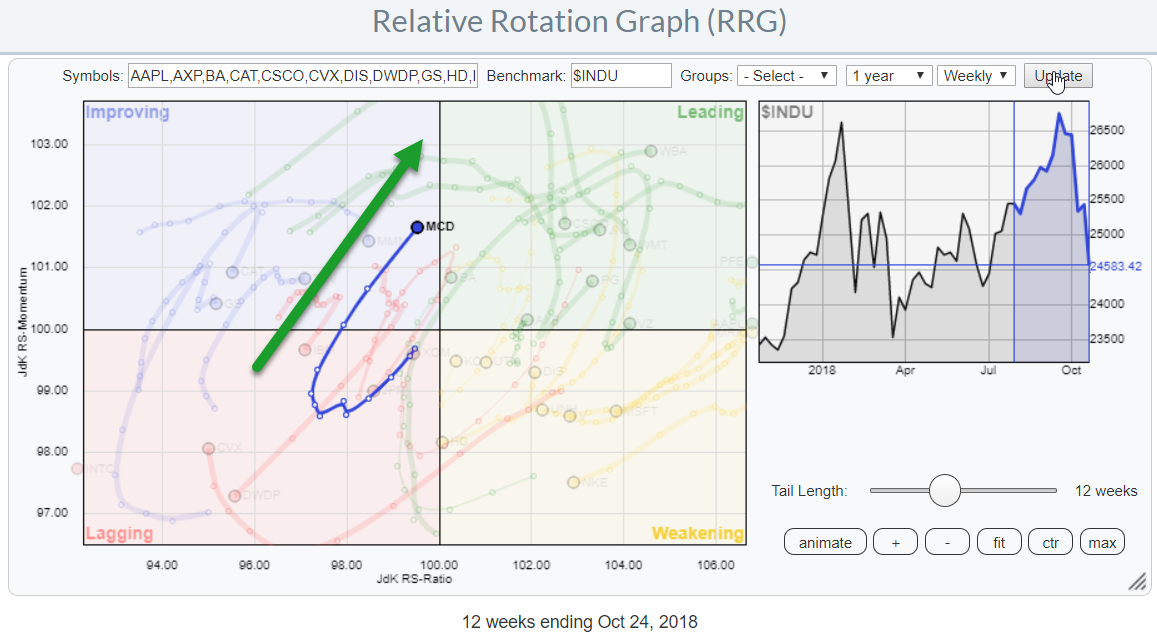 On the Relative Rotation Graph holding the 30 stocks in the DJ Industrials index, McDonald's (MCD) is one of the names that pop up as potentially interesting. The stock is positioned inside the improving quadrant for a few weeks now and moving towards the leading quadrant at a strong RRG-Heading.
Especially the last segment of the trail shows the increasing relative strength against the S&P 500.
---
Bringing up the price chart for MCD this morning was actually a pleasant surprise among all the misery on global stock exchanges around the world.
With the DJ Industrials down 2.9% in the past two days and MCD UP a whopping 6.3% this is true relative strength at work. On the daily version of the RRG, MCD is pushing strongly into the leading quadrant already.
McDonald's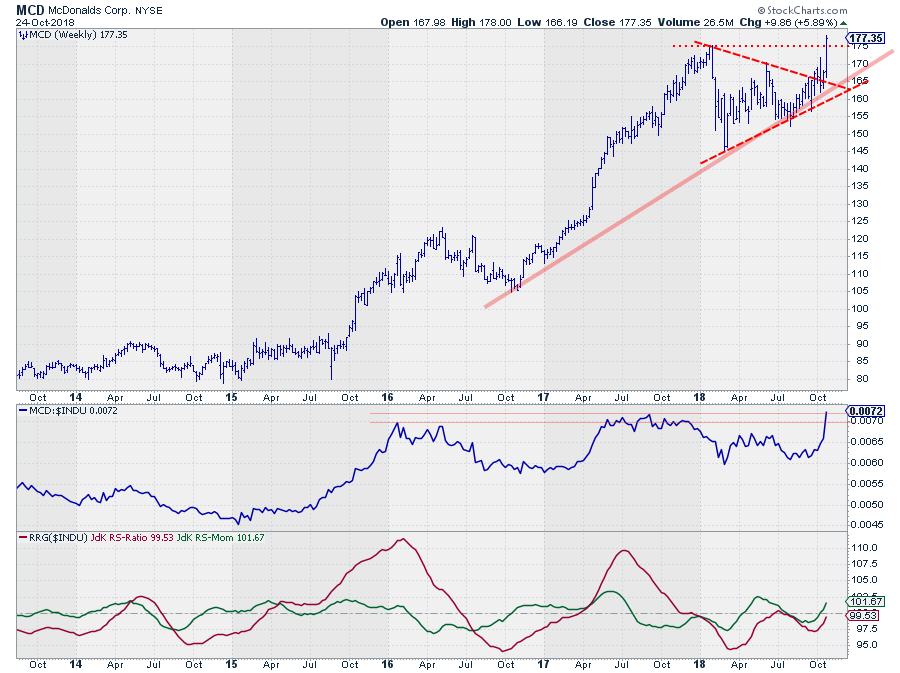 The price chart (weekly) of MCD confirms this relative strength. First of all with the RS-Line pushing against heavy overhead resistance and on the verge of breaking to new highs. This increase in RS is pushing the RRG-Lines higher and they are rising in tandem and close to driving MCD into the leading quadrant on the Relative Rotation Graph.
But most importantly, the price is breaking to new highs and therefore truly bucking the current trend in equities.
This is a remarkable sign of (relative) strength that should not be ignored.
---
My regular blog is the RRG blog If you would like to receive a notification when a new article is published there, simply "Subscribe" with your email address using the form below.
Julius de Kempenaer | RRG Research
RRG, Relative Rotation Graphs, JdK RS-Ratio, and JdK RS-Momentum are registered TradeMarks ®; of RRG Research
Follow RRG Research on social media:
Feedback, comments or questions are welcome at Juliusdk@stockcharts.com. I cannot promise to respond to each and every message but I will certainly read them and where reasonably possible use the feedback and comments or answer questions.
If you want to discuss RRG with me on SCAN, please use my handle Julius_RRG so that I will get a notification.