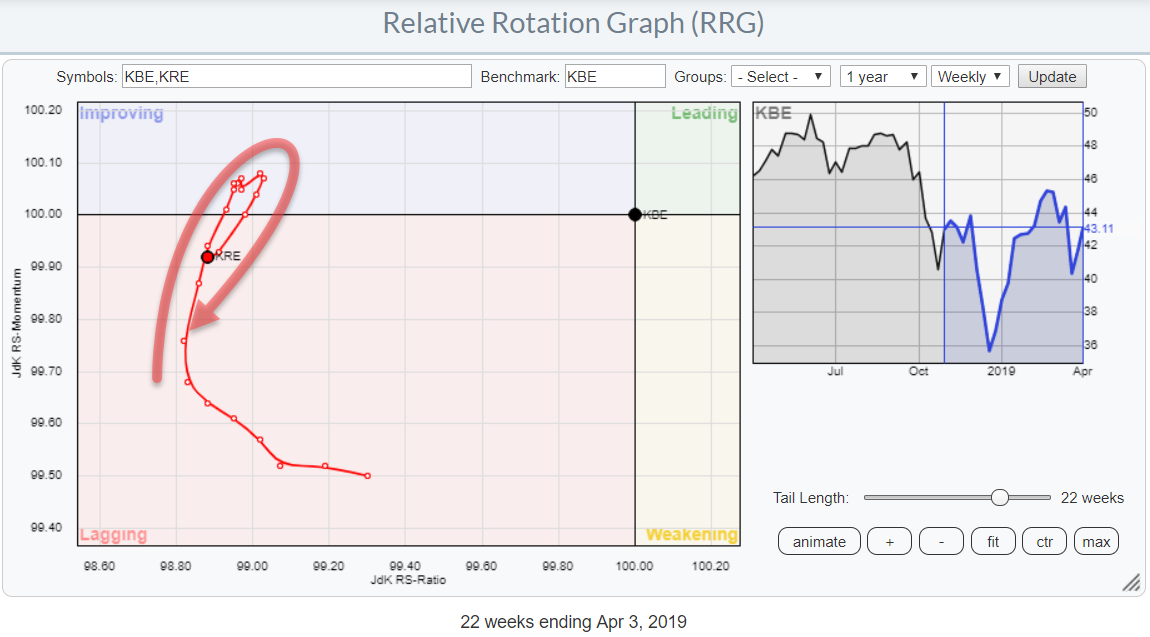 On the Relative Rotation Graph for US sectors, the Financials sector (XLF) is not in the best shape at the moment. It is positioned inside the lagging quadrant and heading lower on both axes. So, not much good there.
At the moment I am in New York City to attend the CMTA symposium together with Arthur Hill, David Keller and Greg Schnell (and 300 other technical analysts). Obviously, we are discussing among ourselves as well.
My chat with Greg last night inspired this DITC chart. We discussed the weak position of the financials sector in the current market environment and Greg mentioned the difference between Banks and Regional banks on which he talked in his Market Buzz show yesterday morning (Wednesday).
---
This type of discussion always makes me run these comparisons on a Relative Rotation Graph to find out how they interact with each other.
The RRG above shows the rotation of KRE (Regional banks) against KBE (Banks). So just to clarify, KBE is a group within XLF and KRE is a group within KBE. When you run a Relative Rotation Graph of KBE and KRE against XLF you will see that they are tracing out similar trails with KBE being to the right of KRE which indicates a preference for KBE vs KRE.
However, when you put KRE against KBE as the benchmark the relationship becomes crystal clear.. at least to me. That relationship is shown in the RRG above. And it magnifies the fact that KRE is to the left of KBE, ie underperforming, The tail of KRE over the past 22 weeks rotated through the lagging quadrant and managed to move into the improving quadrant. But ... only for a very short period of time, very rapidly KRE rolled over and rotated back into the lagging quadrant.
Such rotations are typically second or third legs of an existing relative downtrend.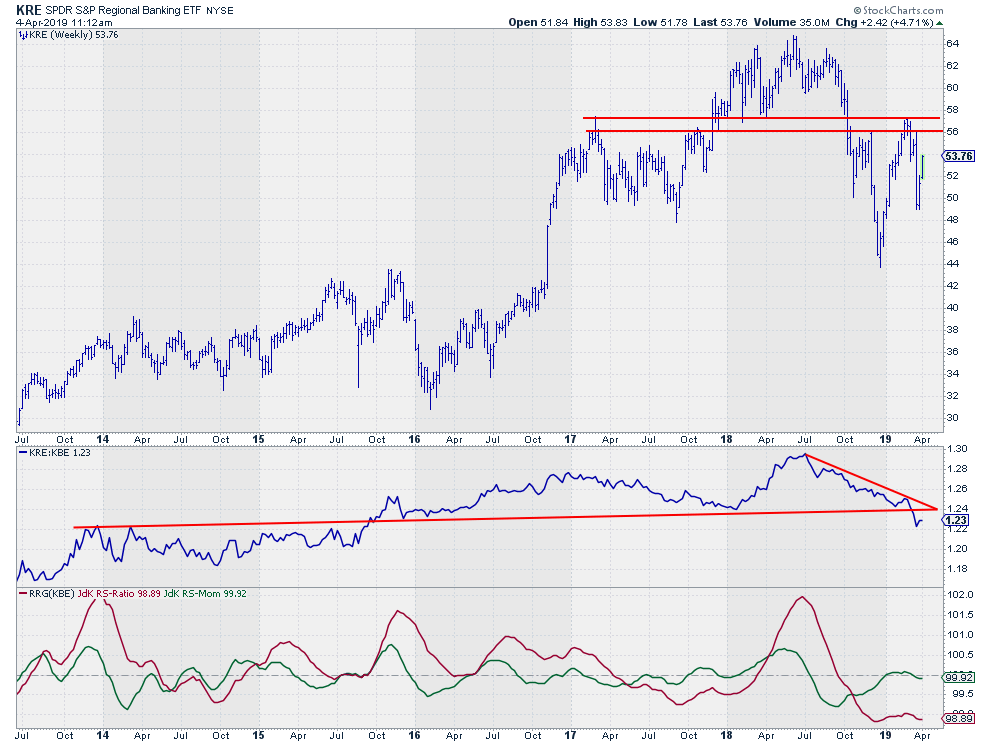 The chart above shows the price development of KRE with its relative strength against KBE.
Where the price chart is more or less indecisive with plenty of resistance between $56-$58, the relative strength line is much more decisive. I am watching the long red trendline which has proven to be of interest both as support and resistance since 2013.
The recent break below that line in the sand is confirming the current weakness of Regional Banks vs Banks, vs Financials in terms of relative strength.
When you run these comparisons on a daily basis you will find that KRE has been picking up some relative momentum vs KBE and is moving inside the improving quadrant, that observation aligns with Greg's observation on the downward sloping trendline in the PPO for both KBE and KRE and the significance of an upward break of that trend.
That has not happened yet so for the time being my preference is to avoid Financials in general and Regional Banks in particular.
---
My regular blog is the RRG blog If you would like to receive a notification when a new article is published there, simply "Subscribe" with your email address using the form below.
Julius de Kempenaer | RRG Research
RRG, Relative Rotation Graphs, JdK RS-Ratio, and JdK RS-Momentum are registered TradeMarks ®; of RRG Research
Follow RRG Research on social media:
Feedback, comments or questions are welcome at Juliusdk@stockcharts.com. I cannot promise to respond to each and every message but I will certainly read them and where reasonably possible use the feedback and comments or answer questions.
If you want to discuss RRG with me on SCAN, please use my handle Julius_RRG so that I will get a notification.