The Consumer Staples SPDR (XLP) is the third best performing sector over the last three months and one of only three sector SPDRs to record a new high here in June (along with XLU and XLRE). In addition, the S&P 500 is trading comfortably above its 200-day SMA. Overall, we can assume that the S&P 500 is in bull mode and consumer staples is a leading sector.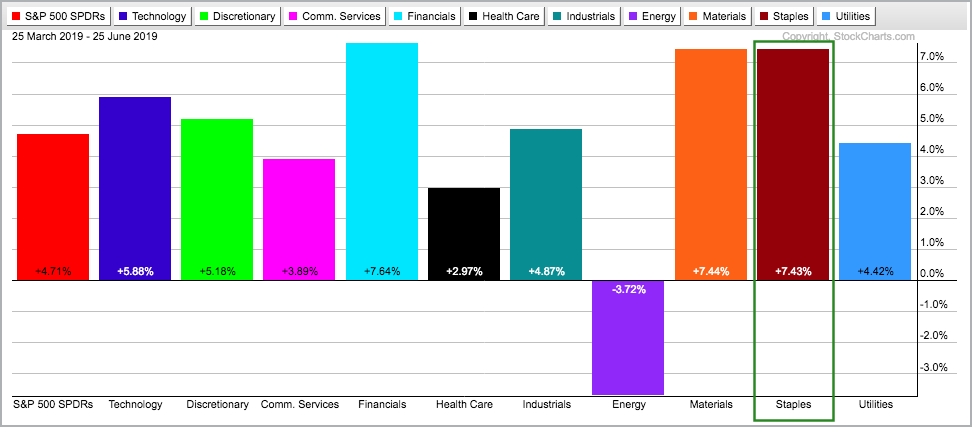 Looking within the sector, I came across Performance Food Group (PFGC) in my trend-momentum scan. The stock is in a long-term uptrend and consolidating with a bullish triangle taking shape.
First, the long-term trend is up because PFGC broke out with a big move in February and recorded a new high in April. The stock then moved into a trading range and established support in the 37-38 area over the last few months.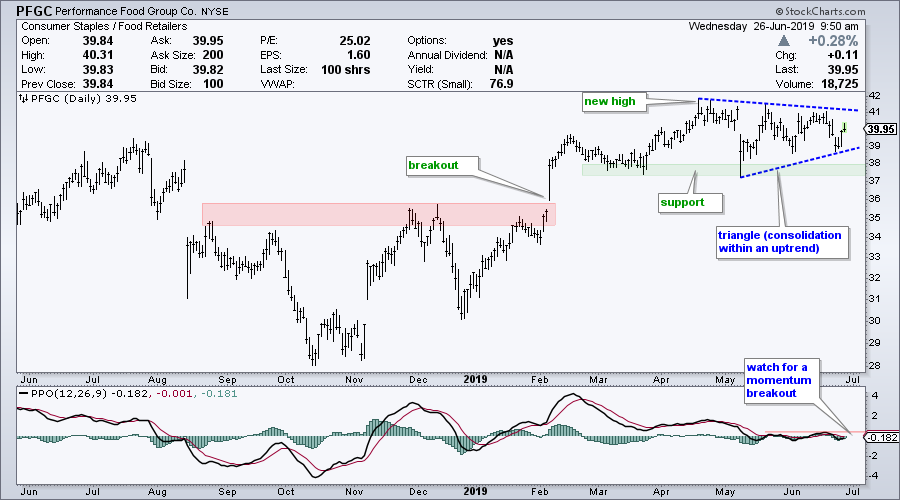 Most recently, the price range narrowed and a triangle formed. The prior move was up and this makes the triangle a bullish continuation pattern. A breakout in the 41 area would confirm the pattern and signal a continuation higher.
The indicator window shows the Percentage Price Oscillator (PPO) meandering around the zero line as the stock consolidates. A PPO move above its June high would show a momentum breakout of sorts and confirm a triangle breakout.
---
On Trend on YouTube (Tuesday, June 16th)
Large-caps looks Fine, Small-caps Not (SPY, IWM)
Charting the AD Line and AD Volume Line (IJR, XLF)
Banking ETFs and Stocks are Underperforming
Fintech ETFs and Stocks are Outperforming
---
Arthur Hill, CMT
Senior Technical Analyst, StockCharts.com
Author, Define the Trend and Trade the Trend
---
Want to stay up to date with the latest market insights from Arthur?
– Follow @ArthurHill on Twitter
– Subscribe to Art's Charts
– Watch On Trend on StockCharts TV (Tuesdays / Thursdays at 10:30am ET)