Dine Brands (DIN) is the parent company for the Applebees and iHop restaurant chains. Regardless of what you think of the restaurants or food, business must be good because DIN is one of the best performing restaurant stocks this year (+44%). It is clearly leading on the price charts and should be on our radar. The table below shows 16 restaurant related stocks ranked by their year-to-date performance. DIN is the fourth best performing stock this year.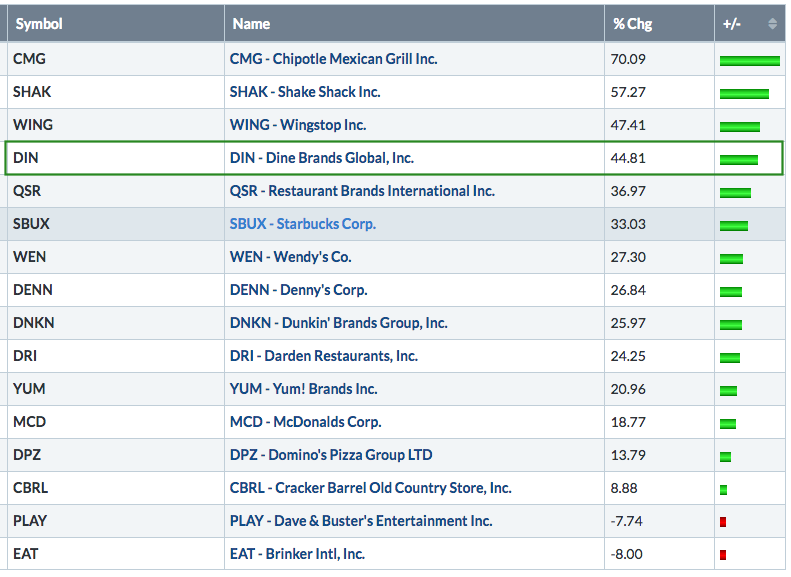 On the price chart, the stock is in an uptrend overall because it recorded a new high in February and remains well above the rising 200-day SMA. The stock corrected after the February high with a falling wedge and broke out with a surge in late May and early June.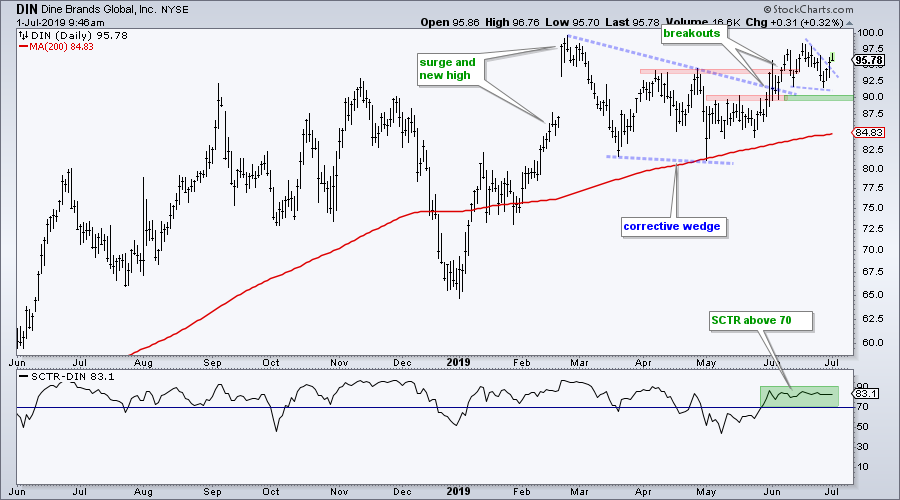 Even though the stock fell back the last two weeks, the breakout is largely holding as DIN consolidates above the late May breakout (>90). I would mark first support here and re-evaluate on a close below this level. It is also possible that a smaller pennant consolidation formed the last two weeks and a breakout is in the making.
The indicator window confirms relative strength as the SCTR moved above 70 in late May and held above this level throughout June.
---
On Trend on YouTube (Thursday, June 27th)
Setups versus Breakouts (IBB, ASHR, SOXX)
Spotting a Reversal Alert Zone
A Video Game Stock Sets Up Bullish
A Defense Stock Bouncing off Support
---
Arthur Hill, CMT
Senior Technical Analyst, StockCharts.com
Author, Define the Trend and Trade the Trend
---
Want to stay up to date with the latest market insights from Arthur?
– Follow @ArthurHill on Twitter
– Subscribe to Art's Charts
– Watch On Trend on StockCharts TV (Tuesdays / Thursdays at 10:30am ET)