Sorry, I could not resist the pun in that head line. Relative and absolute strength is often dependent on timeframe. One stock may show upside leadership on a one month timeframe, but be lagging on the three and six month timeframes. For example, Tilray (TLRY) is up 16.37% over the past month, but down 43.35% over the last six months. This is why chartists should compare performance across different timeframes. The PerfChart below shows 3-month performance for the Alternative Harvest ETF (MJ) and six cannabis stocks. Only one stock is up over the one, three and six month timeframes: GW Pharmaceuticals.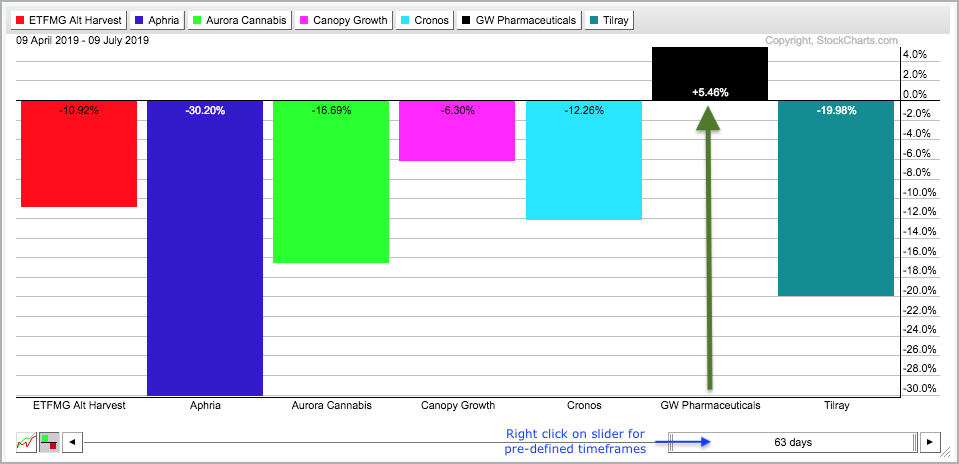 Looking through the individual price charts, the Alternative Harvest ETF (MJ) and five stocks are below their 200-day SMA. Cronos (CRON) and GW Pharm (GWPH) are the only two above their 200-day SMAs. Thus, using the 200-day as the benchmark, these two are the clear leaders. GWPH is the furthest above its 200-day and the strongest of the two so I will focus on this chart.
GW Pharma is in an uptrend with a bullish continuation pattern in play. First and foremost, the stock is above the rising 200-day SMA. GWPH also recorded 52-week highs in early March and early May. Thus, the path of least resistance is up.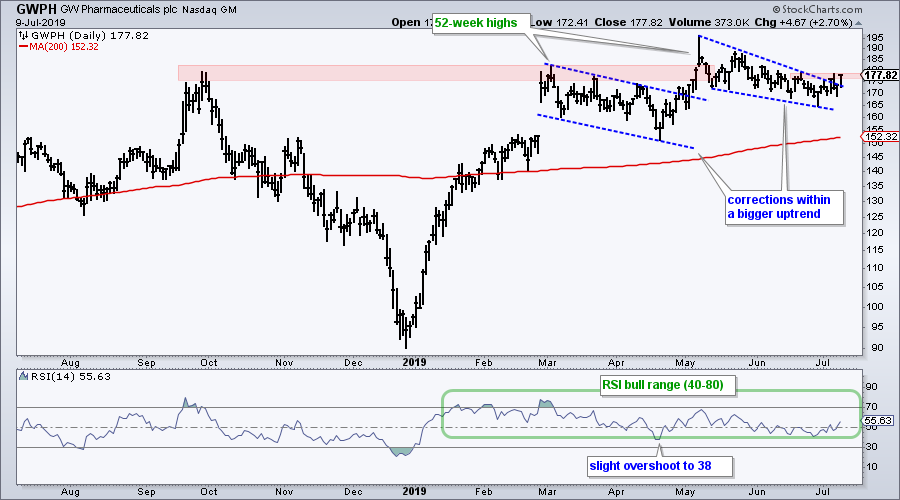 After hitting a new high in May, the stock corrected with the rest of the group into June. A falling wedge formed and the wedge lines are not that steep, which suggests a relatively mild correction. In other words, selling pressure was not that intense. The stock firmed around the 165-170 area the last few weeks and surged twice over the last four days. Buying pressure may be picking up and a break above the red resistance zone would be bullish.
---
On Trend on YouTube (Tuesday, July 9th)
Staples, Utes and REITs are not Alone
Oil and Energy - A Breakout or a Reversal?
Insurance Looks good, but Banks do Not
Four Growth Stocks with Bullish Setups
---
Arthur Hill, CMT
Senior Technical Analyst, StockCharts.com
Book: Define the Trend and Trade the Trend
Paper: RSI for Trend-Following and Momentum Strategies
---
Want to stay up to date with the latest market insights from Arthur?
– Follow @ArthurHill on Twitter
– Subscribe to Art's Charts
– Watch On Trend on StockCharts TV (Tuesdays / Thursdays at 10:30am ET)