It's been a tough period recently for many retailers as they struggle to adjust to consumers' ever-shifting demands. Many of these shifts have been driven by technological advances, as digital sales and faster product delivery times are a must if companies want to succeed.
Let's take a look at restaurant retail giant McDonald's (MCD), which peaked in price this past October. The company reported 3rd quarter earnings at the end of October that were below estimates for the first time in 2 years, as tech-focused upgrades slowed domestic same-store sales growth. The company has been renovating U.S. stores with features that usually encourage customers to spend more, like self-order kiosks and digital menu boards. More recently, McDonald's opened an office in Silicon Valley and, today, announced a new Digital Development Engagement Team to help spur growth.
DAILY CHART OF MCDONALDS CORP. (MCD)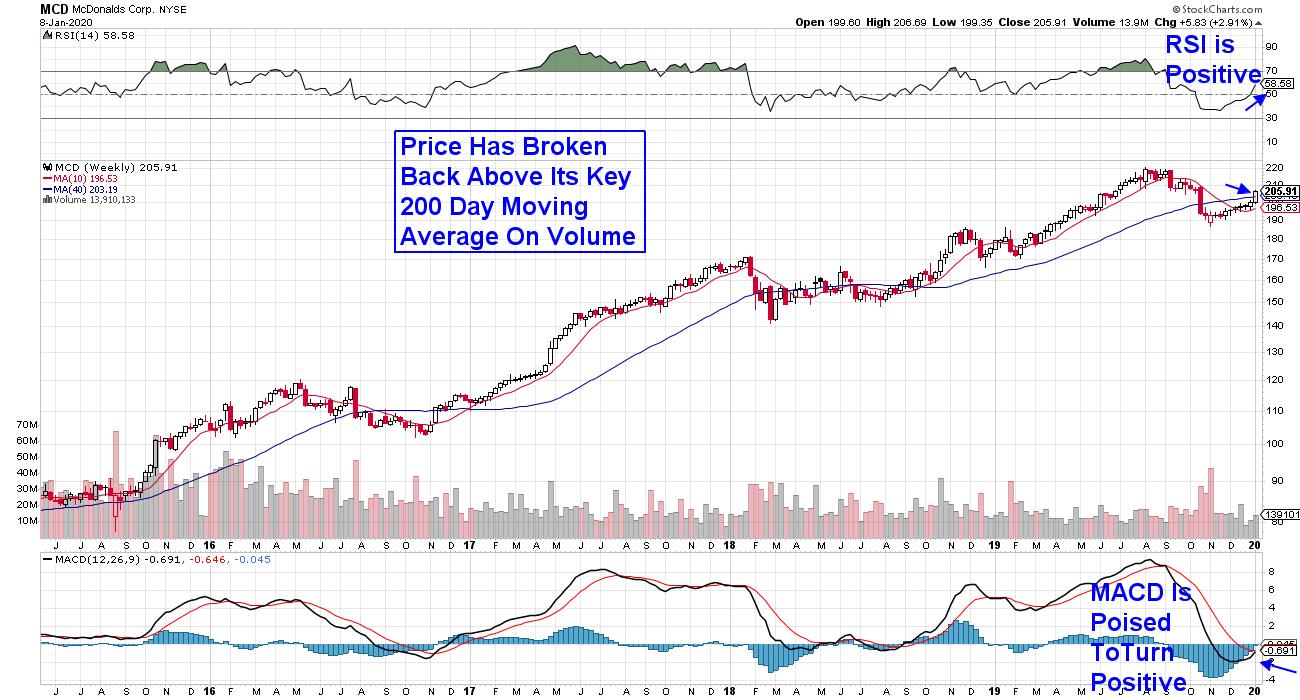 The stock has been in a flat trading range for the past 2 months and, this week, bullishly broke back above its key 200-day moving average on heavy volume. Look for the shorter term 10-day moving average to cross above the 200-day MAV on the daily chart; that would signal a bullish golden cross. A move of the MACD above the zero neutral area on the weekly would be another positive signal.
Two other formerly leading Restaurant stocks are in even more bullish uptrends; if you'd like to uncover these and other stocks that are currently poised to trade higher, I urge you to trial my MEM Edge Report for a nominal fee. Sign up today and you'll receive today's Midweek Report, as well as Sunday's report and Monday's high alert, featuring insights into the current market and hot new stock ideas.
"Your reports not only pay for themselves, they provide an education in how to pick stocks. I made enough from those 4 stocks to pay for 18 months subscription to your reports. Thank you!" F. Bailey [Testimonial]
Warmly,
Mary Ellen McGonagle,