Later tonight and tomorrow, I'll be evaluating literally thousands of stocks in determining which 10 equal-weighted stocks I'll include in each of our 4 portfolios at EarningsBeats.com. Our track record is sparkling and you can view our portfolio results HERE.
I start with sectors. I'm extremely bullish and have been throughout this pandemic. I've felt from the beginning that we were in a secular bull market and that the pandemic triggered a cyclical bear market, one that lasted roughly one month.
In a secular bull market, you want to stick primarily with aggressive sectors, as they'll lead you to outperformance of the benchmark S&P 500, and that's what I strive to do. That's my goal. Beat the S&P 500. Our Model Portfolio has beaten the S&P 500 in 7 out of 8 quarters since we began publicly announcing our stock selections every quarter. Its outperformance has been stunning, rising over 162% in two years, while the S&P 500 has gained less than 34% over the same time period. When I look to select stocks for our portfolios, I also start with the sectors.
My new favorite sector is industrials (XLI). We are seeing the early stages of rotation into this sector, and I believe this rotation will grow stronger. If you need a visual, here it is: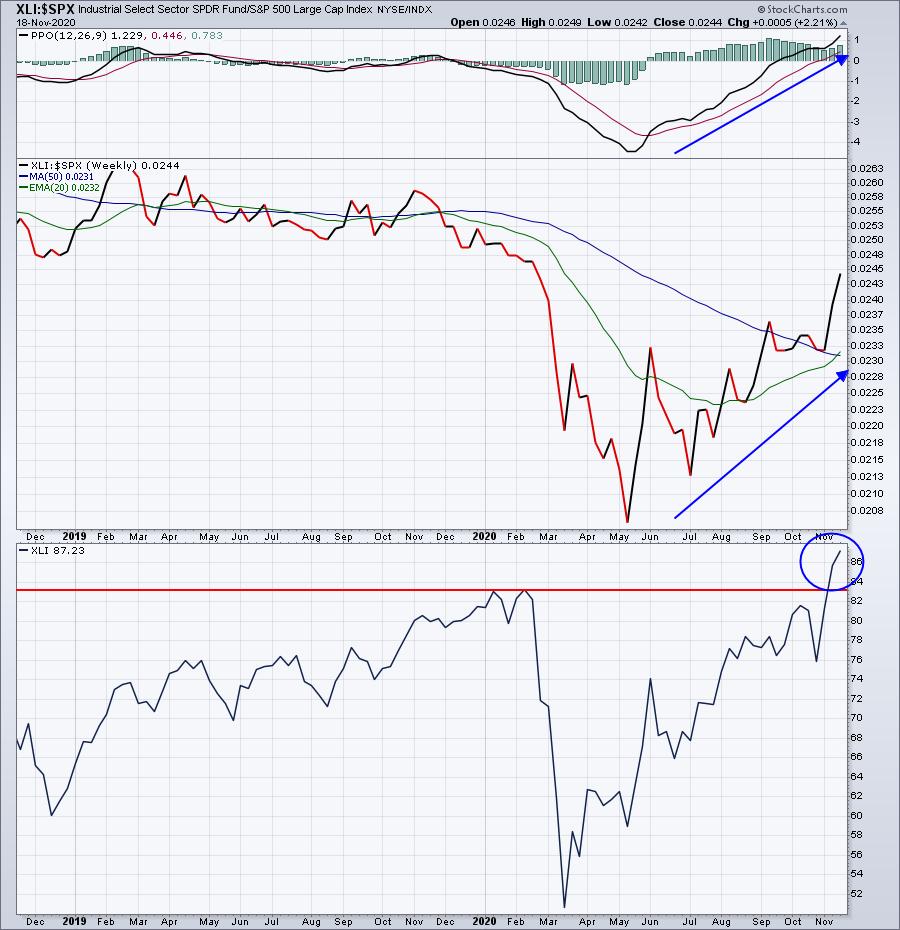 The blue circle highlights the absolute price breakout to all-time highs, clearing the January and February highs. The top portion of the chart illustrates just how strong the XLI is and has been recently vs. the benchmark S&P 500. When the relative PPO is above zero and rising, that's an excellent signal of strong relative momentum. Throw in the relative price action well above the relative 20-week EMA and that 20-week EMA crossing above the relative 50 week SMA, and I believe you have the ingredients to select industries and companies that are, more likely than not, poised to outperform in the quarter ahead.
Moving on to industry groups and stocks within industrials, have you seen the industrial suppliers ($DJUSDS) and one of its top performers - WillScot Corp (WSC)? Here are both charts:
DJUSDS: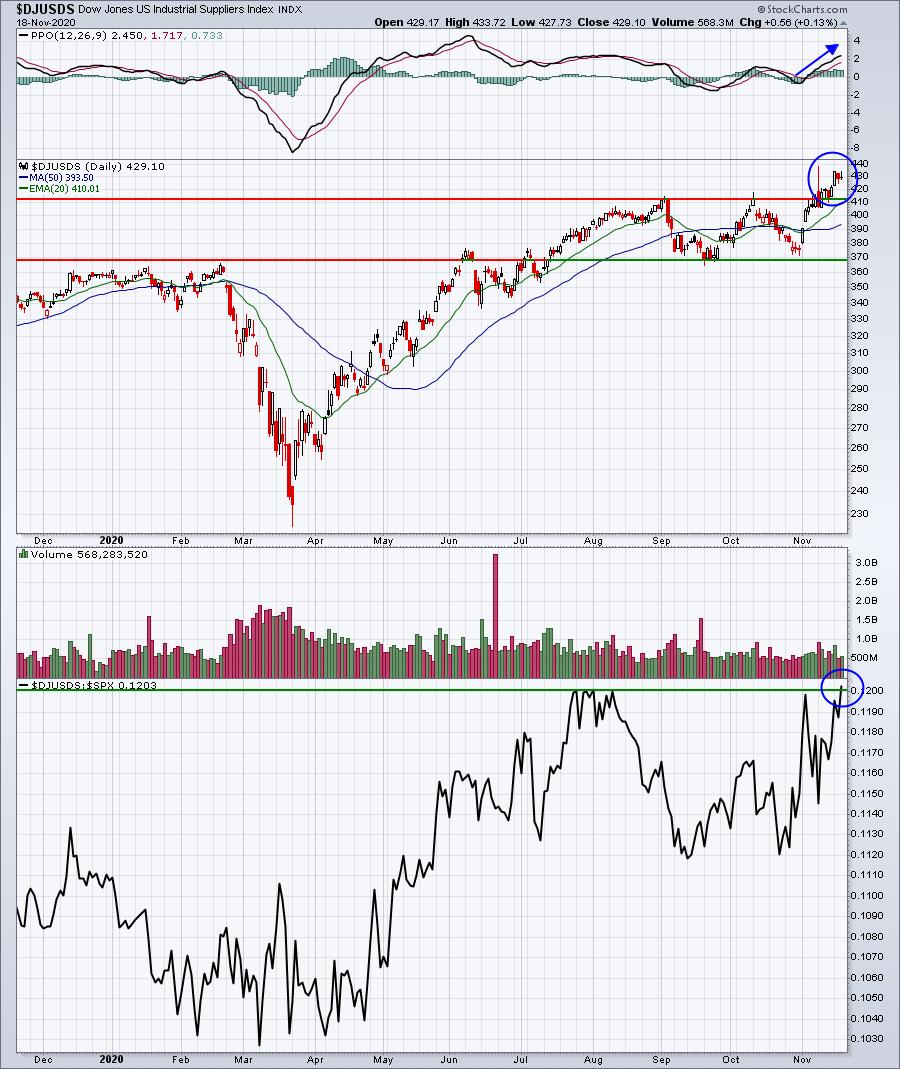 The DJUSDS recently broke out of its multi-month consolidation and today cleared its relative resistance line vs. the S&P 500. The group certainly appears prepped for further gains ahead. The next chore is finding a stock within the group that's a recognized leader on Wall Street.
WSC: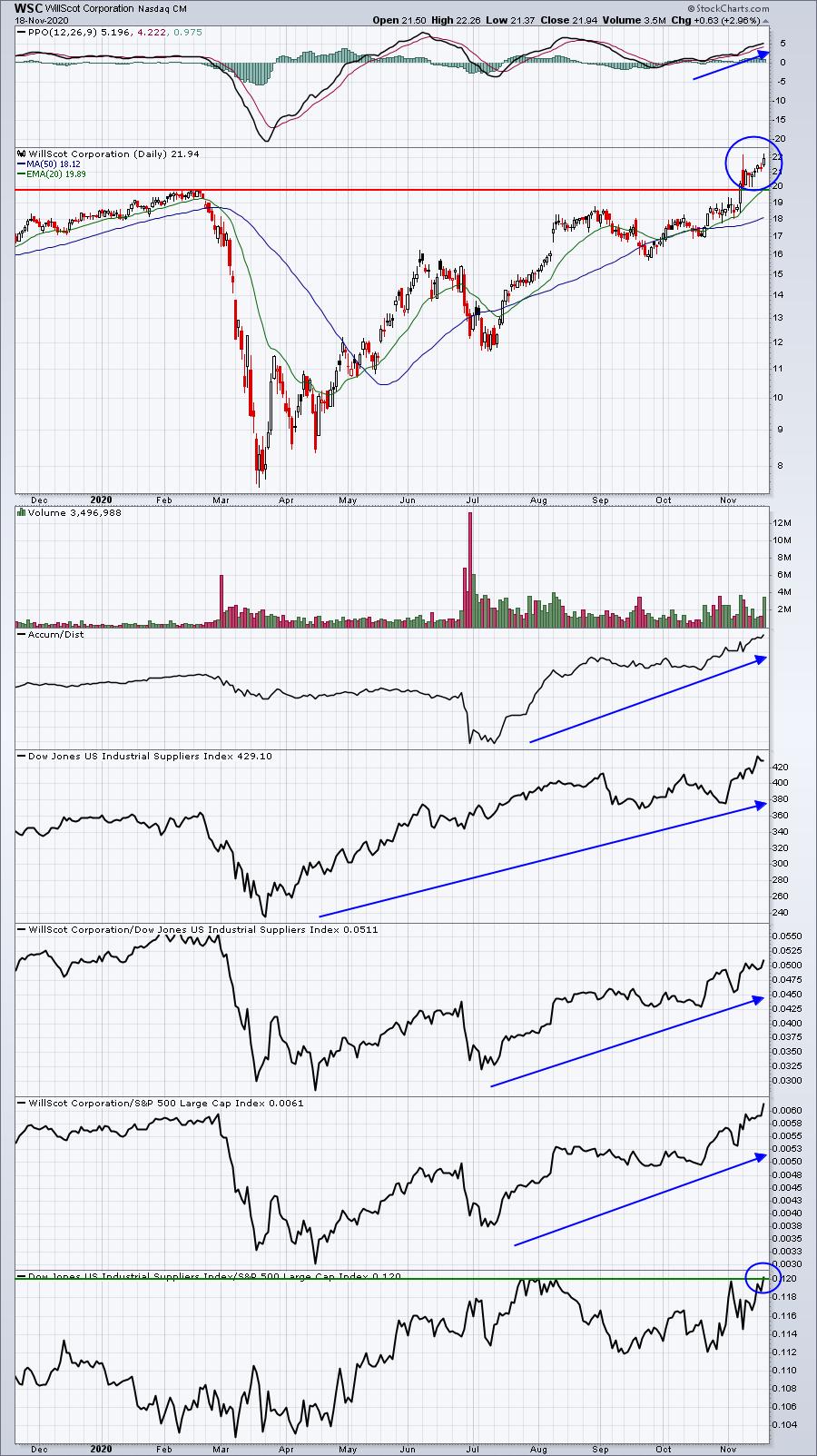 This is about as good as it gets; a leading stock in a leading industry group in a sector that's exploding. So much money is pouring into industrials right now and industrial suppliers and WSC are getting their share of it. I look for prices to head higher here, with occasional pullbacks along the way. The rising 20-day EMA on WSC would represent solid entry for those waiting on a better reward-to-risk setup.
But is it good enough for us to "draft" it into our portfolios at EarningsBeats.com? Or are there other stocks out there that are even more promising?
On Thursday, November 19th at 5:00pm ET, we will announce the 10 equal-weighted stocks that will comprise each of our 4 portfolios for the next 90 days. Our goal will once again be to outperform the S&P 500. If you'd like to be a part of this "Portfolio Draft," you can join us by signing up for a fully-refundable $7 30-day trial subscription. CLICK HERE to get started!
If you have any questions, feel free to email us at "support@earningsbeats.com".
Happy trading!
Tom