HDFC Standard Life Insurance Company Ltd. (HDFCLIFE.IN)
This stock has a rather short history. After listing in November 2017, it spent the first couple of months moving higher, then returned all those gains in the following months. It is said that chart patterns are fractal in nature; those patterns are more reliable if they appear on more than one timeframe for the same security. HDFCLIFE.IN seems like a good example of this. It has formed a classical double bottom support, halted its decline and currently remains trapped in a symmetrical triangle formation. These patterns appear in both the weekly and daily charts.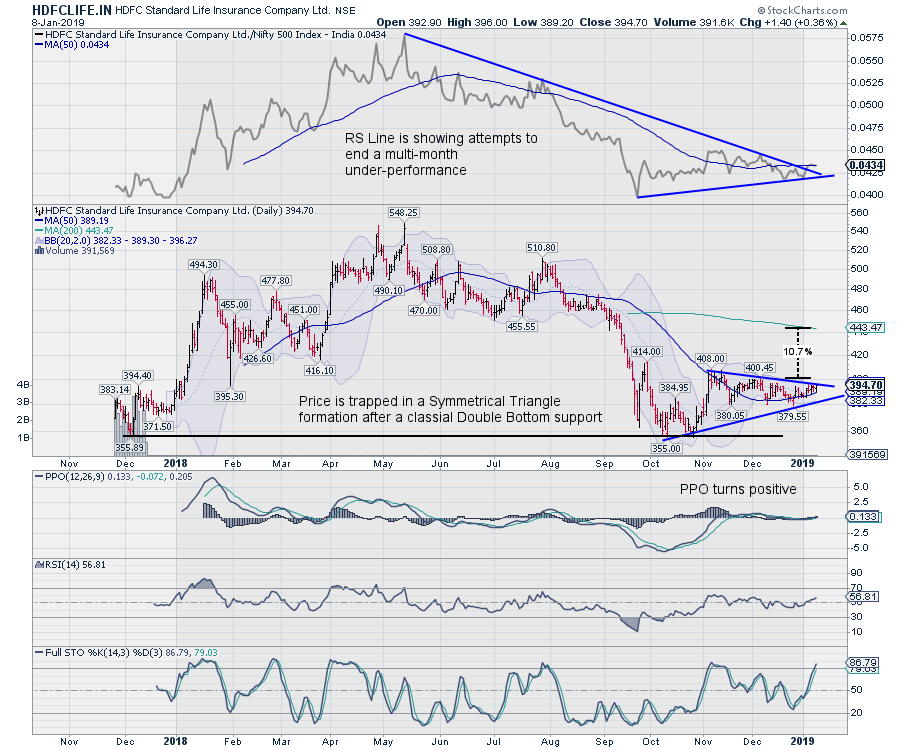 After listing near 380, the stock rose in the coming months, testing its high at 548 in May 2018. Afterwards, through a corrective decline over the next five months, the stock returned all those gains. It then found a double bottom support in the 360-380 range and halted its decline. Over the past quarter, it became trapped in a range that is getting increasingly narrower; it presently remains in a symmetrical triangle formation, after having formed a double bottom on the daily charts. A similar formation remains present on the weekly chart as well.
The RS Line, when compared against the broader CNX500 index, also appears to be ending its multi-month downtrend. It can be seen moving higher and, in the process, moving past its 50-DMA. The daily and weekly MACD remains in continuing buy mode; PPO is also positive. RSI is bullish, having marked a fresh 14-period high and breaking out from a formation.
The prices have crossed above the 50-DMA. The Bollinger Bands are 74.27% narrower than normal. This suggests low volatility in HDFCLIFE.IN compared to its normal range. Therefore, the probability of volatility increasing over the coming days is much higher. This also increases the possibility of a sharp move in price.
If the present pattern is resolved on expected lines, the stock can return ~10% from the current level of 394. Any move below 375 will be negative for the stock.
Milan Vaishnav, CMT, MSTA
Consulting Technical Analyst
www.EquityResearch.asia
---
Disclosure pursuant to Clause 19 of SEBI (Research Analysts) Regulations 2014: Analyst, Family Members or his Associates holds no financial interest below 1% or higher than 1% and has not received any compensation from the Companies discussed.
Announcement from the Author
{{ announcement.content }}