ICICI Securities Ltd. (ISEC.IN)
In addition to being the pioneers in the e-brokerage business in India, ICICI Securities is a technology-based firm offering a wide range of financial services including investment banking, institutional broking, retail broking, private wealth management and financial product distribution.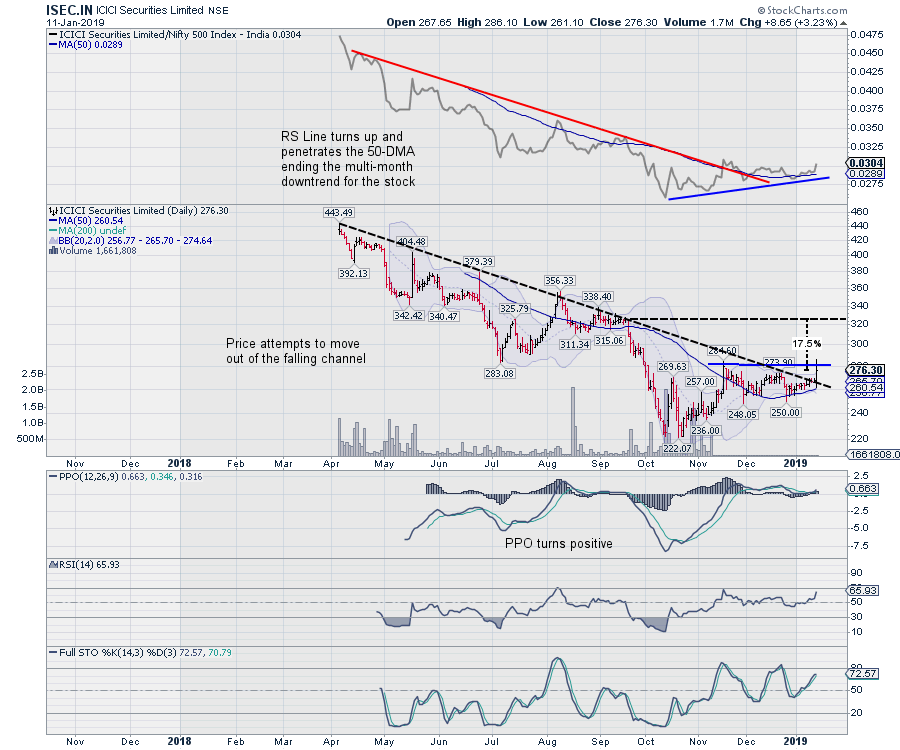 The stock has a short listing history. ISEC.IN marked its high on the listing day at 443 on April 05, 2018; since then, it has remained in a falling channel while wiping out over 50% of its value within a couple of months of listing. Some signals have emerged on the charts that suggest the bad days for this stock are probably over and we might see some uptick in the next few weeks. Investors can consider adding this stock to their portfolio with a medium-term investment horizon.
The stock arrested its multi-month decline, which started at 443, by taking support in the 220-225 range.
After forming a small double bottom at this level, the stock pulled back, halting at the 284 level.
Over the last quarter, ISEC.IN has seen a range-bound movement in the 248-285 range and presently remains in the sideways trajectory.
With Friday's price action (11 Jan 2018), the stock has attempted to break out of the falling channel and move past the falling trend line pattern resistance.
The RS Line, when compared against the broader CNX500 index, has turned up; the RS line has penetrated its 50-DMA.
PPO has turned positive; MACDs remain in continuing buy mode.
RSI has marked a fresh 14-period high, which is bullish.
The price has closed above the upper Bollinger Band. Despite some faint chances of short-term consolidation, this increases the possibility of a breakout confirming itself in coming days - upward revision of prices cannot be ruled out.
If the present pattern is resolved on the expected lines and the trend reversal gets confirmed, the stock may potentially return ~17% from the present level of 276. Any move below 248 will be negative for the stock.
Milan Vaishnav, CMT, MSTA
Consulting Technical Analyst
www.EquityResearch.asia
---
Disclosure pursuant to Clause 19 of SEBI (Research Analysts) Regulations 2014: Analyst, Family Members or his Associates holds no financial interest below 1% or higher than 1% and has not received any compensation from the Companies discussed.
Announcement from the Author
{{ announcement.content }}