While the markets have been suffering from fractured breadth and the NIFTY moved below 10950 (its breakout level) following a strong throwback, the CNXIT index has crawled back into the leading quadrant of the Relative Rotation Graph (RRG). This means that the IT pack is likely to relatively out-perform the broader markets.
With that in mind, the IT pack stock MINDTREE.IN deserves a look.
MindTree Ltd. (MINDTREE.IN)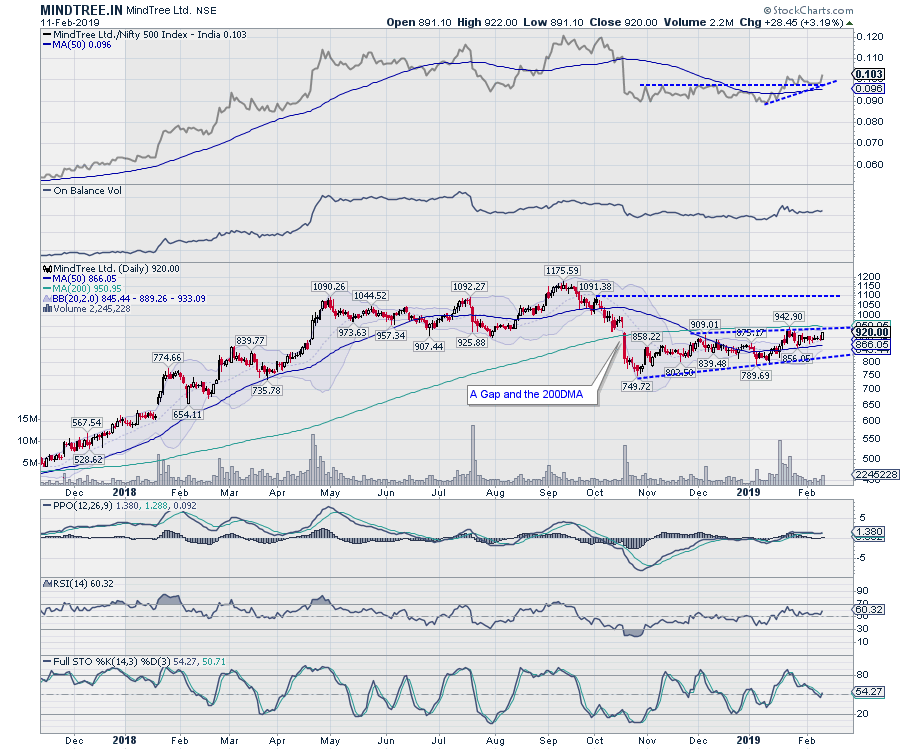 After peaking near 1175, the stock saw a corrective move that took down near 749. During this corrective decline, the MINDTREE.IN also suffered a downward gap near the 927 level.
Over the last couple of months, the stock has seen a capped move in the 749-945 zone. The 200-DMA, which is presently at 950 moves along the above-mentioned gap and almost acts as a proxy trend line for the present formation.
The RS Line, when benchmarked against the broader CNX500 index, has broken out from a sideways move and penetrated its 50-DMA. The weekly RS Line has also moved past its 50-week MA.
The daily MACD has shown a positive crossover; weekly MACD remains in continuing buy mode and is trading above its signal line.
The Bollinger Bands are 51.10% narrower than normal. The narrow width of the bands suggests low volatility as compared to MINDTREE's normal range. Therefore, the probability of volatility increasing with a sharp price move has increased for the near-term.
Though some consolidation in the 920-950 range cannot be ruled out, the probability of a significant price move will increase the longer that the bands remain in this narrow range.
If the price action panes out on analyzed lines, the stock may test the 1080-1100 level in the coming weeks from its current price of 920. Any move below 860 will be negative for the stock.
Milan Vaishnav, CMT, MSTA
Consulting Technical Analyst
www.EquityResearch.asia
---
Disclosure pursuant to Clause 19 of SEBI (Research Analysts) Regulations 2014: Analyst, Family Members or his Associates hold no financial interest below 1% or higher than 1% and have not received any compensation from the Companies discussed.
Announcement from the Author
{{ announcement.content }}