MindTree Limited's stock price ended with gains of Rs. 23.20 (+2.84%) in Wednesday's session on March 14, 2019. This price move appears very important from the technical perspective, as it has thrown up several signals that point towards MINDTREE.IN inching higher over the coming days.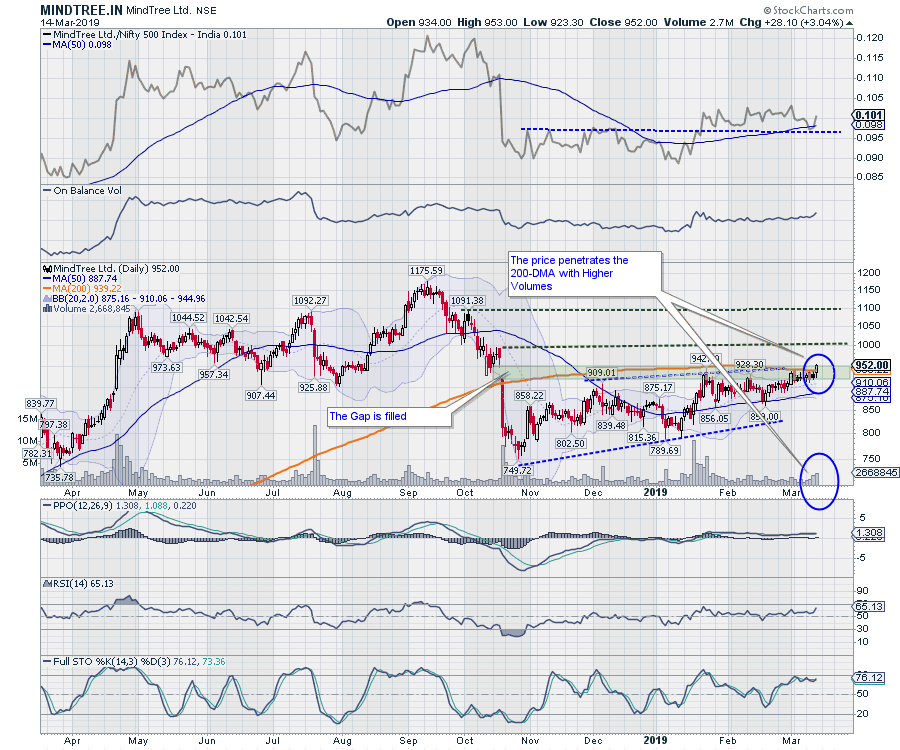 The price has broken out from a multi-month resistance zone of 940-945.
In the process, the price has penetrated the 200-DMA with higher-than-average volumes. This DMA had become a proxy trend line over the past couple of months.
The price action on March 14, 2019 has also filled up the gap created in the month of October 2018.
The MACD trades above its signal line and is in continuing buy mode.
The Relative Strength Index (RSI) has reached its highest value in last 14 days, which is bullish. It also appears to have broken out of a pattern, marking bullish divergence against the price.
MINDTREE closed above the upper Bollinger Band, suggesting that the upward trend in prices has a good chance of continuing. The Bands are 49.07% narrower than normalp; that narrow width suggests low volatility as compared to MINDTREE's normal range. Therefore, the probability of volatility increasing with a sharp price move has increased for the near-term. The probability of a significant price move increases the longer the bands remain in this narrow range.
If the present pattern is resolved on the expected lines, the short term traders can expect the price to potentially test 990-1000 levels, while the short-to-medium-term investors may look for 1070-1090 levels in the coming weeks. Any price action below 885 will be negative for the stock.
Milan Vaishnav, CMT, MSTA
Consulting Technical Analyst
www.EquityResearch.asia
---
Disclosure pursuant to Clause 19 of SEBI (Research Analysts) Regulations 2014: Analyst, Family Members or his Associates hold no financial interest below 1% or higher than 1% and have not received any compensation from the Companies discussed.
Announcement from the Author
{{ announcement.content }}