The IT Pack remains firmly placed in the leading quadrant of the Relative Rotation Graph (RRG) as bench-marked against the broader CNX500 index. However, the IT index has relatively under-performed the front-line NIFTY over the past couple of days. With the NIFTY likely to take a breather and consolidate over the coming days, there is a possibility that we could see some IT stocks relatively out-performing the NIFTY. TCS is one such stock.
Tata Consultancy Services Ltd (TCS.IN)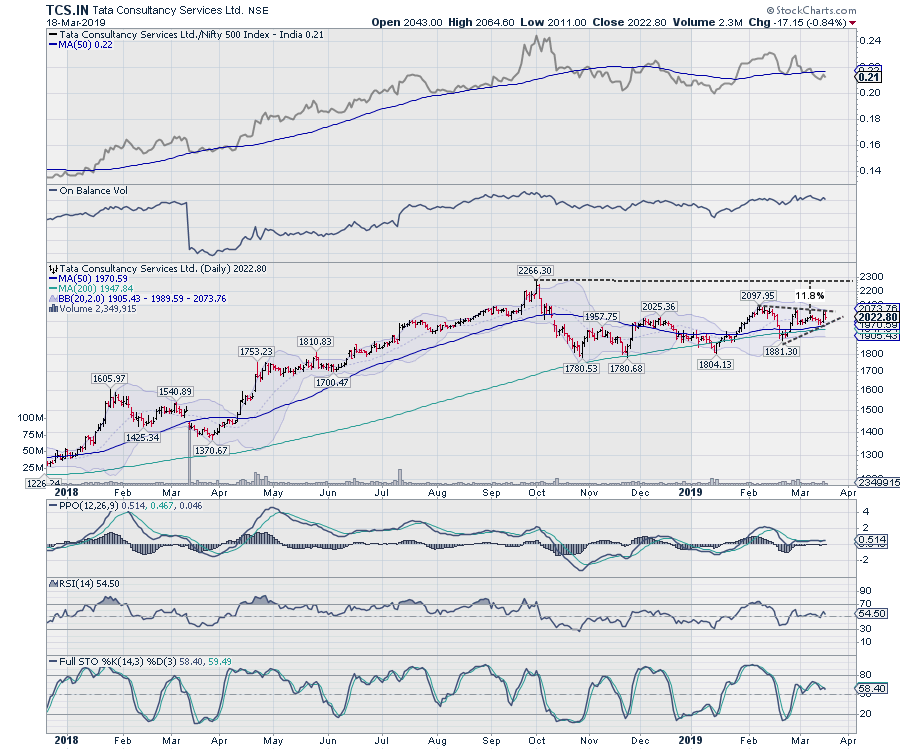 TCS peaked near 2266 in late September 2018 and has since remained in a broad trading range. The price action over the past couple of days has resulted in the formation of a Symmetrical Triangle. If supported by other pieces of evidence, this pattern would act as a continuation pattern.
The daily and weekly MACD remain in continuing buy mode. On the higher timeframe charts, the OBV (On Balance Volume) has shown a sharp up move, which is a bullish sign. The RS Line remains in a firm uptrend on the higher timeframe charts.
If the present pattern results in an up move, the stock can return ~11% from the present price level of 2022. Any price action below 1940 will be negative for the stock.
Milan Vaishnav, CMT, MSTA
Consulting Technical Analyst
www.EquityResearch.asia
---
Disclosure pursuant to Clause 19 of SEBI (Research Analysts) Regulations 2014: Analyst, Family Members or his Associates hold no financial interest below 1% or higher than 1% and have not received any compensation from the Companies discussed.
Announcement from the Author
{{ announcement.content }}