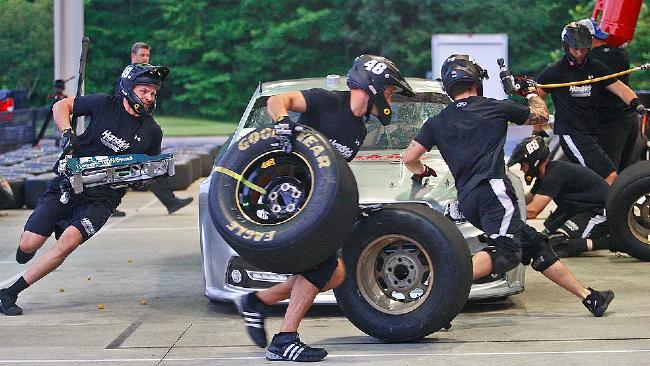 You wouldn't ever try to change the tires on a moving car, would you? You wouldn't go to a dentist who hadn't finished his dental degree, would you? Yet investors every day seem to do exactly the equivalent by investing in the stock market with little or no groundwork or preparation. Without common sense and some basic readiness, they approach investing with a carefree unsuspecting attitude. If you disrespect the markets to that degree, the markets will disrespect you right back.
Imagine how a NASCAR race team would do if they entered a race without a pit crew. Yes, Mr. Investor, you do need your own pit crew. You may need to assume all ten roles for each of the crew members, but that's fine. The point is that you need all ten. You can't do average here and go for seven out of ten. Close enough is not part of the vocabulary in this game. If you forget to hire a crew member to fill up the gas tank, you will not finish the race.
Precisely the same is true with investing. You need your investing pit crew and all ten of them must have practiced together, worked together and focused on the same objective.
---
1. Crew Member #1 is the guy who takes care of asset protection, your money management rules and making sure your trading plan is up-to-date.
2. Crew Member #2 is the business tech who ensures that your computers are humming, your brokerage accounts are in order and you're getting good advice from an accountant and estate attorneys.
3. Crew Member #3 is the team shrink making sure you are writing your trading journal and nurturing the appropriate traits of winning investors.
4. Crew Member #4 is Mr. Market Analysis, the expert in using all your technical and fundamental tools. He reminds you to apply all those probability enhancers in your methodology.
5. Crew Member #5 is the organized disciplinarian who reminds you to do what you gotta do and when you gotta do it! Routines matter.
6. Crew Member #6 is the stealthy one who is always stalking opportunities, doing scans and maintaining your alerts and triggers.
7. Crew Member #7 is the emotionless trigger-puller who deploys money management rules and the appropriate buying strategies as demanded by the markets.
8. Crew Member #8 is the steady Eddy follower who closely monitors all your positions and never loses focus.
9. Crew Member #9 is the steely-eyed cold-hearted gun slinger who sells off loses when they need to be sold.
10. Crew Member #10 is the pit crew boss who's in charge and looking over everyone's shoulder, encouraging crew members to revisit, review and refine everything they do.
This is not stuff that pertains only to the unchained thoroughbred trader. This is basic, user manual stuff that all investors should embrace if they are going to play in the investing sandbox. It reminds me of a new car manual that I read recently. For liability reasons, I suppose it's written for the lowest common denominator, but page 172 included the warning: "Do not drink contents of battery." There is a similar self-evident stock market truth: "Don't invest without a complete pit crew!"
Trade well; trade with discipline!
-- Gatis Roze