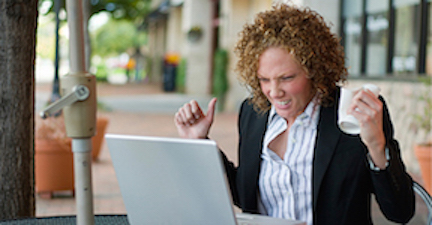 General George Patton once said, "A good plan implemented today is better than a perfect plan implemented tomorrow."
I just had a front row seat for the birth of a new investor, and the experience was not at all what I expected. Few births probably are. Before I lose you due to graphic visions of a hospital room, let me say that the investor birth involved my middle-aged sister finally transitioning from employing a full-service broker to grabbing the bull's horns and managing her own retirement investment account.
Over the years, I had tried to coax, cajole and beg her to do this, but all my pleas passed with no success. I had approached the subject with the usual refrains: "be adventurous," "learn something new," "be your own CFO" and everything in between. Her steadfast reply was always the same: "life is what's happening while your money is being managed by someone else." What finally tipped the scales, however, was a combination of shame, performance and costs.
---
The shame pitch was to question her worthiness as a mother. How would her daughter ever learn to manage her assets if her mother did not teach her and encourage her by example. The performance pitch shocked even me. Her full-service broker had averaged low single-digit returns for my sister's account over the past five years. Consider that the NASDAQ, the S&P 500 and VTI were up 125% to 165%. The third pitch was the expenses. My God, there were fees for getting into investments, fees for staying in, proprietary mutual funds with no tickers to track performance and no way to track cost structures. On top of all that, there was a minimum commission of $150 per trade.
The account statements were clever and very creative at avoiding even a miniscule amount of transparency despite being printed out on fourteen pages. To my sister, the reports generated by this broker seemed to reinforce the conclusion that this investing stuff is way too complex for anyone such as herself to handle, so you best trust the professionals with managing it all for you. It was only when I laid it all out clearly and showed her how much her laissez-faire investing methodology was actually costing in hard cold cash that my sister finally woke up.
In times like these when you have super low discount brokers and even Robinhood.com – the zero commission investing platform with a downloadable phone app – it's crazy to pay full-service brokers. At least, that's my humble opinion. Having said that, I will make one caveat: if your account is really sizeable (my sister's was not), then you might want to get all the ongoing hand-holding, wealth management, estate planning, one-on-one investment selection and performance results for which you'll pay.
That was not the case with my sister. It's important to note that she has graduate level degrees and works as a professional in a highly complex field. She's no dummy – maybe just a little naïve in the financial arena. I can't tell you why she was so tentative and fearful all these years about managing her own assets, but I can tell you with certainty that her new excitement and motivation is contagious.
I've suggested that she invest in a portfolio comprised of a half-dozen low cost, popular ETFs. I'll encourage her to read about each of these in detail and take an ongoing interest in her new hobby. My role is that of a coach helping her march off into new territory, but with her freshly liberated passion, financial vision and energy for investing, I think it will be a leisurely assignment.
As Zig Ziglar used to say, "A goal properly set is halfway reached!"
Trade well; trade with discipline!
-- Gatis Roze