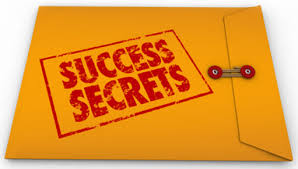 This past February, John Elway, General Manager of the Denver Broncos, achieved the pinnacle of success when his team won the 2016 Super Bowl. When I was a graduate student in business school, I had the privilege and good fortune of watching Elway play football as the quarterback for Stanford and seeing him around campus in a multitude of different situations. I was struck by the fact that, even as an undergraduate student athlete, he stood out as exceptional. Whether in the weight room or in the library at midnight, he was cultivating prerequisites that would significantly increase the probability of his success both on the football field and in the future as a successful businessman. He was all about commitment, discipline, hard work and focus. The results speak for themselves. As I heard him say years later, "The secret of success is that there is no secret."
---
Michael Jordan is probably the greatest basketball player I have personally ever seen. He wrote a book titled "I Can't Accept Not Trying: Michael Jordan on the Pursuit of Excellence" which lays out his rules for success. This book is of interest to us as traders even though we pursue excellence in a totally different vocation. The parallels between Michael Jordan's success and our investing world are uncanny.

A few years ago, my trading buddies and I gifted the same Christmas present to one another by sheer coincidence. It was Michael Jordan's book. In the copy I gave my friends, I had methodically crossed out the word "basketball" and substituted it with the word "trading". My point was to show these parallels. I'm sure Michael Jordan was not even aware that he was writing a sensational book on successful investing. To excel in trading as in sports like basketball, one must subscribe to the same universal truths. Valuable investment lessons can be gleaned from exceptional individuals all around us.
The one recurring attribute I've seen in those students of mine who become consistently profitable investors is their wholehearted acceptance of the notion that the secret to successful investing does not reside in some indicator but within the "investor self". I believe that embracing this realization and acting accordingly has been pivotal in achieving their investment objectives. One of my old trading journals had in it notes I took from a Wayne Gretzky interview in the 1990s. The following comments were paraphrased from what I heard him say. As you read them, try to imagine instead that it's Peter Lynch talking to you about investing.
As an athlete, if you aspire to be the very best you can be during your relatively short athletic career, you have to be constantly aware of shedding old habits and utilizing only those training routines that specifically address your weaknesses.
It's human nature to do what you like to do. It's a lot harder to focus on doing those things that you need to do.
Once you know what you truly need to do, you should discipline yourself to do those items first. If you can maintain this kind of discipline, you will achieve your objectives.
In 1993, when Coach Bill Walsh returned from his Super Bowl success to coach again at Stanford, he gave a talk to alumni. As my trading journal notes show, he sounded a lot like Michael Jordan – he was a geyser of "investment wisdom" even though he was talking about football. Of particular interest to me that day was his answer to a question about why his star Super Bowl quarterback, Joe Montana, had been so successful. Coach Walsh succinctly reeled off seven reasons.
Before each game, Joe Montana spent 75% of his time doing mental preparation for
the game.
Montana always prepared for the unexpected.

Montana paid attention to the small details that others lazily ignored.
Montana understood the importance of intuition and actively tried to improve it.
Montana constantly visualized successful plays.
Montana's extraordinary preparation before the season and before every game laid the foundation for the calm confidence he brought to every game.
Montana used tracing paper to trace plays over and over until every variation was clear. Every option for him was considered beforehand.
Here's the bottom-line: Don't just read investment books or listen to trading "gurus". Powerful insights and lessons leading to more profitable investing can be acquired in unconventional arenas. You will find these universal truths anywhere that the pursuit of excellence is happening. You should be constantly asking yourself how your "investor self" can profit from such discoveries.
Trade well; trade with discipline!
-Gatis Roze, MBA, CMT
Presenter of the Tensile Trading DVD, Stock Market Mastery.
Developer of the StockCharts.com Tensile Trading ChartPack.
P.S. Click HERE for information on my future appearances & seminars.