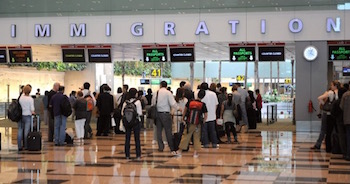 "Friends don't let friends drink and drive." We have all been exposed to this public service advertisement since it was first broadcast in 1983. This simple slogan has been embedded in our collective consciousness, and research has proven that its impact has saved thousands of lives. It really works.
If you read my blogs regularly, I'd wager that you are probably the most sophisticated investor in your friend group. With that comes a similar responsibility to look out for your friends. This is in part what motivated me to begin teaching investors over twenty years ago. Perhaps a comparable handle might be to say "Friends don't let friends invest wildly or blindly" – use whatever synonym you feel is appropriate. I'd even go so far as saying that perhaps potential investors should be treated like immigrants and your role being that of a customs official.
---
For example, if you apply for permanent residency in Canada, you'll be evaluated on a points system based on education, your skill set and economic resources among other factors. I submit to you that potential investors should be treated somewhat the same before they are allowed residency as investors in the stock market. A points system for investorship might best be based on the candidate's emotional and behavioral stability, written investment methodology and understanding of asset allocation with all its subtleties. This should convince you of the merits of this approach.
http://store.stockcharts.com/collections/dvds/products/how-to-master-your-asset-allocation-profile
People would not be automatically granted "investorship" merely by the fact that their assets exceed a certain amount – say, $100,000 – or that their IQ exceeds their shoe size. What would count instead would be their knowledge, methodology, preparation and emotional equilibrium. Unfortunately, however, no one is letting me write the qualification rules for any such membership.
So here's my pitch. Seasoned investors have a responsibility with those friends who are less experienced in the financial arena. Whether you're a friend, a mentor or guardian angel, you should just follow the mantra that "Friends don't let friends invest blind." The point system prequisites can be of your own choosing as to when you bestow "investorship" status on your friends. Make it fun, but be firm. They will thank you eventually.
Trade well; trade with discipline!
- Gatis Roze, MBA, CMT
You're invited!
Join me for an upcoming FREE investment seminar and book release party!
On Sunday, July 24th from 3:30pm to 6:00pm in Seattle, we will be hosting an educational event and reception to celebrate the release of our new book.
For complete details, CLICK HERE!