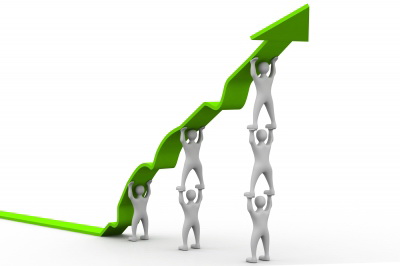 Anywhere you see excellence and mastery happening, you'll discover the same set of recurring universal truths. Great athletes achieve excellence and make it look effortless. Great investors make market mastery seem natural and make profits look easy.
I love the line "I worked all my life to become an overnight success." For me, this embodies the foundation of excellence and the cornerstone of mastery. It's all about preparation, discipline and organization. When that all comes together, it's magical. Stock market mastery demands that investors weave together a string of powerful habits, profitable methodologies and reproducible routines. It is these all-important routines that allow you to muzzle the bumper car beasts of bad behavior.
---
I confess that I am a man of routines. My carefully constructed routines and ChartLists provide me the roadmap that I follow. I have found this gives me four key advantages.
Routines allow me to replicate my successes and minimize my failures.
Routines maximize my market insights while minimizing my precious time doing so.
Routines ensure that I don't overlook essential market elements.
Routines keep me focused on a paradigm that I know produces both consistency and profits, thereby preventing me from wandering off into 'Blunderland'.
The Tensile Trading ChartPack is precisely my 'Roadmap of Routines'. When I first shared it with my classes back in 2012, it was entirely my own construction. These days, however, the ChartPack is the product of a user community numbering in the thousands. Collectively, we benefit from everyone's insights and suggestions which are now built into the latest version of the ChartPack.
It is an unassailable truth that all investors need to develop a personalized list of ChartLists and routines. There are two ways to achieve this. Personal trials and errors over many hundreds of hours is one way. A better way is simply to download the ChartPack. It has 95 ChartLists that are pre-populated and pre-formulated. You can then delete those ChartLists which do not interest you.
So, here are a few brief descriptions of some (not all) of the recent updates. Trade well and keep those suggestions coming!
10.0 - Read Me First
I want to give a shout-out to ChartPack user Bill Adcock who suggested that we list the date of the most recent ChartPack update so our user community can quickly tell if they have the most current up-to-date version. (Why didn't I think of that?!) We have now installed the date in this file. In actual fact, minor updates, tweeks, and improvements happen on an ongoing basis as the user community submits suggestions. But generally, the date will reflect the major quarterly updates only which warrant downloading the new version of the ChartPack.
110 - Large / Mid / Small Caps
We added two charts to this ChartList which facilitate drawing conclusions about the present market's preferences. On one chart, we plotted the performance of the three iShares Growth ETFs for Large Cap Growth, Mid Cap Growth and Small Cap Growth along with the Vanguard Total Market (VTI) in the background as an opaque area graph. This visually tells us clearly how these three segments are stacking up against each other and which ones are outperforming the market (VTI).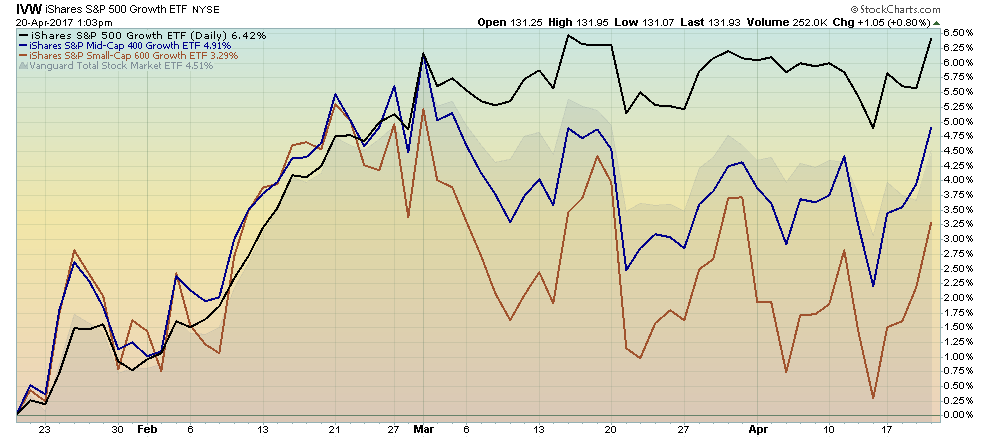 The second chart is similar, but it plots the performance of three iShares Value ETFs for Large Cap Value, Mid Cap Value and Small Cap Value, again with VTI in the background as an area graph. What we are looking for is confirmation on both Growth and Value charts that the markets are aligning Large, Mid and Small Caps in the same order (or sometimes in inverse order).
We can also clearly see if Growth or Value is in favor versus the VTI area graph in the background. Quick, clear conclusions. This is what the ChartPack is all about.
205 - Country Funds
According to Fidelity, the top performing equity market over the past 30 years has been outside the USA - one hundred percent (100%) of the time. Couple that with two more facts: 78% of global GDP comes from non-USA companies and only 26% of the world's publicly traded companies are in the USA. Now you can see why monitoring this ChartList of country fund ETFs presents many potential opportunities.
To reflect and embrace these facts, we have added nearly a dozen new ETFs to this ChartList. Now you can explore both large cap and small cap ETFs for the same country. For example, you can compare Brazil (EWZ) versus Brazil Small Caps (BRF).
We also added Vanguard Total USA Market (VTI) since that makes it possible to sort by performance and easily see how the USA stacks up to the rest of the world. Do the sort for yourself; it will shock and awe you! You need to actually see the outperformance to believe it. Just another example of why we visual investors embrace charts and trust the investable opportunities they offer us.
400 - Bullish versus Defensive Sectors
Last quarter, we received a lot of positive feedback about this new stacked strength chart. In the praise for its visual powerfulness, one of the users suggested that changing from 'price' plots to 'price-performance' plots would yield even better relative performance conclusions. We agree. Hence, the sectors and index are now shown in percentage terms.
402 through 411 - Sector ETFs
As most of you know, I believe stock market analysis needs to start with the overall markets followed by the market sectors. The StockCharts.com website highlights the SPDR Sector ETFs. The Tensile Trading ChartPack expands upon these, as each SPDR sector has its own ChartList populated with the ETF's largest individual equity holdings. With the advent of Morningstar's expansion in rating ETFs and the wonderful summary reports and ratings offered by ETF.com, we have added a second same sector ETF alternative to each of the ChartLists, for your consideration.
For example, in ChartList 406 Technology Sector XLK, now there are two top alternatives for your consideration: (1) Vanguard Information Technology ETF (VGT) and (2) iShares US Technology (IYW). This is true for all the other sector ChartLists as well. Note that ChartList 410 Financial Services XLFS has vaporized.
Fidelity Select Portfolio Funds (lists 420 through 420-90)
It's no secret that the market has taken us all for quite a wild ride these past few months. We've seen big post-election moves in financials and industrials, a sharp selloff in tech followed by an even stronger recovery, and huge gains in dozens of big name stocks. Some of the dust now seems to have settled, raising questions about a potential top and introducing some uncertainty into the market. One thing is certain: this type of active market climate like the one we've had on our hands since November always makes for some interesting changes in the Fidelity Select Portfolios.
Let's take a quick look at some of the more interesting observations:
The Air Transport fund is one that traditionally does not see frequent changes to its top 10 holdings. This quarter, however, was a big exception to that trend. Lots of changes here, including the return of a long-time holding that had previously fallen out of the fund's top 10 two quarters ago.
The Automotive fund also made some interesting moves this past quarter, dropping autonomous driving technology company, Mobileye, from its top 10 list and adding a major Japanese automaker instead. With the continued growth of electric vehicles, this is an industry that will undoubtedly remain in the spotlight for years to come. For that very reason, it's smart to keep an eye on how the big money players at Fidelity are managing their portfolios.
The Chemicals portfolio came under new management late in 2016, and that team really decided to shake things up this past quarter. The fund saw four new stocks join its top 10 holdings list. The four stocks that were replaced included Ecolab and PPG.
The Financial sector has been at the center of attention since the November election. Fading recently from its highs in late February, financial stocks continue to be a focus as Fed talks swirl, dollar discussions rage and earnings hit the fan. The financial-related Fidelity funds as a whole were highly active this past quarter, particularly both the Banking and Brokerage / Investment Management funds. This is clearly an area of the market in which the smart money thinks they can find value, and they're re-positioning their portfolios accordingly.
Similar to the Financial sector, Energy has been a hot topic. Oil prices are still struggling to find stability above $50/barrel, and energy stocks continue to bounce around. As such, the energy-focused Fidelity funds were particularly lively in the last quarter. The Energy portfolio dropped Cimarex, a major exploration and production company, from its top 10. It also lowered its total portfolio holdings from 92 down to 80 positions. That contraction tells you something quite interesting about the fund managers' willingness to pump cash into the sector.
On a related note, the Environment / Alternative Energy portfolio saw a big expansion of its total holdings, up 11 new positions to 62 total. The fund also saw four new stocks jump into its top 10 holdings, including Danaher (DHR), which has performed nicely over the past year and looks to be resuming its uptrend once again.
---
UPGRADE INSTRUCTIONS FOR EXISTING CHARTPACK USERS:
Important: If you have modified any of the charts in any of the ChartLists that start with "GR - ", those changes will be deleted as part of the upgrade process. If you want to keep those changes, you need to copy those charts into a different non-"GR" ChartList before you upgrade!
To Upgrade the Tensile Trading ChartPack, follow these steps:
Log in to your account and then click on the "Your Account" link in the upper right corner of the web page.
Scroll down and find the "ChartPacks" area towards the bottom of that page.
Find the entry for the "Tensile Trading" ChartPack in the table that appears. (If you don't see it, that means that you didn't purchase it - click here to purchase it.)
Click on the "Re-Install" button next to the Tensile Trading ChartPack to start the reinstall process.
The download should take about 15 seconds. At that point, you can explore the new ChartLists and updates.
INSTALLATION INSTRUCTIONS FOR NEW CHARTPACK USERS:
If you are new and would like to add the Tensile Trading ChartPack to your StockCharts account, please Click HERE to get started.
---
Trade well; trade with discipline!
- Gatis Roze, MBA, CMT