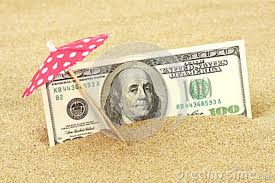 It's been my experience as a full-time trader over the decades that investing muscles need to take a vacation regularly. I've learned the hard way that vacations must be part of my money management routines. If I procrastinate and wait until I realize I need a vacation, the markets inevitably will have already told me the same thing in subtle ways. By then, it will have cost me money. My advice to you is to extract yourself from the investing-is-life box before reaching this point.
---
I'll concede that vacations are not real living but they need to be a regular part of your portfolio management life. As I've happily discovered, vacations help undo the investing 'brain-lock' that can develop from going to the office five days a week. Now understand that this is coming from a guy who has basically built a life for himself from which he doesn't really want a vacation. Having said that, the crazy reality is that my bottom line has been more profitable in those years where I've taken regular vacations. Remember, too, that my sample size is now over 25 years, so don't impulsively dismiss my observation.
Hear what I am saying. Vacations are not a luxury. They are a necessity. Go ahead, show this blog to your spouse or significant other as a way of justifying that trip to Spain (I'll be there in April!).
Think of it as spa time for your investing gray cells; it's emotional maintenance. It's liberating for disciplined investors like us to sit on the beach, get greased up with SPF 50, and read a book that's been sitting next to our bed for three months. Then we get to make decisions using the eenie-meenie-minnie-moe method!
Make your vacation just long enough so that you begin missing your regular investing routines or you start forgetting your account passwords. It's powerful medicine to help you reconfigure and rediscover yourself in order to make yourself open to better hear what the markets are trying to tell you.
Here are two other blogs I've written on my vacations. Lastly, don't forget the sunblock!
http://stockcharts.com/articles/journal/2016/12/ten-holiday-vacation-lessons-from-this-traders-experience.html?st=ten+holiday+vacation
http://stockcharts.com/articles/journal/2012/05/the-worlds-greatest-hobby-trading-in-hawaii.html?st=worlds+greatest+hobby
Trade well; trade with discipline!
- Gatis Roze, MBA, CMT
- Grayson Roze