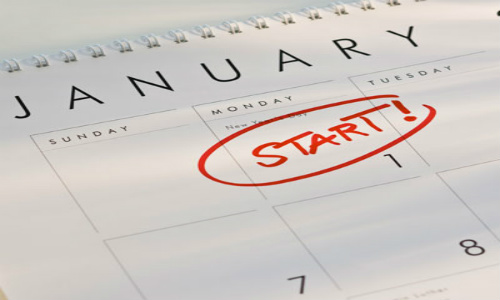 Alright, I know. It's a little cliche. But hey, not only is it a Friday, it's also the last Friday of the year. And not only is it the last Friday of the year, it's also the final trading day of 2017 (can you believe that??). And what do you do on the final trading day of the year? Well, you look ahead to the new year of course!
Now, I for one am about as big a fan of New Years as you're going to find. No, not because of the champagne and fireworks, but because I firmly believe that there is no greater, more productive, more compelling time of year to truthfully evaluate yourself, both where you've been and where you're going. As the calendar rolls over, you have the chance to look back on the year behind you with a unique degree of clarity that only the first of January can produce. You are able to pinpoint weaknesses, outline goals for improvement and lay out a clear plan for making positive changes. No matter what aspect of your life we're talking about - work, family, exercise, diet, investing, etc. - the start of a new year brings with it the opportunity to make the next 12 months better than the last.
Now is the time to look ahead to your financial future in 2018 and outline your investing resolutions for the new year - not tomorrow, not next week, not the third Tuesday in January when you're already back to old habits.
So, with your guard let down and your attitude set to "most optimistic", you're ready to establish some investing resolutions for the new year. But where do you start? Well, allow me to offer some assistance.
As you know, the Tensile Trading methodology that Gatis and I espouse is based around 10 stages, the essential foundations necessary to achieve Stock Market Mastery. Because each of these stages represents a core element of successful investing, they provide an ideal framework for thought when asking "how do I make myself a better investor in the new year?" For each of the 10 stages below, I've included both a brief description and a few prompting questions to help you generate your own investing resolutions.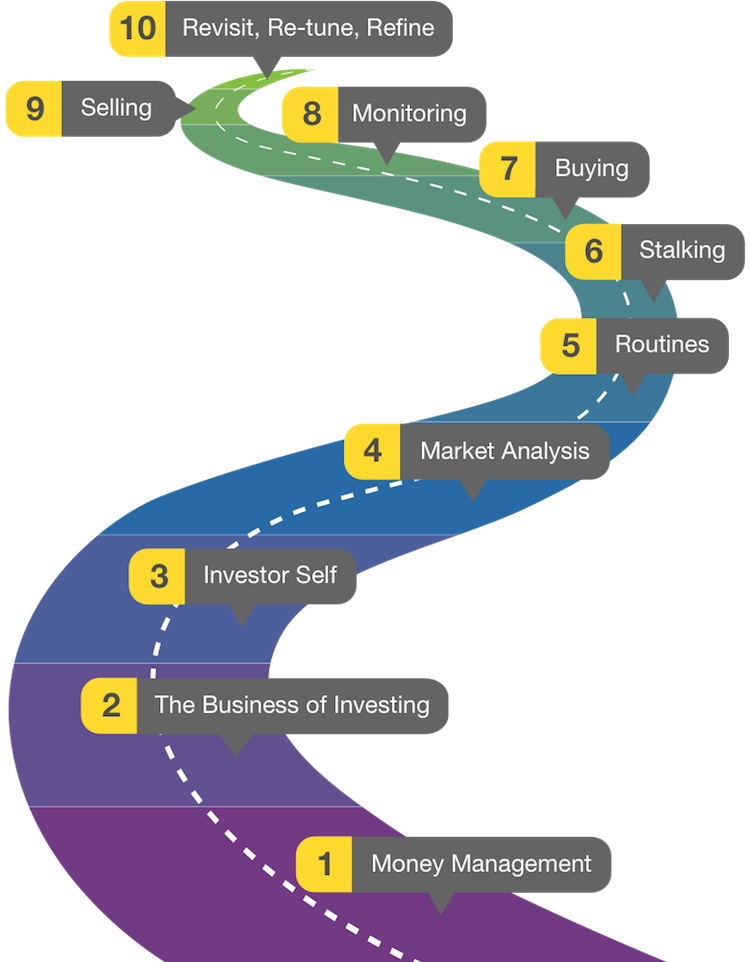 ---
Stage 1: Money Management
"Gaining a comprehensive understanding of your exact financial standing and focusing on asset protection before asset growth."
Did you prioritize asset protection before turning your attention to asset growth?
Did you keep an eye on your asset allocations and maintain a properly diversified portfolio? Or did you over focus on one specific asset class and let your portfolio structure get out of whack?
Do your cash management strategies still make sense? Did you do a good enough job of getting money into the market?
Were your accounting and organization systems appropriate for your level of investing activity?
---
Stage 2: The Business of Investing
"Instituting the proper tools, technology and software to bring a level of organized professionalism to your investing."
Did you treat your investing like a business? Did you handle it with the seriousness it deserves?
Did your attention come and go throughout the year?
Did your computer hardware, internet service, software subscriptions or brokerage choices help or hurt you in 2017?
---
Stage 3: The Investor Self
"Learning about the psychology of a successful trader's mind and gaining control over the emotional components involved in trading the markets."
Have you been brutally honest with yourself this year, especially when keeping your trading journal?
Are you able to acknowledge and address your weaknesses?
Did you keep common cognitive biases in mind while making trading and investment decisions? Did you consistently fall victim to any of those negative tendencies?
Did you keep your emotions in check when your hard-earned money was on the line?
What is holding you back from becoming the very best investor you can be?
---
Stage 4: Market Analysis
"Adopting a telescope to microscope perspective to gain a complete picture of the market's present actions and identify the highest-probability trades."
Is your approach to the market producing consistent profits?
Is your methodology really right for you? Have you tailored it to fit your true trading character?
Are you using the appropriate blend of technical and fundamental strategies?
Is your market analysis timeframe the right one for you? Is it too long term? Too short term?
---
Stage 5: Routines
"Keeping a personal trading journal, crafting an annual plan, and embracing daily, weekly, and monthly checklists and essential portfolio routines."
Are you staying consistently committed to your routines?
Did you allocate too little time to your investing? Too much time? How is your balance?
Can you shift some daily routines into weekly routines? Weekly routines into monthly routines?
Did you procrastinate too much or skip the tasks you knew you had to do? Were you a lazy investor?
---
Stage 6: Stalking
"Using the Sisters Strategy and implementing your written investment methodology to sift through the noise and find your next promising trade."
Do your Core and Explore percentage allocations need to be adjusted?
Were you consistent with the analysis tools and routines you applied to your stalking targets? Or did you constantly change from one set of tools and indicators to another?
Did you let your watch lists pile up into an unmanageable number of potential trades without ever buying something? Did you fail to convert ideas into trades?
---
Stage 7: Buying
"Using specific buying strategies and money management rules to pull the trigger and purchase a new security."
Did you stay true to your methodology when it came time to buy?
Did you stick to your buying rules and your technical toolkit? Or did you get wrapped up in the moment and simply buy on a whim?
Did you take action? Or were you stuck in analysis paralysis while you sat on the sideline?
Did you focus too much on the Explore portion of your portfolio and let the Core slip?
Did you pyramid into new positions or just buy all of your intended allocation at once?
---
Stage 8: Monitoring
"Staying true to your investor self while remaining disciplined and engaged as you diligently monitor the performance of your investments."
Did you remain consistent with your portfolio monitoring? Or did you lose interest and let open positions run too wild?
Did you make excuses for missing market movements or procrastinating?
Did you have the discipline to stay focused on your investments during the "watch and see" times?
---
Stage 9: Selling
"Executing the pre-determined sell flag checklists and the Sisters Strategy to determine the best time to exit out of your positions."
Did you struggle to pull the trigger on the sell side? Did you fail to take action when you needed to?
Did you use stops to limit downside risk? Were your stop setting strategies off?
Did your personal selling checklist become too long and complex? Does it need adjustment?
Did you let your emotions cloud your judgment on the sell side?
---
Stage 10: Revisit, Re-Tune, Refine
"Reviewing your trading journal, refining your tools to maximize the effectiveness of your methodology, and evaluating your emotional performance."
Are you maintaining your trading journal and documenting your investing activities?
Are you being brutally honest about your trading experiences, both positive and negative?
Did you learn from your mistakes and use those experiences to refine your trading methodology?
---
It's not my place to write your investing resolutions for you. I can only serve as a thought provoker, someone to facilitate your reflection and encourage your growth. 2017 was a historic year in the market, one that certainly caught a lot investors by surprise and was sure to test even the strongest of investing methodologies. As such, the start of the new year is the perfect time to look back, assess your execution in 2017 and take note of the areas in which you need to improve. With the right frame of mind and a splash of cold hard honesty, you can put the right resolutions in place for 2018 and start the new year off on the right foot.
Trade with purpose, trade with poise.
- Grayson Roze
Business Manager, StockCharts.com
Author, Trading for Dummies (Wiley, 2017)
Author, Tensile Trading (Wiley, 2016)
StockMarketMastery.com