Last month, the U.S. Government suffered its worst cyberattack in history, with many federal agencies being targeted by suspected Russian hackers.
The major data theft and security breach has corporations, as well as the government, ramping up spending to protect themselves. And with estimates calling for a 20% increase in sales for Security Software companies, select stocks are expected to see continued liftoff.
While Wall Street expects the overall sector to see a lift, due to the nature of the December attacks, names specifically focused on advanced threat detection, data security and identity security are expected to see the biggest increase in budget allocation.
Sailpoint Technologies (SAIL) is a company that has this focus, as they help organizations govern digital identities of employees, contractors and business partners, using on-premises, cloud and mobile applications.
DAILY CHART OF SAILPOINT TECHNOLOGIES , INC. (SAIL)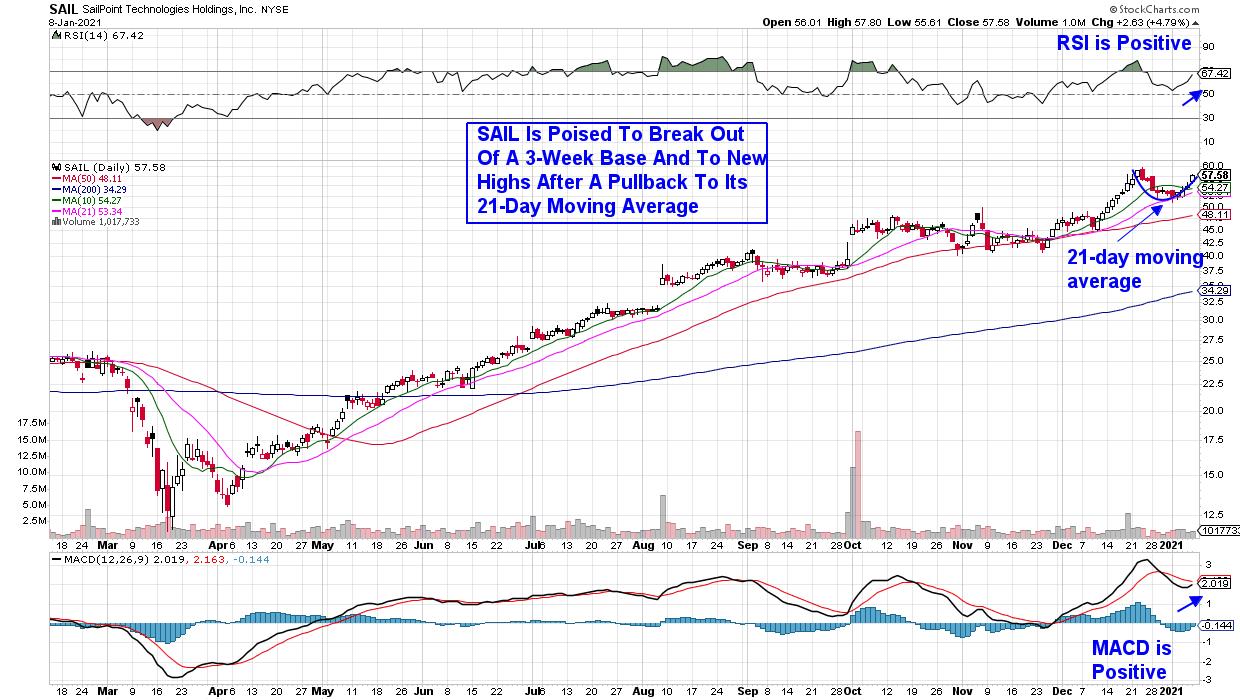 SAIL posted 3rd quarter earnings results recently that were 57% above last year and 320% above analyst's estimates.
This strong growth is expected to accelerate into next year, with 3 major Wall Street firms raising their guidance this week with a price target as high as $71. The stock is poised to trade higher after last week's break back above its 10-day moving average pushed the stock back into an uptrend.
Crowdstrike Holdings (CRWD) is another cloud-delivered solution that provides endpoint security and threat intelligence for comprehensive protection against sophisticated attacks. The stock broke out of a 6-week base on volume after reporting 214% earnings growth for the 3rd quarter. Strong sales from the company were also ahead of estimates.
CROWDSTRIKE HOLDINGS, INC. (CRWD)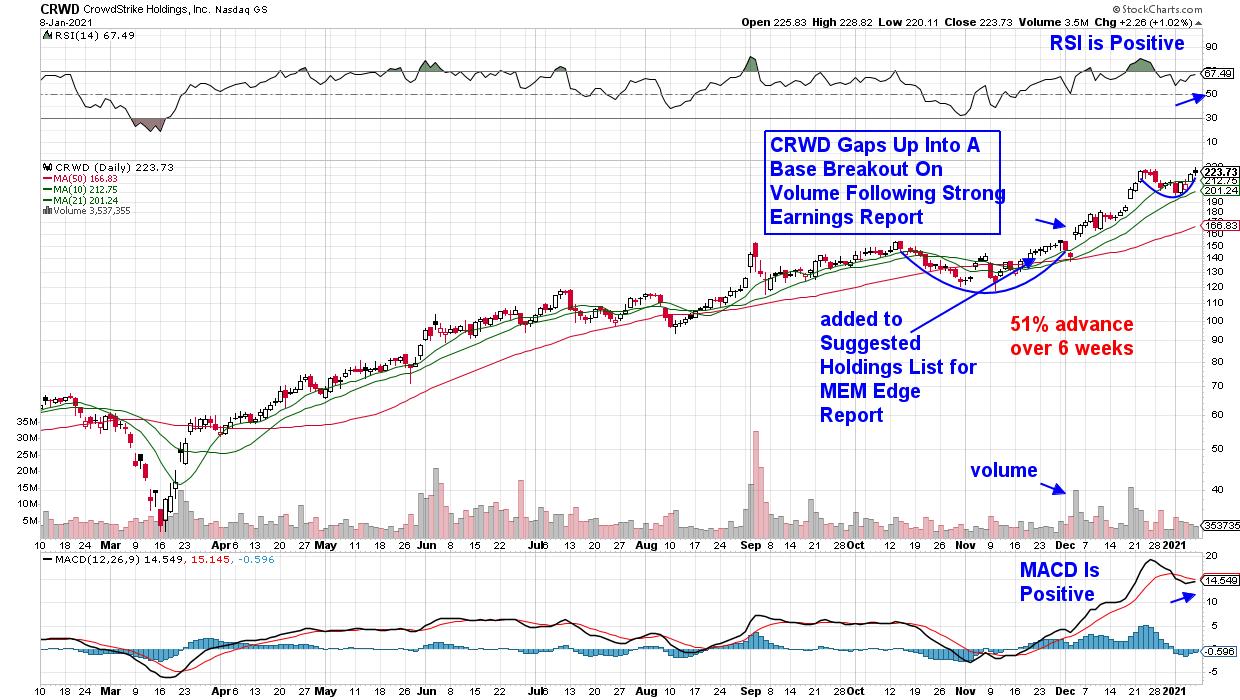 Subscribers to my MEM Edge Report were alerted to Crowdstrike in late November, as the stock was poised for a 6-week base breakout as analysts were raising earnings estimates. The stock has gone up 56% since then and CRWD is now close to the breakout of a secondary 2-week base after its recent pullback. A break above $227 would be even more bullish for this leader in security solutions.
For those who would rather own a basket of Computer Software stocks specializing in security, Prime Cybersecurity ETF (HACK) would be an ideal solution. The ETF seeks performance that correlates with the Prime Cyber Defense Index and contains U.S. as well as foreign-based companies that help entities fend off cyber attacks.
Other groups outside of Software Security are also poised for explosive moves into 2021. Last week, my MEM Edge Report highlighted Bank and Energy stocks that posted exceptional returns and are still headed higher. For those who'd like to be alerted to these and other stocks that are ready to take off, trial my bi-weekly MEM Edge Report for 4-weeks at a nominal fee. You'll be provided with market and sector insights that will give you the confidence to take advantage of this strong bull phase. In addition, our report provides exit points so you can preserve your gains should this frothy market show signs of deterioration.
I hope you'll take advantage of this special offer!
Warmly,
Mary Ellen McGonagle, MEM Investment Research