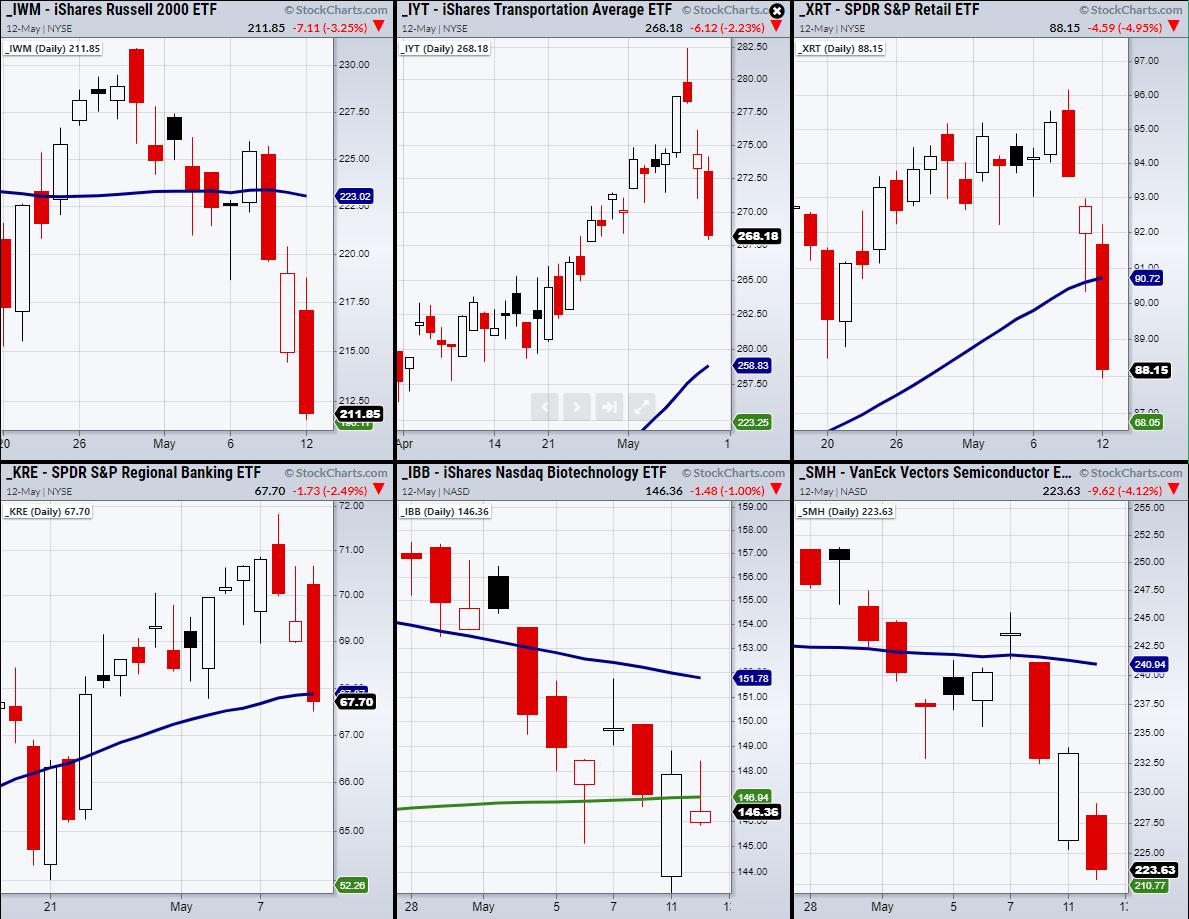 On Wednesday, the market continued the prior days' sell-off. This has placed the overall market trend in a pivotal area as more sectors begin to look weak.
This can be seen in Mish's Economic Modern Family, which consists of one index and 5 important sectors. Currently, the Russell 2000 (IWM), Retail (XRT), Semiconductors (SMH, and Regional Banking (KRE) are in cautionary phases, with the Biotech space (IBB) sitting in a distribution phase.
A cautionary phase is when the price is under the 50-day moving average but over the 200-DMA. This phase normally follows a bullish phase, where the price is still over the 50-DMA as seen in the transportation sector (IYT). Additionally, because the transportation sector is over its 50-DMA, it is the last sector in a bullish phase within the Family. This does not look great for the overall market picture, and could be showing more chop and a bigger pullback is in form.
With that said, a cautionary phase does not mean we are taking a bearish stance. Many times, a symbol can trade back and forth between phases before continuing higher or breaking down. A good example is how IWM has consistently traded between a bullish and cautionary phase for the past 2+ months. Moreover, we can watch how each Family member performs and if the ones that are still near their major moving averages can recoup back over the 50-DMA.
Recently, the transportation sector has been the shining star of the bunch. However, can it still hold up if most of the Family members are heading lower?
---
Follow Mish on Twitter @marketminute for stock picks and more. Follow Mish on Instagram (mishschneider) for daily morning videos. To see updated media clips, click here.
---
ETF Summary
S&P 500 (SPY): 404 the 50-DMA
Russell 2000 (IWM): Next main support 208
Dow (DIA): 333.31 support area from the 50-DMA
Nasdaq (QQQ): Confirmed a cautionary phase with second close under the 50-DMA at 352.88
KRE (Regional Banks): Broke support at 67.87
SMH (Semiconductors): 216.14 next support area
IYT (Transportation): 260 support area
IBB (Biotechnology): Second close under the 50-DMA at 146.94 will confirm a distribution phase
XRT (Retail): Needs to get back over 88.47
Forrest Crist-Ruiz
MarketGauge.com
Assistant Director of Trading Research and Education