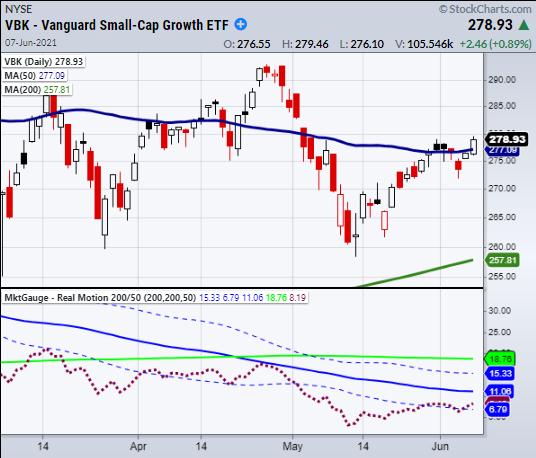 "A small-cap is generally a company with a market capitalization of between $300 million and $2 billion. The advantage of investing in small-cap stocks is the opportunity to beat institutional investors through growth opportunities. Small-cap stocks have historically outperformed large-cap stocks but have also been more volatile and riskier investments." Investopedia
Adding the word growth makes the small-cap growth stocks those that expect fast growth (in earnings, sales, book value and cash flow) with high valuations (ratios high, dividend yields low). Hence, the operative words are "volatile" and "riskier." Furthermore, "fast growth" is what we are going for here.
The ETF (Exchange Traded Fund) Vanguard Small-Cap Growth (VBK), as of April 30, 2021, has 647 stocks in its basket. VBK is a great choice for investors looking for solid exposure to the US small-cap growth market. 99.94% of its country holdings is in the U.S, with only 0.06% Canadian. The top five sectors within the ETF are Technology, Healthcare, Industrials, Consumer Cyclicals and Financials. Of course, keep in mind that the stocks in this ETF and within this sector are not the big tech ones like Microsoft or Apple. These are the potential highflyers that are expected to grow quickly in earnings and sales.
VBK, which began trading in 2004, rose with the market until the 2008 financial crisis. However, ever since the spring of 2009, VBK has been in a monstrous uptrend. During the pandemic in 2020, it fell with the market once again, yet has held a key 6-year monthly moving average, which has kept the uptrend intact.
In 2021, the year-to-date return is 2.83%. VBK made an all-time high in February 2021 at 304.93 and currently trades between 275-280.
As of last Friday, VBK's price rose, ending the week higher and outperforming the S&P 500. This puts not only this ETF but several other stocks in its basket in focus should the market remain solvent. In a strong bull market, we would rather put our money here than in the classic mega-cap stocks as the profits can come swiftly with huge percentage gains.
Within the basket, there are a few instruments of interest. One stock is 3D Systems (DDD). Not only has DDD moved well since 2021 began, but the stock has also quadrupled in price and now sits well situated with support on the charts, capable of seeing the price rise to $50.00. Another favorite is Sonos Inc., a maker of speakers (SONO), and Sunrun (RUN), a solar company.
Going back to VBK, which gives you exposure to the small-cap growth stock space without picking a specific company, the chart I highlight shows that VBK has begun to show some leadership against MarketGauge's benchmark. Our Real Motion Indicator, which measures momentum, illustrates that the momentum has increased, yet still has a way to go. And the price, as mentioned, is peeking its head above the 50-daily moving average, which, if it holds along with rising momentum, is a good sign.
---
Follow Mish on Twitter @marketminute for stock picks and more. Follow Mish on Instagram (mishschneider) for daily morning videos. To see updated media clips, click here.
Click below to watch Mish give insight on the G7 summit on Cheddar News!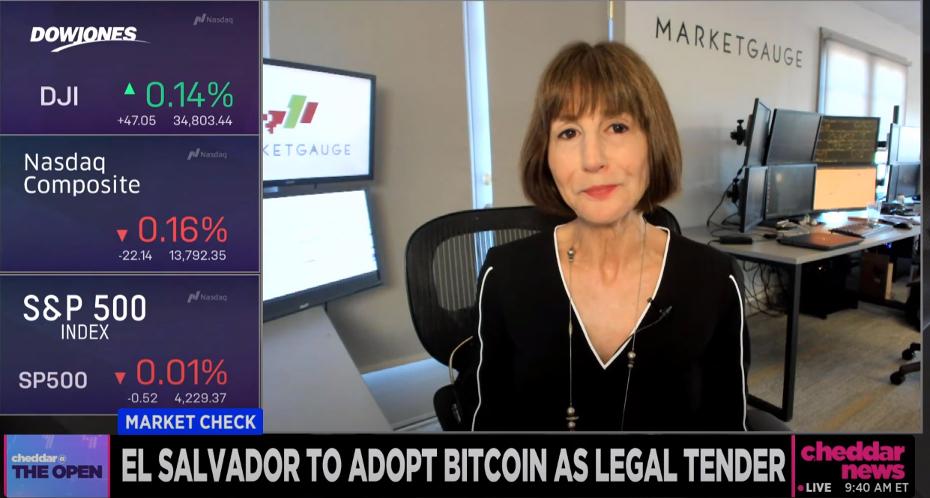 Mish Schneider reviews $SPY, $IWM and $IYT, plus 20 actionable picks from various sectors to watch should the stock market hold up, in this week's edition of StockCharts TV's Mish's Market Minute (watch below).
---
ETF Summary
S&P 500 (SPY): Resistance 422.82 to clear
Russell 2000 (IWM): 230.95 to clear with support 226.69
Dow (DIA): 351 resistance
Nasdaq (QQQ): Strong close over 335 range
KRE (Regional Banks): Holding 70.00 with 71.82 resistance
SMH (Semiconductors): 244 support. 258.59 resistance
IYT (Transportation): 268.02 the 50-DMA
IBB (Biotechnology): Large move created by Biogen Inc (BIIB)
XRT (Retail) 96.16 resistance
Mish Schneider
MarketGauge.com
Director of Trading Research and Education