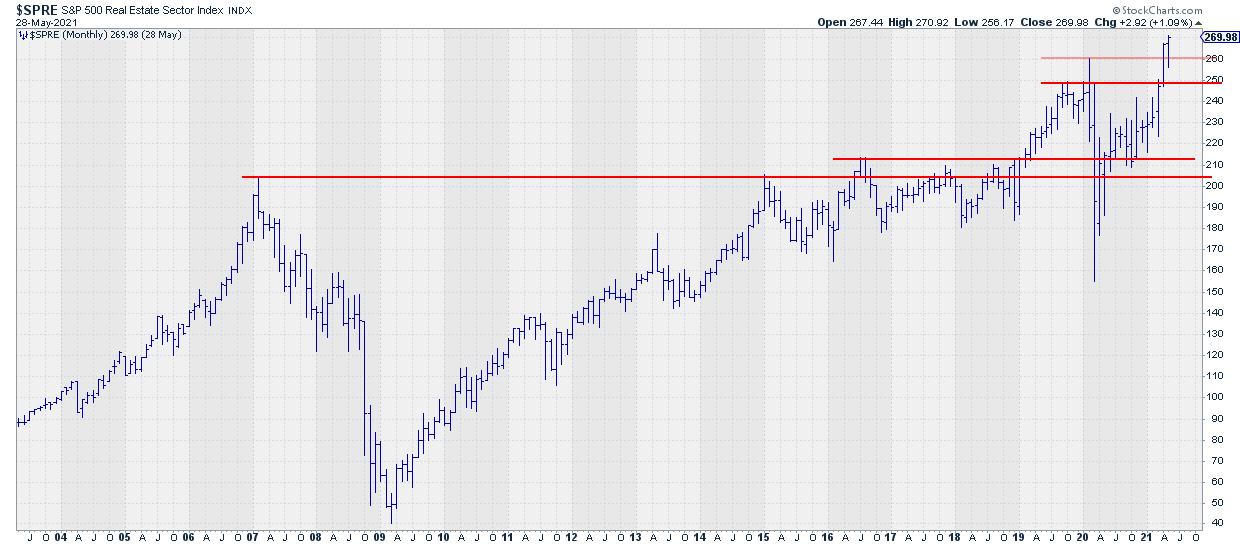 Going over the monthly charts, I noticed the confirmation of the upward break visible at the end of April. During May, that upward break managed to hold up above the breakout level, record a new high during the month and close the month at a new closing high.
These are a few strong signs that justify a further inspection of this sector.
In general, the market as a whole is still in an uptrend. But not all sectors managed to record new highs and/or new closing highs in May which, more or less, used to be the norm recently.
Many of the sectors that plotted high after high (after high) have now stalled and stabilized. But those sharp rallies over many months also mean that some serious downside risk has been built up. Some of these sectors can go through declines of 20-30% without harming their uptrends.
Just Getting Started
Real Estate has only just broken above its horizontal resistance level in April and managed to stay above and confirm that break last month. This means that there is now plenty of upside potential for the sector, while the downside risk is limited to the breakout level, which is still nearby.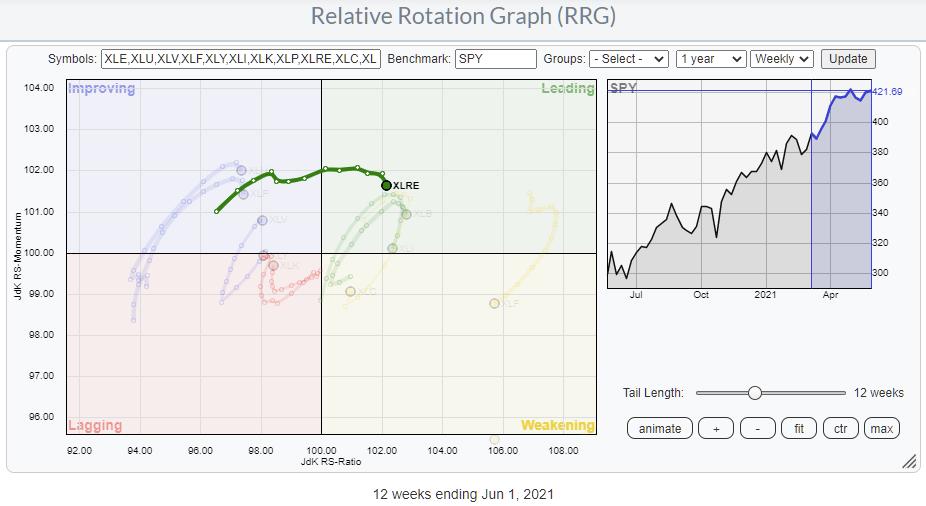 On the weekly RRG, XLRE moved into the leading quadrant already five to six weeks ago and has just started to lose a bit of relative momentum. Given the position on the RRG and the underlying chart, I do not judge this as a problem yet — more like a pause.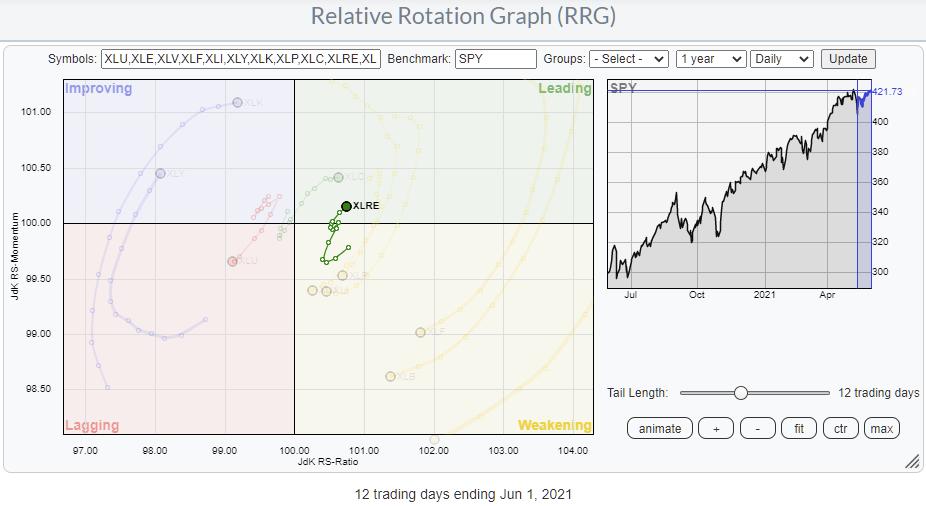 On the daily RRG, XLRE just rotated back into the leading quadrant from weakening, which usually signals the start of a new up-leg within an already rising relative trend. This daily rotation could give the weekly rotation the necessary boost to pick up the pace again. It could be supportive of a leading-weakening-leading rotation on the weekly RRG as well.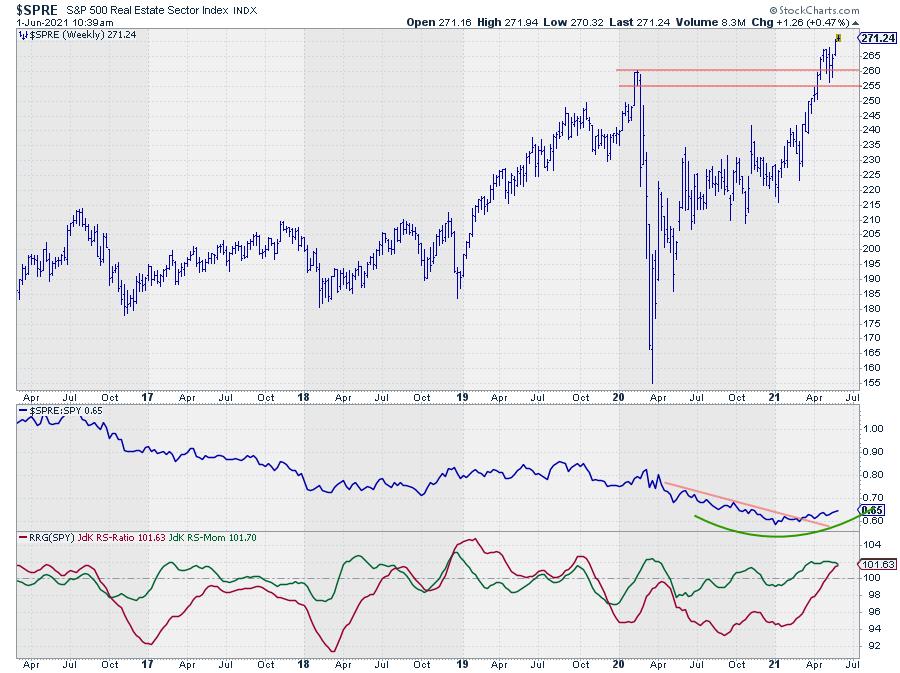 The weekly chart shows the quick retracement back to the breakout level on the price chart, but it also shows the nice gradual turnaround of relative strength vs. SPY since the start of this year — all in all, a strong picture and outlook for the real-estate sector.
Breaking Down Into Industries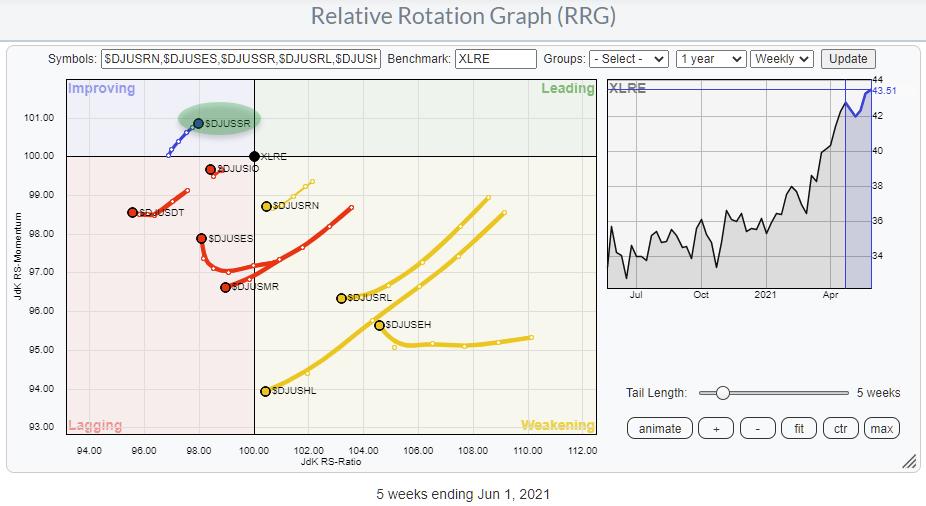 Plotting the various industries within the real-estate sector on an RRG against XLRE shows that there are a few industries that are slowly starting to pick up again against XLRE. These are industries like Real-Estate Holding and Development REITs ($DJUSEH), Real-Estate Services REITs ($DJUSES) and Real-Estate Industrial and Office REITs ($DJUSIO).
One industry that really stands out is US Specialty REITs ($DJUSSR), which is inside the improving quadrant and traveling at a strong RRG-heading towards the leading quadrant.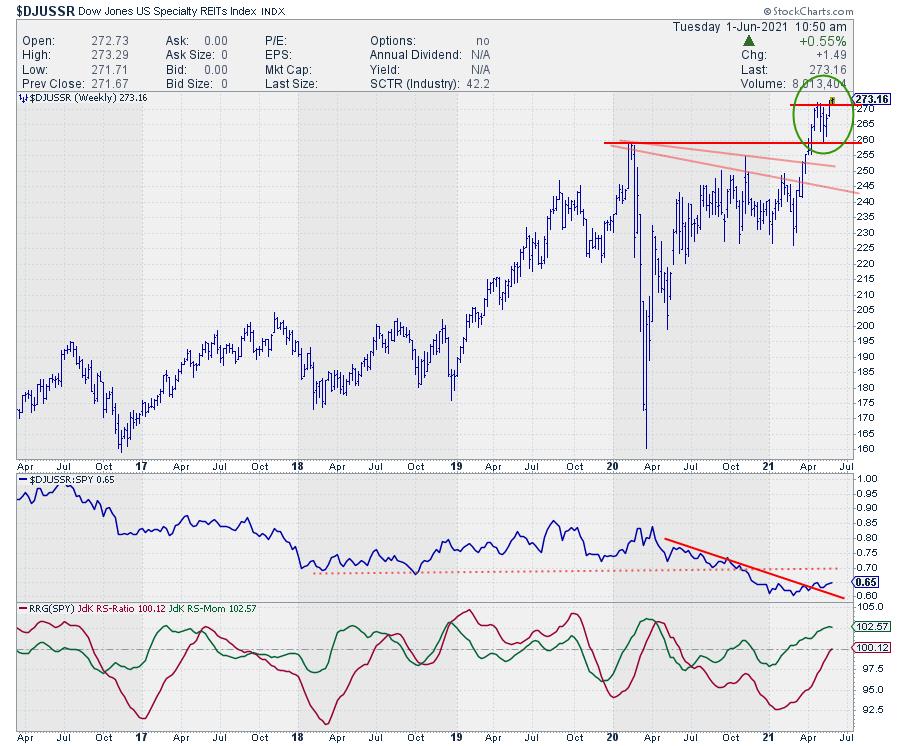 This industry shows a largely similar chart as the sector index, but the breakout and the retracement back to the breakout level before jumping higher are more clearly defined.
This week's push above the previous high could be the prelude to a new bullish signal for this industry, provided that it can hold above these levels at Friday's close.
#StaySafe, --Julius
---
Julius de Kempenaer
Senior Technical Analyst, StockCharts.com
Creator, Relative Rotation Graphs
Founder, RRG Research
Host of: Sector Spotlight
Please find my handles for social media channels under the Bio below.
Feedback, comments or questions are welcome at Juliusdk@stockcharts.com. I cannot promise to respond to each and every message, but I will certainly read them and, where reasonably possible, use the feedback and comments or answer questions.
To discuss RRG with me on S.C.A.N., tag me using the handle Julius_RRG.
RRG, Relative Rotation Graphs, JdK RS-Ratio, and JdK RS-Momentum are registered trademarks of RRG Research.