Warning of 'brick-wall' resistance - as a distinct possibility; not simply as we move into 2016, but as soon as regular way trades would 'settle' in the new tax year; we're pleased how Wednesday S&P struggled to hold, then reversed, did play-out. Given projections, it's nothing surprising; but is affirmation of a Call for portfolio managers pushing gains into the 1st day to sell with 2016 settlement.
---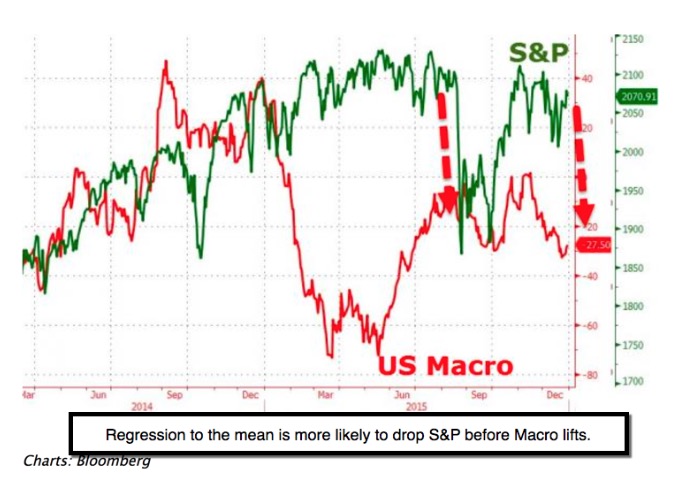 Wednesday's struggling fade and later a flat-out mini-plunge in the S&P wasn't merely a reflection of global issues, of commodities, or FX markets; it was just a crowd watching to see if buyers would appear; and instead they got just the crowd we were looking for; exhibiting tendencies to take chips off the table and that's especially the case in the narrow universe of momentum stocks that held most 2015 gains decently into late December. (We expect a washout and rally Thursday morning, but anticipate it won't gain seriously meaningful traction.)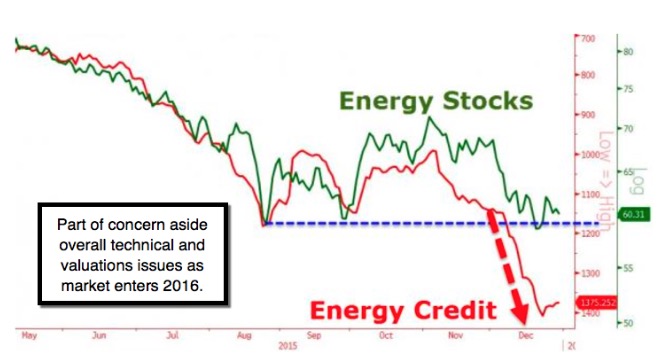 We're going to watch stocks with 'volume' in late trading Thursday; as further hints about early 2016. For some time I hoped for a late 2015 rebound in-order to reestablish an overbought condition; creating a better circumstance for the S&P and broader market to have difficulties extending the move.
Bottom-line: in other words, I expected that many longs were nursing positions with plans to sell those few big winners very early in the new tax year (free use of tax due for the entire coming year). So, our idea recently has been that if the market would attempt recovery as it did, that actually increased chances they'd 'hang in there', and not be tempted to sell sooner as related to December.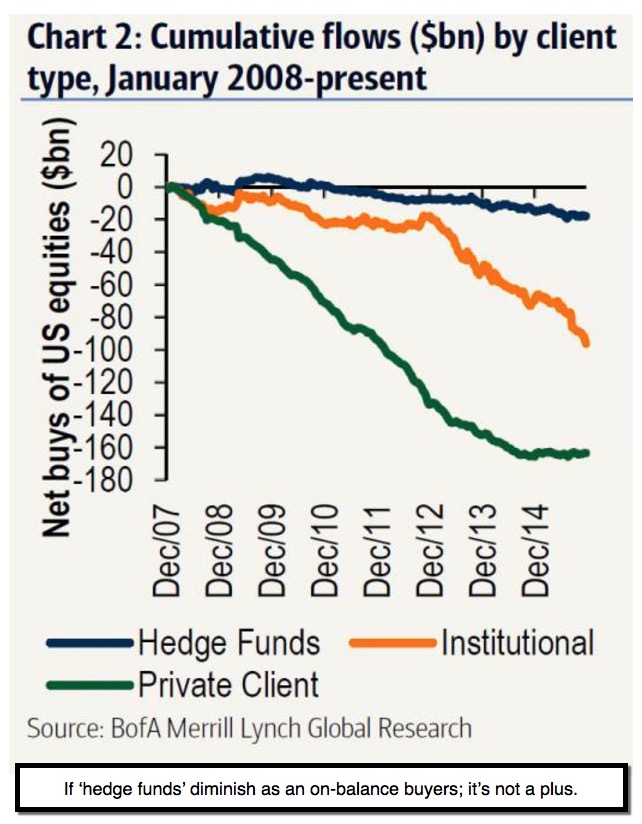 In-sum: today's March S&P 2065 short-sale guideline is retained overnight.
Daily action - saw narrow morning chop. and a couple fades as well as bumps higher; was really very neutral overall; with definitely no upside follow-through or recovery of note after Tuesday's late quick sell-off. (Expectation Thursday is a sell-off then a fairly desperate rally to revive the S&P, at least temporarily.)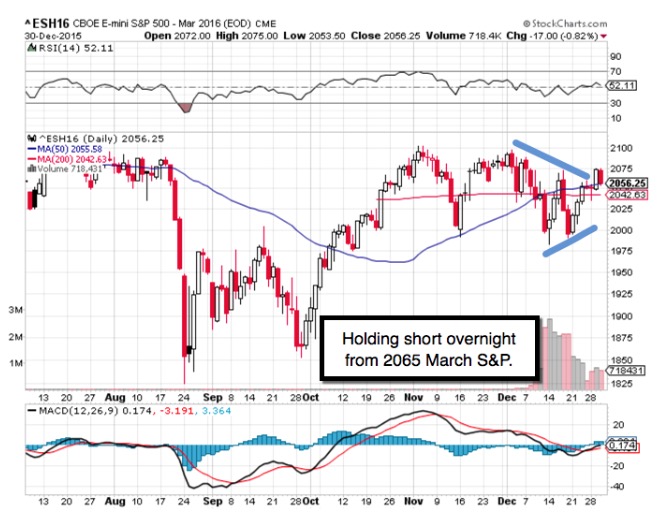 So overnight we retained the March S&P / E-mini 2065 short-sale guideline. It carries a break-even mental stop for now, with respect to at least the opening hour Thursday. We'll adjust accordingly for intraday members in the morning.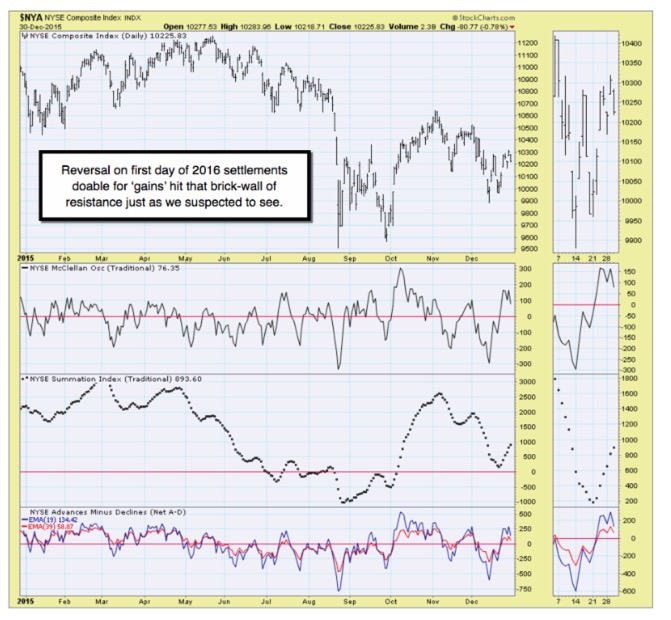 On New Year's Eve we'll have a brief report, unless anything truly dramatic has occurred, in which case I'll delay it until the weekend. We wish you a great and safe holiday; and after a successful trading year of fading markets (fatiguing by the alternating moves refusing to resolve the ranging pattern) clearly believe it's not a launching pad for new advances, but a long distribution setting-up (just for members) long-side opportunities, and not just fairly modest bounces that are ongoing or feasible in the downtrodden (remembering a majority of S&P stocks were down for year 2015, not up; a very small group held the Index together).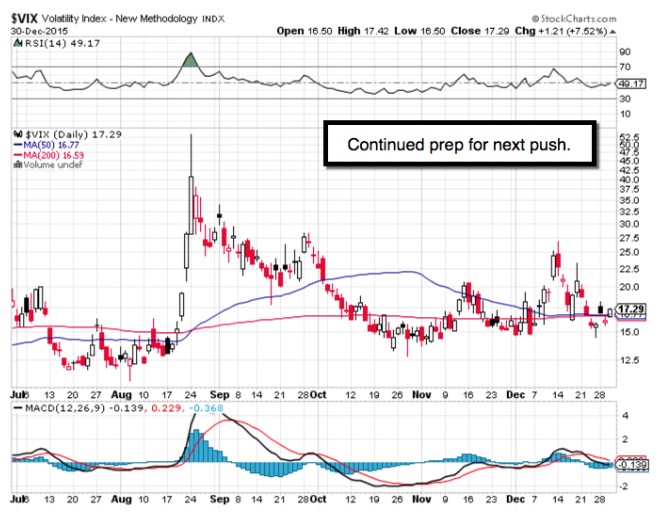 Most of Christmas week - was Emersonian in character; allow faith in profits; admiration for the market's ability to stage a seasonally typical rally around this time; and hope that somehow the market wasn't just lifted by such factors as a very large near-record short level, or reduced selling ahead of a new tax year.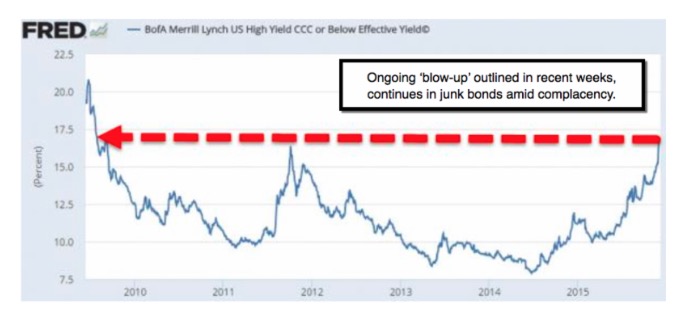 In a nutshell: aside concerns including Oil; time ended for institutions, as well as banks, to sustain themselves on sheer faith in perpetual levitation by supportive central bank stimulus, and seemingly permanent low rates. That era started to get unwound during at the middle of the year.
Have a safe, sane, and prosperous New Year!
Gene

www.ingerletter.com