'The stage before criticality' - might best describe what's going on in markets. During a majority of 2015 we described it 'technically' as distribution, evidenced by lower breadth on most rallies versus declines; bounces led by most-shorted, and earlier by often-broken high-beta momo (momentum) stocks of the era; as at no point was there an attractive investment grade opportunity provided.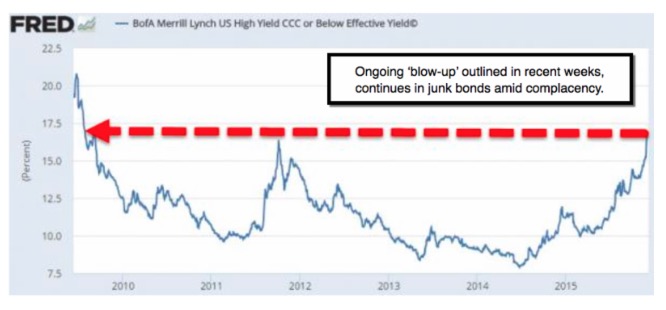 ---
There have been alternating trading opportunities for Bears and Bulls alike; but the point of the sharp rebounds faltering (often in recent months around 2100 of S&P), is that traders had to be nimble, by biased to 'fading' rallies than 'buying' dips, as a primary focus. If one's investment horizon was no more than days or weeks, then yes some long-side plays were doable, but mostly failed quickly in the case of the 'perceived' safe areas for longs (hence poor fund performances for the entire year by both hedge and many mutual funds).
So what does this mean? Primarily that there was no sustainable market rally, nor economic 'traction' generally; hence logic for multiple expansion never did exist, as so many strategists and pundits tried to rationalize the outlook both for late 2015 and early 2016. We went so far as to proclaim likely a 'Bear Market' began in July of this year, as 'technically', many bearish divergences seeped into technical indicators. Much was evident early in the year, again in a Spring rally, plus the move into early July.
In-sum: I'm putting this all in perspective, because technical chart views, when one took time to delve into superficial numbers, showed efforts to conceal real ongoing distribution. That's technical analysis, confirmed by fundamental views. In fact, low CapEx plans alone told you what executives really thought.
I consider this a summary of how the 'Bear Market of 2015-2016' got its start. Anyone who says this would 'not' be the case were it not for the growing War, is overlooking most ALL technical analysis indicators as completely denied a long-term bullish case right from the 1st Quarter of 2015.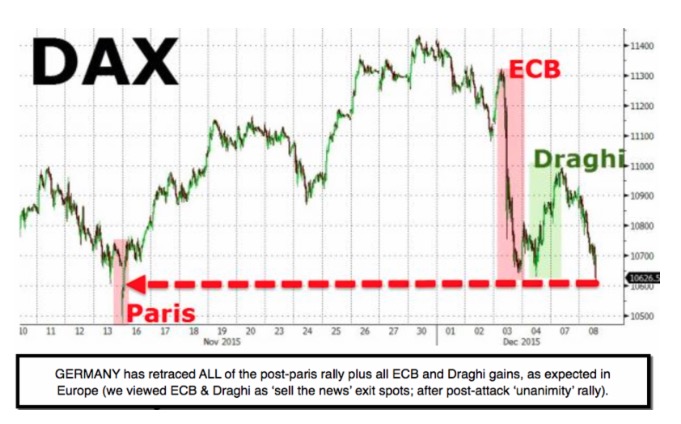 I concur with many observers that this has been one of the toughest of all years to trade; although it helped to view it as one of distribution; of the very reluctant topping process; but one that technical analysis, common sense, and a glance at fundamentals confirmed as well. If one did so; it wasn't an easy trading year, but it was very profitable (by selling rallies), and avoiding being overly-invested in sectors under distribution (guided lightening-up on rallies all year; especially Spring and then early-mid July). An investor who approached it thusly; is more interested in the coming bargains than fretting what to do with excessive longs.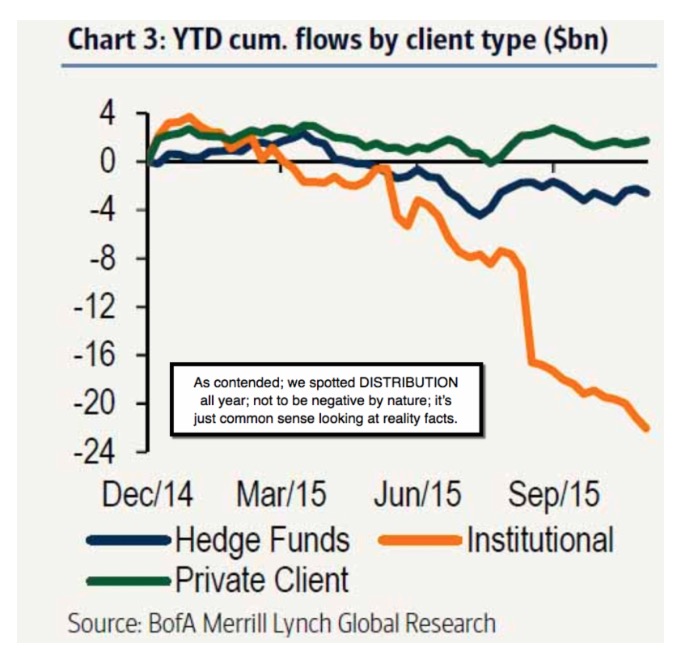 In a nutshell: aside concerns including Oil, it's an exciting time for institutions, as well as banks, to sustain themselves on sheer faith in perpetual levitation by supportive central bank stimulus, and seemingly permanent low rates. (More.)
We recognize that while 'illiquidity' is present, contributing to market swings, it remains the concentration of ownership in structures most prevalent today that has helped markets hold at relative high ranges; a characteristic at-risk (more).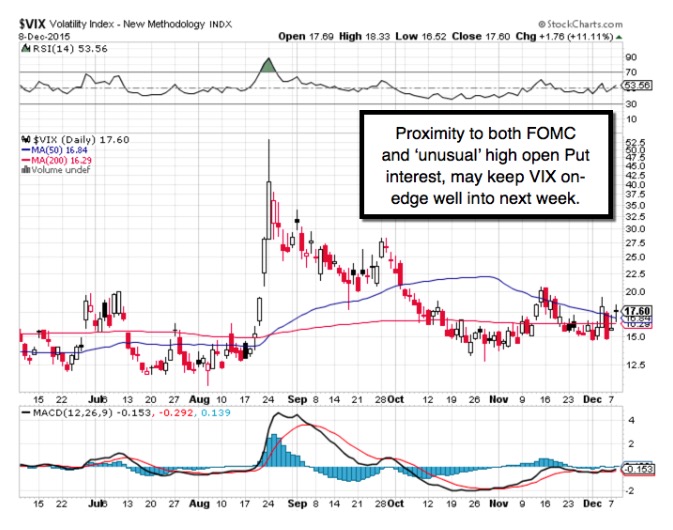 Incidentally, thanks to a couple members for sharing my thoughts in forums as we welcome new members, and for the kind words about our energetic work. I might add that we had a great 'long' this morning; and a very good 'short-sale' that followed. (Now, Wed mid-morning, we're speculatively short from 2078 in E-mini / Dec. S&P; and will adjust trailing mental stops during the day.)
Daily action - very nice session; serious post-China data sell-off; led to a great early shakeout, trapping those who shorted early, and allowing us to go 'long' in a nice (potential 10 handle) upside gain, before reversing to the short-side near or at the Dec. S&P / E-mini 2071 area. (Took nice gains and again shorted near the spike high Wednesday morning; retained for the moment.)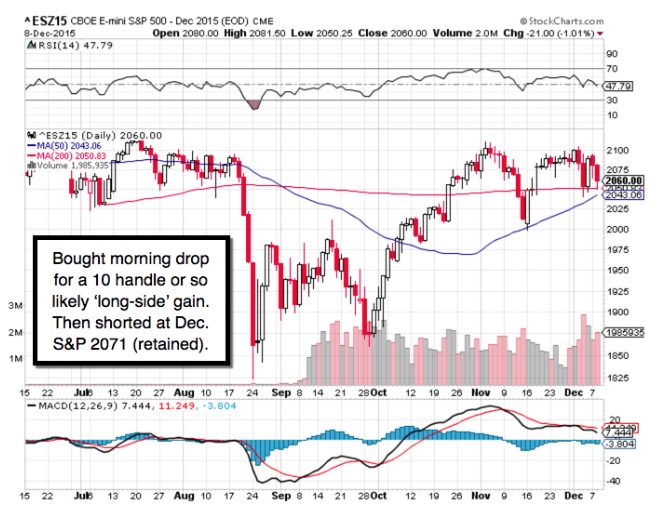 The second video describes a lot of the intraday observations, and since day's end we've had futures rebound about 5 handles as of 9 pm ET. (Ideally as Wed. is the middle of a pre-Expiration week, we'll get a nice rebound to short anew.)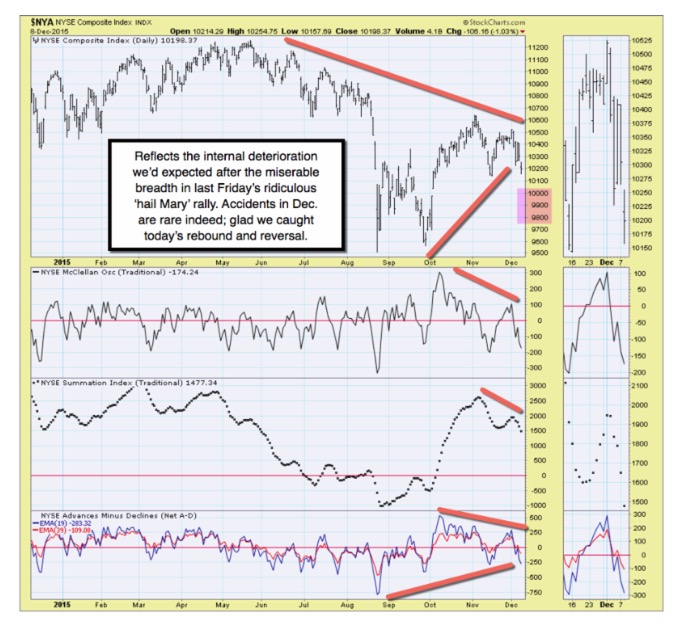 Prior highlights follow: (balance redacted in this special brief highlights).
Now, there's a Quantitative Analyst pointing out the huge notional amounts of S&P Puts that expire next week; arguing that's a market risk. Actually, I'm quite glad JP Morgan pointed that out, and I'm bearish on the outcome of all this as you know. However, with that kind of open interest, it's not unreasonable that a majority of the Put 'writers' are hoping those go off the Board unexecuted. With a majority 'said' to be at deeply out of the money strikes, that's not too hard if we don't get an incredible collapse between now and next week. (Editor: yes if those who get shares 'Put' to them don't want to hold them they may dump and that can contribute to further downside, should things unfold that way.)
At the same time, there is 'small-cap' deterioration (look at the Russell); there is a tendency to fade rallies almost everywhere; there is less and less 'pop' even in the most-shorted and high-beta momentum favorites; like you saw on Friday. It's sort of like a slow-motion train wreck, more than a flat out derailing.
Treacherous times evolving; join us each day in this crucial environment.
Enjoy the decline!
Gene

Gene Inger
www.ingerletter.com