Monitoring purposes SPX: long SPX on 11/2/15 at 2104.05
Monitoring purposes GOLD: Long GDX on 11/20/15 at 13.38.
Long Term Trend monitor purposes: Flat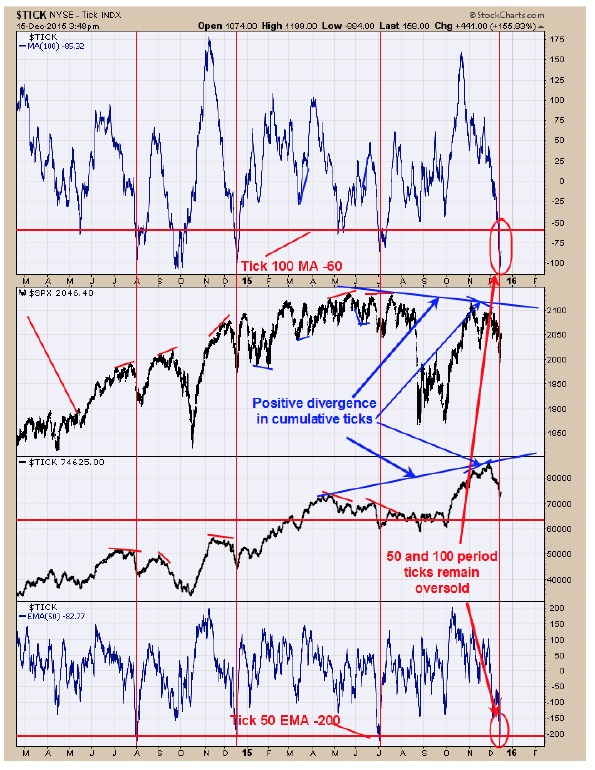 ---
Yesterday we said, "Above is the 100 hour average ticks (top window) and 50 hour average tick (bottom window). When both tick averages reach oversold extreme levels the market is near a low and today those levels have been reached." Today the 100 and 50 period moving averages for the tick remain in oversold levels suggests the rally has further to go. On a bigger timeframe, In late November the SPX made a lower higher and the cumulative tick made a higher high and suggests eventually the SPX will also made a new high and keeps the bigger trend bullish.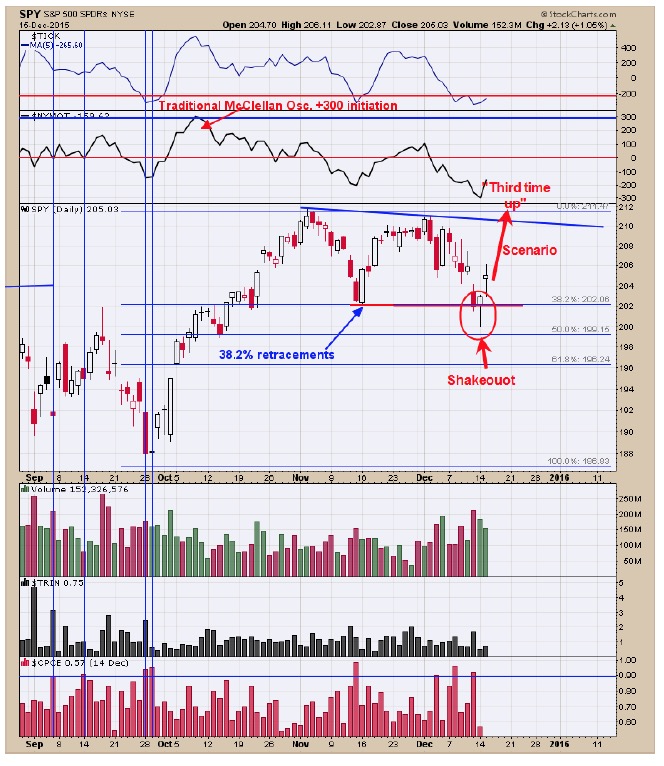 Yesterday the SPY fell below the previous low of 11/16 and than closed above it creating a bullish "Shakeout". It is said, "if a market can't hold below the previous low than it will reverse and attempt to take out the previous high.". The previous high comes in near the 210 range on the SPY and is a short term target for now. I might add that indeed the SPY does go back and test the previous high it will be testing the 210 range for the third time. There is a trading pattern called "Third time up" which predict a third time test of a breakout area will break through. For now the trend appears to have turned up. FOMC announcement is tomorrow and could put short term volatility in the market.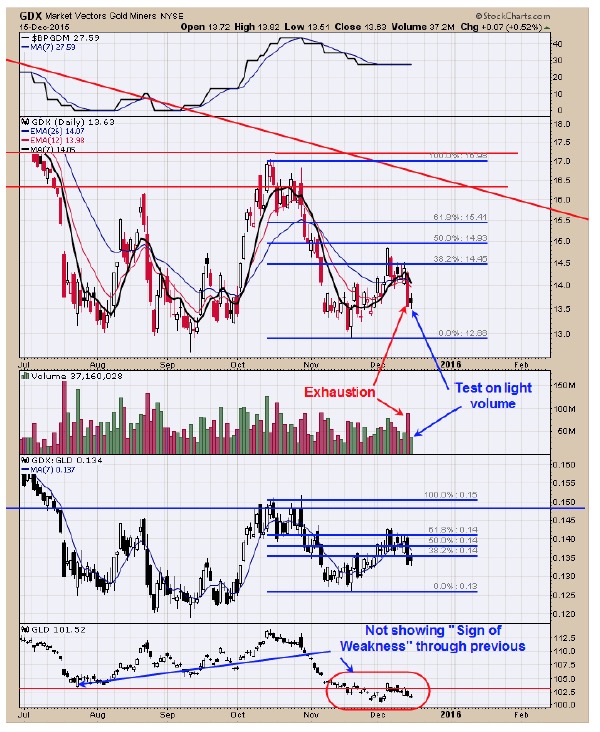 The Gold Commercials came in at -13,997 (updated on 12/11/15) and well into the bullish level below 50K. Yesterday's volume jumped near 50% From Friday's volume and appears to have represented short term exhaustion. Today GDX tested yesterday's low on much lighter volume and than closed above yesterday's low suggesting support. If tomorrows trading holds above today's low will suggests another rally attempt. The bottom window is GLD the ETF for Gold. The last low in GLD came in July and market has broken that July low but not with a "Sign of Weakness" suggesting there is accumulation present. With the COT Commercials staying in the bullish levels and Small Speculators remains bearish, we are still expecting a bullish outcome. Long GDX on 11/20/15 at 13.38.
Tim Ord,
Editor
For examples in how "Ord-Volume" works, visit www.ord-oracle.com. New Book release "The Secret Science of Price and Volume" by Timothy Ord, buy on www.Amazon.com.