Monitoring purposes SPX: Sold SPX on 7/1/16 at 2102.95=gain 5.12%; Long SPX on 6/27/16 at 2000.54.
Monitoring purposes GOLD: Sold GDX on 6/10/16 at 25.96 = gain 14.97%. Long GDX on 5/31/16 at 22.58.
Long Term Trend monitor purposes: Short SPX on 1/13/16 at 1890.28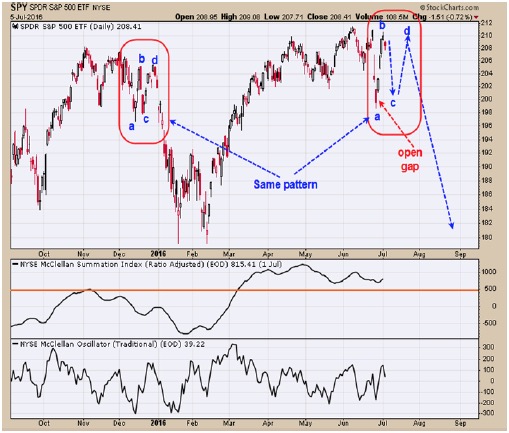 The pattern that appears to be forming is the same pattern that formed at the December 2015 which is an abcd pattern and "b" high may have completed last Friday or could test Friday's high to complete. There is an open gap from the close of June 27 to open of June 28 near the 200 range on the SPY and at some point that gap will be tested and our downside target once wave "b" is complete. If Gap at 200 on the SPY is tested on lighter volume will suggests support and other bounce is possible. For now we are looking for clues for the next potential sell signal, which is still incomplete. Sold long SPX on July 1 at 2102.95 for gain of 5.12%; Long SPX on 6/27/16 at 2000.54.
---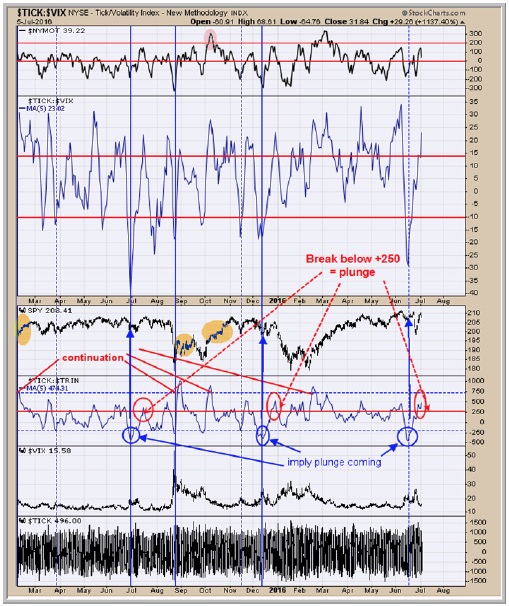 The third window up from the bottom is the TICK/TRIN ratio. When the TICK/TRIN ratio brakes below -250 a plunge in the market is than forecasted. Back in July and December last year the TICK/TRIN ratio broke below the -250 range suggesting a plunge in the market was coming. After the -250 reading on TICK/TRIN ratio it rallied back above +250. A plunge is possible once the TICK/TRIN ratio falls below +250 again. The July period took two tries before the plunge occurred. Back in late June the TICK/TRIN ratio fell below the -250 level suggesting a plunge in the market was coming. Today the Tick/TRIN ratio closed at +478 and above the +250 plunge level. We don't have it shown, but the VIX is not give a bearish signal and may not give a bearish signal. Neutral for now.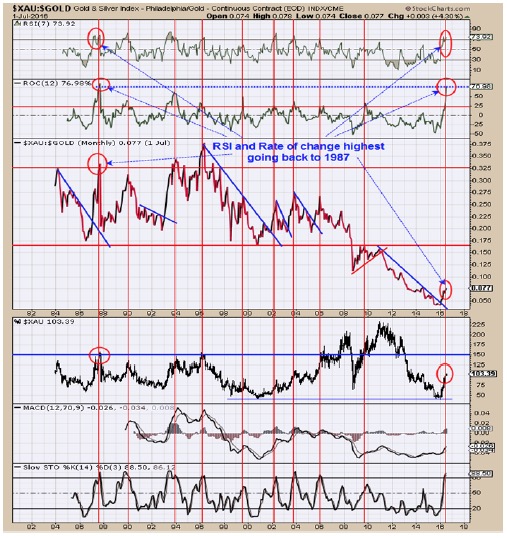 Above is the Daily XAU/Gold ratio going back to 1984. Its bullish for both gold and gold stocks when this ratio is rising. However, when this ratio rises to fast than that could mean too much of a good thing and could spoil the party. The last time the RSI and "rate to change" (ROC) for the XAU/Gold ratio reached above 75 on both was back in late 1987 and that produce a rapid pull back. This time could be different and market could push higher, but our point is that there will be better times statistically to put money to work in the gold market. As we pointed out last week, "Sometimes off major lows the market is so strong that it keeps pushing higher despite the resistance levels and something that could possibly happen here." We remain bullish longer term as a major bull market has started on gold and especially gold stocks. We will remain patient for now. There is an Eight Year cycle low due in September which is about two months away and it would be reasonable to expect a consolidation to start around this time frame. Sold GDX on 6/10/16 at 25.96 = Gain 14.97.
Tim Ord,
Editor
For examples in how "Ord-Volume" works, visit www.ord-oracle.com. New Book release "The Secret Science of Price and Volume" by Timothy Ord, buy on www.Amazon.com.