SPX Monitoring purposes; Covered short on 7/6 at 2409.75=gain 1.2%; Short SPX 6/26/17 at 2439.07.
Monitoring purposes GOLD: Neutral
Long Term Trend monitor purposes: Neutral.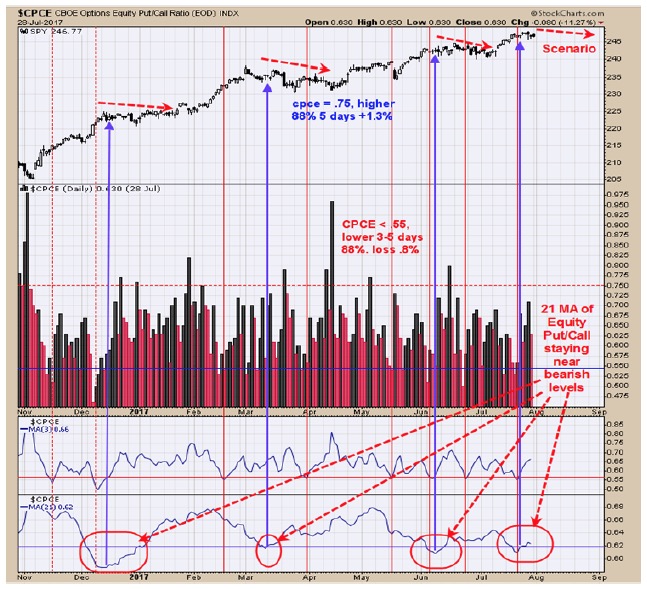 ---
21 day moving averages of the Equity put/call ratio reached bearish levels near .62 in mid July and remains there and suggests upside in the market is limited. A multi month consolidation is possible. Also worth noting that Seasonality is bearish into October. Covered SPX short for gain of 1.2%.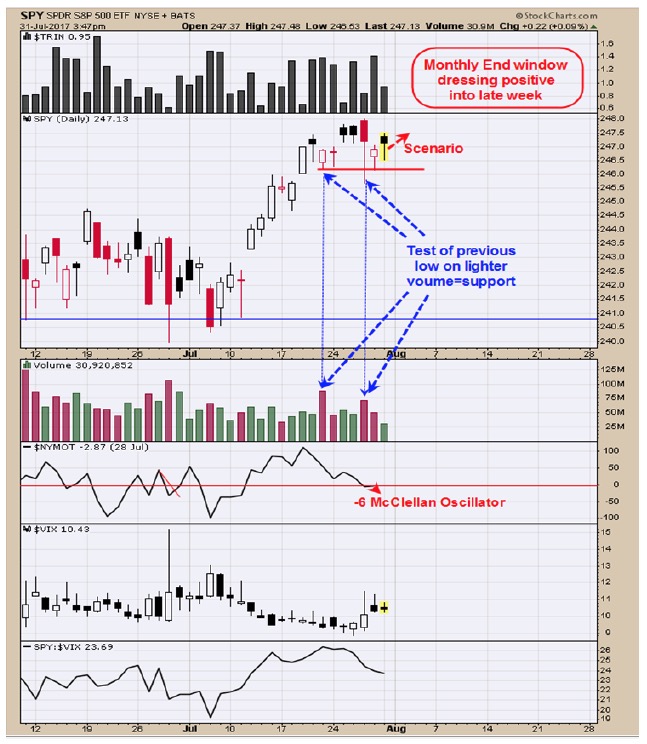 Not a lot to go on short term. Thursday's decline tested the previous low on lighter volume and suggested short term support was found. Market has bounce modestly form Thursday's intraday low. Today the McClellan Oscillator closed below "0" at -6 and a modest bearish sign. We are at month end which is a period of "Window Dressing" for the institutions and could provide buoyancy for the market into late this week. One way a sell sign could be triggered here is for another short term new high in the SPY and the VIX makes a higher low. Still neutral for now.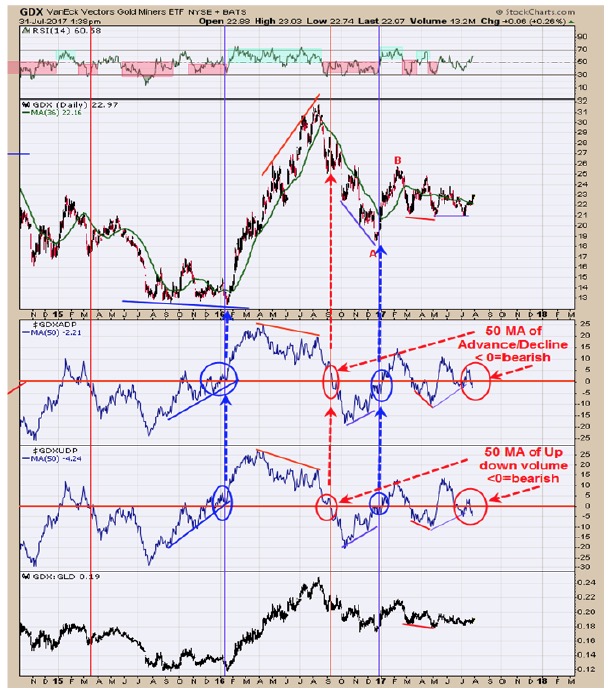 Gold looking more bullish than gold stocks. The chart we sent out Friday showed a bullish development for the GLD/UUP ratio breaking out and suggests Gold (GLD) will follow. Gold stocks on the other hand don't look as bullish. The GDX/GLD ratio is underperforming GDX (chart now shown) which is a bearish sign for Gold stocks short term. The chart above looks at the Advance/Decline and Up down volume for the stocks in GDX. When the Advance/Decline (50 MA) is below "0" (current reading is minus 2.21) a bearish sign is present. This also holds true for Up down Volume (50 MA) with its current reading at -4.24. Gold stocks will turn bullish again when both these indicators close above "0" and Gold stocks start outperforming gold which means the GDX/GLD ratio will be rising. The COT report for July 7 came in at 107K Short (on bullish side of neutral), July 14 came in at 73K short and July 21 at 74K short; both of which are bullish. The commercials (smart money) are bullish on gold.
Tim Ord
Editor
Examples in how "Ord-Volume" works, visit www.ord-oracle.com. New Book release "The Secret Science of Price and Volume" by Timothy Ord, buy on www.Amazon.com.