SPX Monitoring purposes; Neutral.
Monitoring purposes GOLD: Short GDX @ 22.20 on 8/7/17
Long Term Trend monitor purposes: Neutral.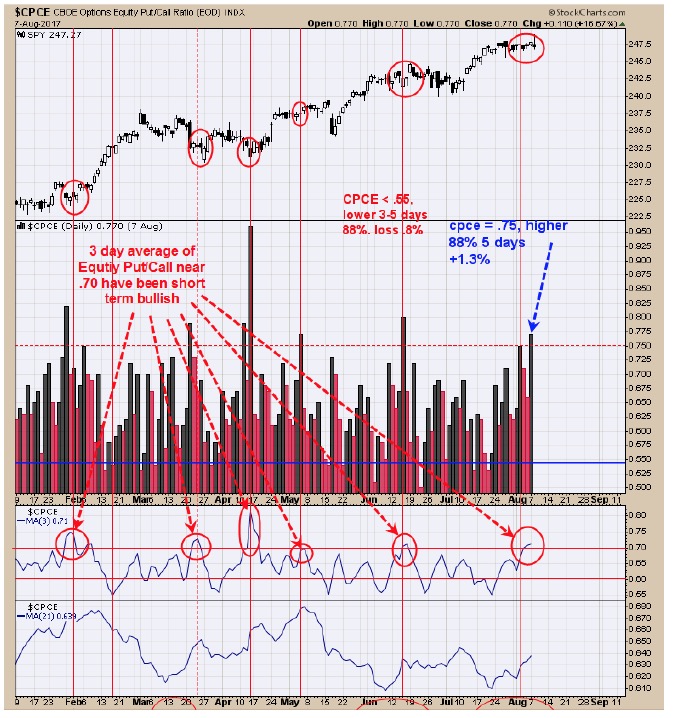 ---
The Equity Put/Call ratio closed at .77 yesterday and reading .75 and high have predicted a bounce in the market, 88% of the time, within the next 3 to 5 days with an average gain of 1.3%. The second window up from the bottom is the "3 day average of the Equity Put/Call ratio". Reading above .70 also predicts a bounce and since it covers more than one day readings, it carries more weight. It still appears a top may be near by, but not getting the statistics we like to see for a top signal.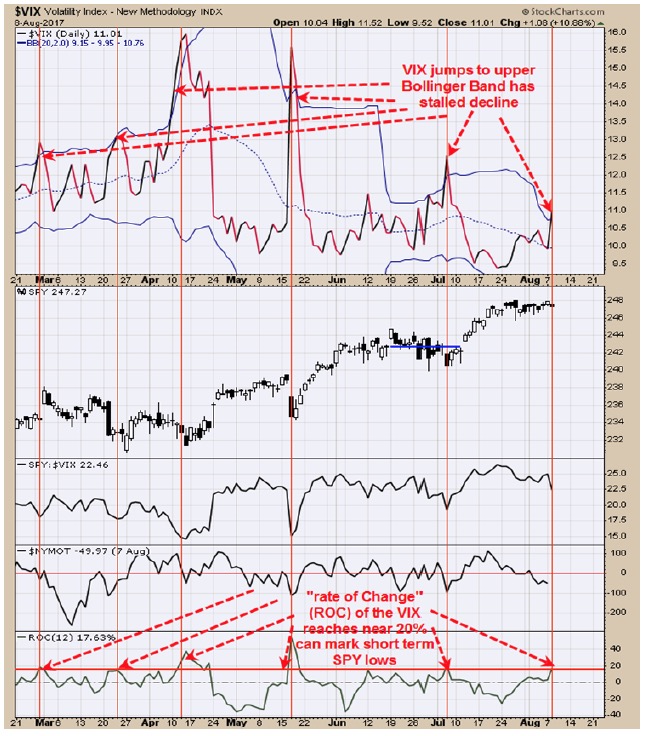 The setup we talked about yesterday with the VIX and the SPY did materialized. On the chart above is the VIX with its Bollinger Band. Today's modest decline in the SPY pushed the VIX to its upper Bollinger band and over the last several months when this has happen the market was near a short term low. The bottom window is the "Rate of Change" (ROC) for the VIX. When the ROC of the VIX reached near 20% the market was near a short term low. Coupled with the Put/Call ratio on page one, we will set on our hanks for now. Market still appears near a short term high but today's statistics pushes our signal off for another day. If a top signal is triggered the pull back would have a target near 2440 range on the SPX.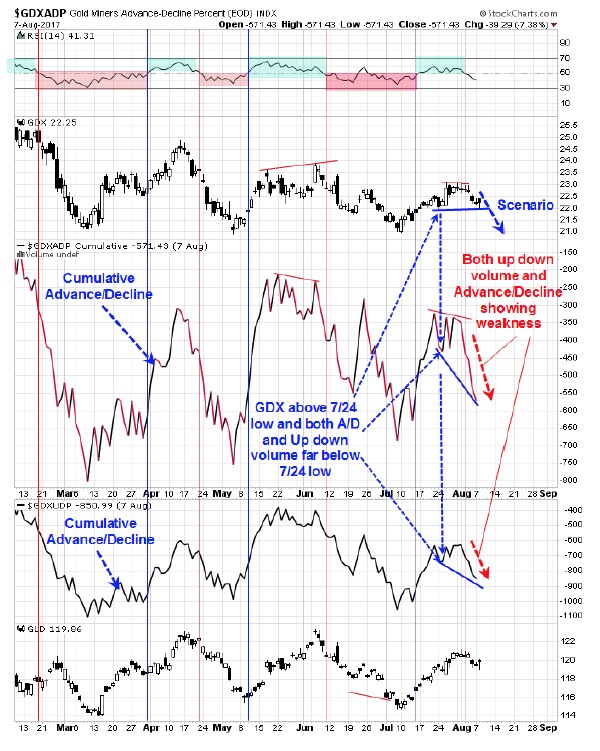 The third and forth window down from the top are the Cumulative Advance/Decline and Cumulative UP down Volume. Notice that GDX is still above its July 24 low and both Cumulative Advance/Decline and UP down Volume are far below there respective July 24 lows; which suggests GDX July 24 low will be broke (comes in at 21.97). However we don't believe GDX will find support there but head to the July 7 low at 21.00 at a minimum. The COT report for August 4 showed the Commercials at 143K Short which is bearish for Gold. Short GDX on 8/7/17 at 22.20.
Tim Ord,
Editor
For examples in how "Ord-Volume" works, visit www.ord-oracle.com. New Book release "The Secret Science of Price and Volume" by Timothy Ord, buy on www.Amazon.com.