There have been some strong moves within the stock market this year with almost 400 stocks up 50% or more. And many of these stocks appear poised to trade even higher. Knowing how to buy these powerful stocks as they pull back to key support is a great strategy as this pause is often a springboard to higher moves.
---
The reasons for the pullback can be varied such as rotation out of the sector the stock was in such as the recent disinterest in many Financial stocks. Or it can simply be profit taking after large gains or made. Most likely, the stock is digesting its significant move and due a pause.
Whatever the reason, these pullbacks can be a great opportunity as the dynamics that pushed the stock higher in the first place will oftentimes propel the stock higher again for another leg up.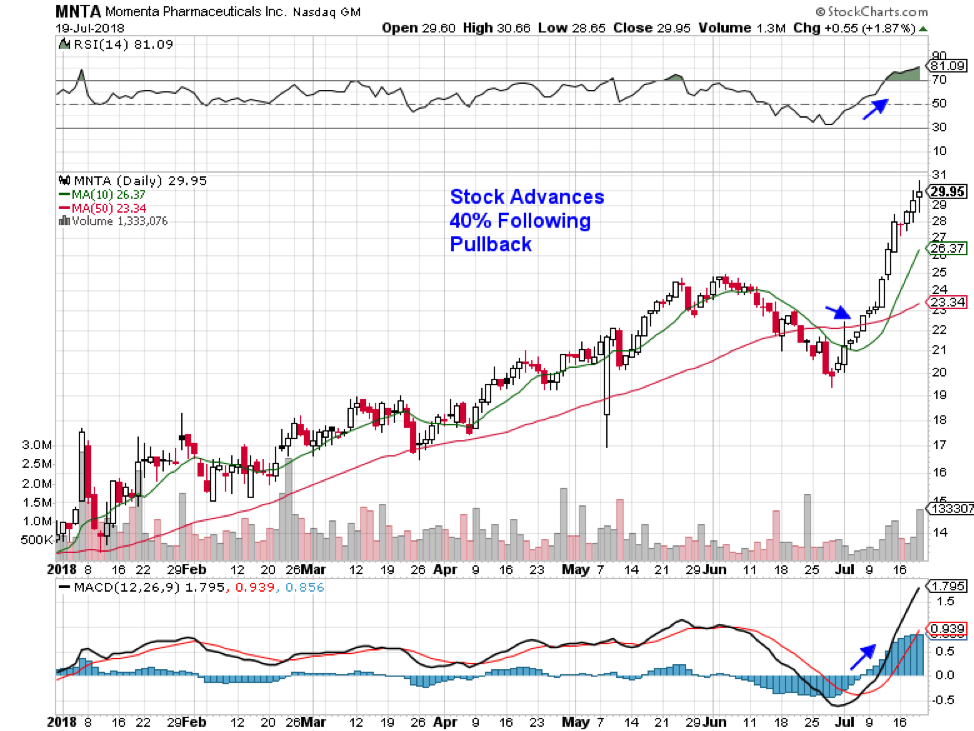 I'm going to share with you an easy way to look at these winning stocks and assess if they're pulling back and if so, whether the stock gearing up for another advance.
To begin, you'll want to go to the Sector Summary preset screen from the Stockcharts.com main page. This will bring you to the SPDR Select Sector ETFs sorted by the day's performance. From here you can select the YTD sort and you'll see Consumer Cyclicals ETF (XLY) followed by the Technology ETF (XLK) listed at the top as this is where many of these fast-moving stocks have been.
From here, you can click on the name of either of these sectors and it will provide sub-industry group information also sorted by YTD. And to drill down even further, click on the sub-industry group name.
These are your big winners. Quite simply, from here you can hover over the ticker symbol and if the stock is hitting a new high in price, it's not a candidate. Instead you'll want to search for stocks that are down a bit from their highs and turning back up.
For those with the ability to screen for these stocks, you'll want to look for top performers that are 15% or less off of their recent highs. Otherwise, using the hover over the stock method, you can click on an interesting looking stock and go directly to its chart.
Now you'll want to make sure that the technical signals are signaling a possible downtrend reversal from its pullback. The first and most important event is that the stock's price is above its key simple moving average. You can use a 10 or 50- day simple moving average depending on how much the stock has dropped.
From there, you'll want to look at the RSI and the MACD. Both are momentum indicators that can help you spot if interest in the stock is picking up. For the RSI, you'll want the indicator to be above 50 (the dashed line) and heading upward. For the MACD, you'll want the black line to cross up above the red signal line and also head upward. The positive MACD crossover signal can lag the RSI signal but ideally, you'd like them both to flash positive.
Lastly, you want to pay attention to volume as the stock moves higher as this will be another sign of increased interest in the stock which would help propel it higher.
The good news is, the move into Technology and Consumer Discretionary stocks is grounded in strong fundamentals with an expanding economy as the backdrop. In fact, Information Technology stocks are expected to show year over year earnings growth of 24.6% for the 2nd quarter and given the growing applications for cloud computing and the Internet of Things, the future looks bright into year-end for many of these companies.
And for consumer related stocks, many recently reported 1st quarter results and that were quite strong. Add a 17 year high in Consumer Confidence with an almost 2-decade low in unemployment and you can see why investors are excited.
For those who would like more detailed information on how to screen for these stocks and tell if they are viable candidates, you can access information regarding my very timely course right here.
You can also visit my website for more information regarding my other work.
Warmly,
Mary Ellen McGonagle
MEM Investment Research