SPX Monitoring purposes; Sold SPX 3/28/19 & 2815.44= gain .61%; Long 2798.36 & 3/25/19.
Monitoring purposes GOLD: Long GDX on 1/29/19 at 21.96.
Long Term Trend SPX monitor purposes; Long SPX on 10-19-18 at 2767.78.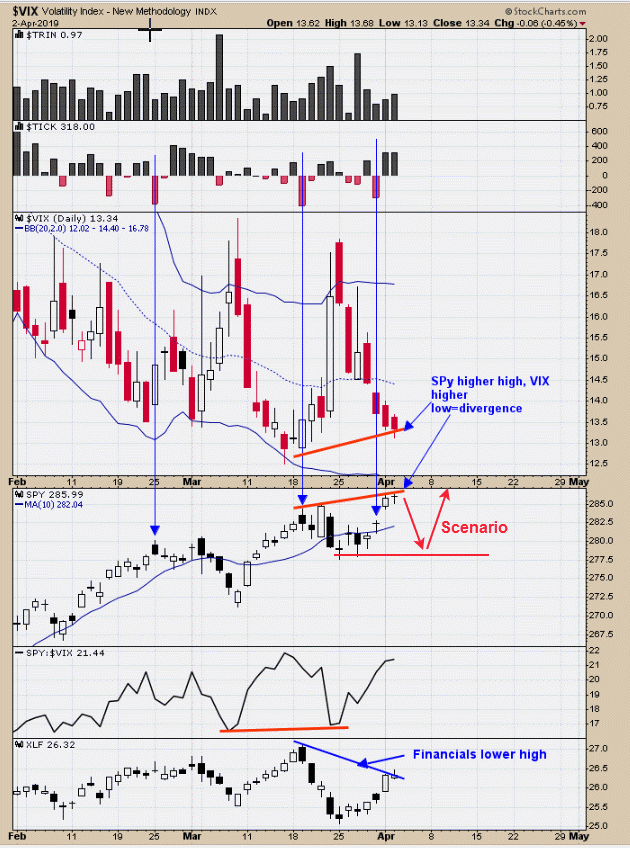 Divergences are still present. The SPY set a new short term high and the VIX closed at a higher low, a short term bearish sign. As VIX trades opposite SPY, VIX should have made a new short term low as SPY made a new short term high. Having said that, the VIX remains below +16 and intermediate-term bullish for the SPY. The bottom window is the XLF (ETF for Financials). When XLF starts to have trouble, it usually flows into the SPY. The SPY set at a short term high and XLF made a lower high and another divergence. The bigger trend is up and new highs in SPX are possible, but, short-term, a trading range could be developing.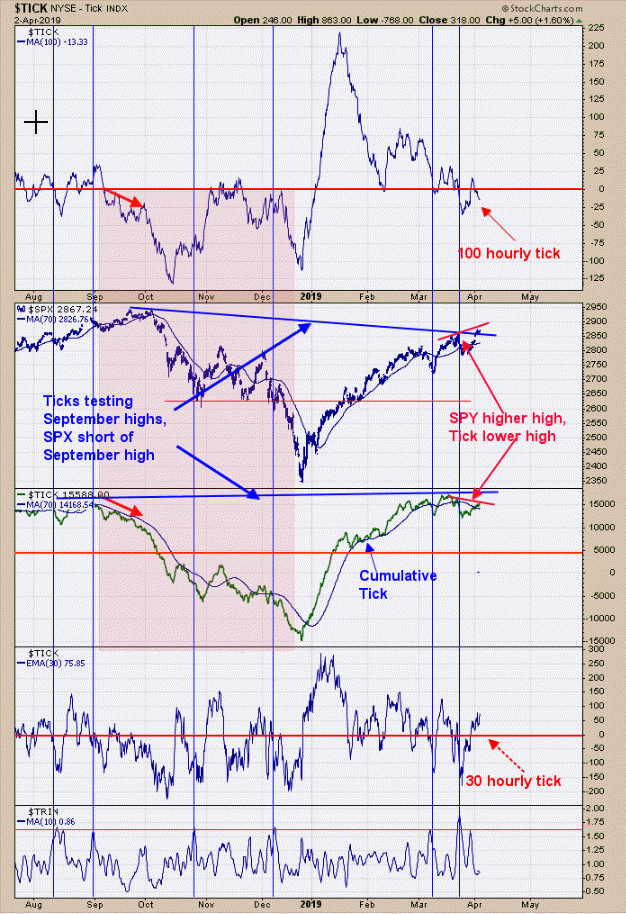 Yesterday we said, "Ideally one would like to see the hourly cumulative Tick to lead and confirm the movement of the SPX and when there is a divergence than a reversal may be near." Today, the SPX was unchanged and the 100-hour Tick (Top window) moved modestly lower; it remains below "0" and is a bearish sign. The cumulative Tick remained near unchanged today and is not giving new information. The second window up from the bottom is the 30-hour moving average; it's above "0," a modestly bullish sign. The market is stalling here and a pullback is possible, but we don't have high confidence for a short position, though that could change. If there is a pullback, it could last a week or so and test last week's low, so if there is a setup it could be worthwhile. The safer trade, in our opinion, would be on the long side as bigger trend is up. A fun statistic is that, with VIX under +16 and SPX up +10% last 3 months, April is higher 90% of the time, averaging 2.75% gain. Sold long SPX position for a .61% gain.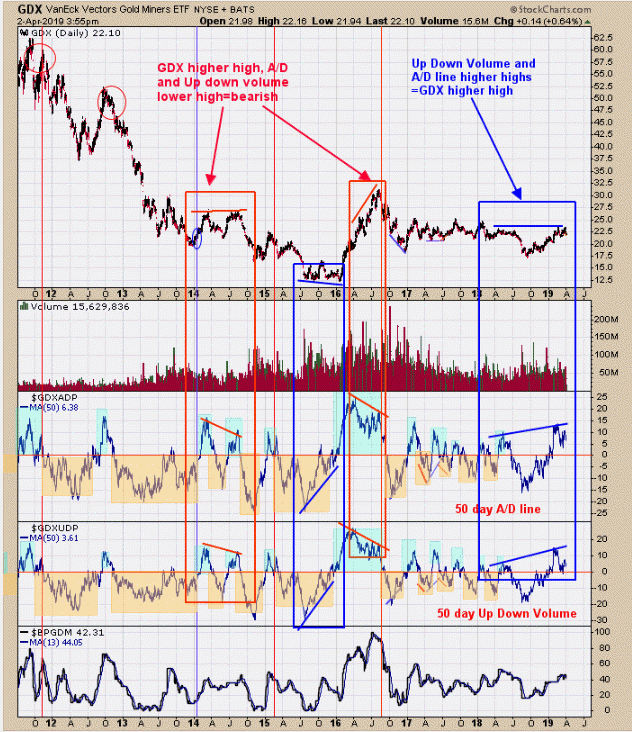 The second window up from the bottom is the Up Down volume with a 50-period moving average. This indicator helps to identify bullish and bearish volume energy for GDX. We have pointed out two bearish patterns in 2014 and 2016 (red boxes) where GDX made higher highs and 50-MA of Up Down volume made lower highs. We have a bullish long term divergence setup now where 50-MA of Up Down volume has made higher highs while GDX matched its previous high, suggesting that, at some point, GDX will move to higher highs. The next window up is the 50-day moving average of the Advance/Decline for GDX, which helps identify advance/decline bullish and bearish setups. This long term indicator also has made a higher high, suggesting that at some point GDX will make higher highs. Higher prices in the intermediate term is expected, but, short-term, a pullback to support near 21.00 is possible. Long GDX on 1/29/19 at 21.97.
Tim Ord,
Editor
www.ord-oracle.com. New Book release "The Secret Science of Price and Volume" by Timothy Ord, buy at www.Amazon.com.