SPX Monitoring purposes; Sold SPX 3/28/19 & 2815.44= gain .61%; Long 2798.36 & 3/25/19.
Monitoring purposes GOLD: Long GDX on 1/29/19 at 21.96.
Long Term Trend SPX monitor purposes; Sold long SPX on 5/6/19 at 2932.61= gain 5.96%: Long SPX on 10-19-18 at 2767.78
Today's volume was a high volume day and most high volume days are tested at some point. The two-day VIX "rate of change" reached 50% today, suggesting a bounce is possible in the short term. If the market does bounce, the likely upside target would be today's and or yesterday's down gaps. If market the does bounce and gaps are tested on light volume, that would imply resistance, and the market may reverse and test the gap near 2830 or even test the 2800 level. Sell setup could form near today's or yesterday's gap. Market may be starting a trading range that could last into October. Neutral for now.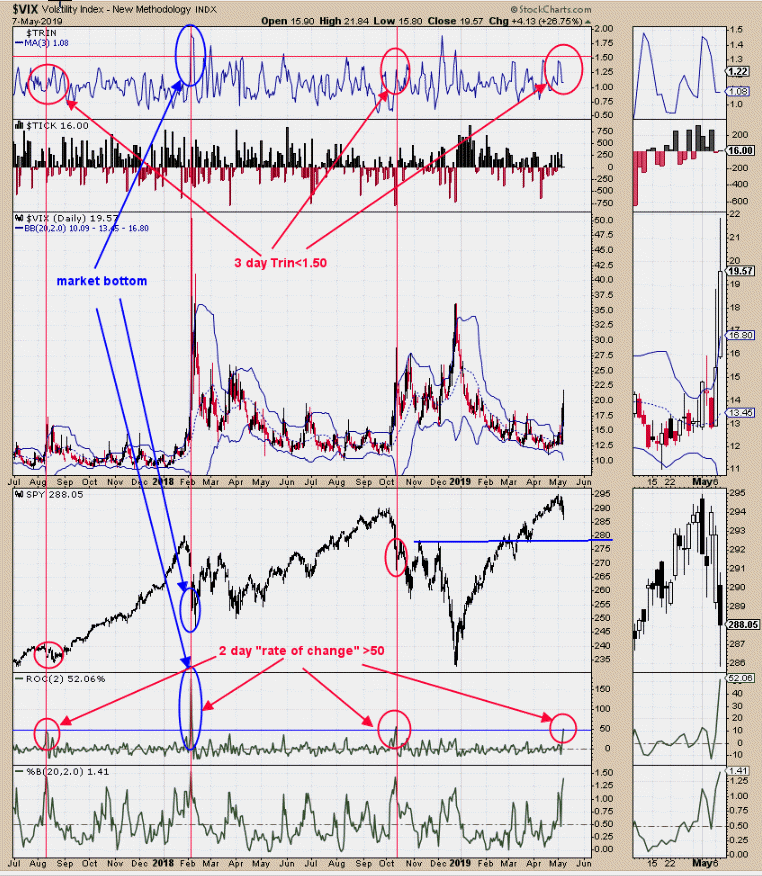 The Tick closed at +16 and TRIN at 1.22; not the type of readings associated with lasting bottoms. The top window is the 3-day average of the TRIN and readings above 1.50 normally appear near short-term lows; today's close was 1.08. The second window up from the bottom is the VIX two-day rate of change. Readings above 50% are a bullish sign and today's reading came in at 52.06%. We have marked in red over the last couple of years when the 2 day VIX reached above 50% and the last two did bounce; however the "3 day TRIN" did not reach bullish levels and, shortly after a bounce, new lows where seen. The time marked in blue shows the "3 day trin" >1.50 and "2 day VIX ROC" did reach >.50% and a worthwhile bottom formed. SPX could bounce here, but the final low is probably not in. A possible target is the 2800 range, which is the November-December 2018 highs. Things may develop fairly fast as options expiration week (next week) has a bullish bias. Need panic in Tick and TRIN to get a lasting bottom and that has not happened yet. If the market does bounce and light volume is present, a short term sell signal could develop for a target to 2800 range.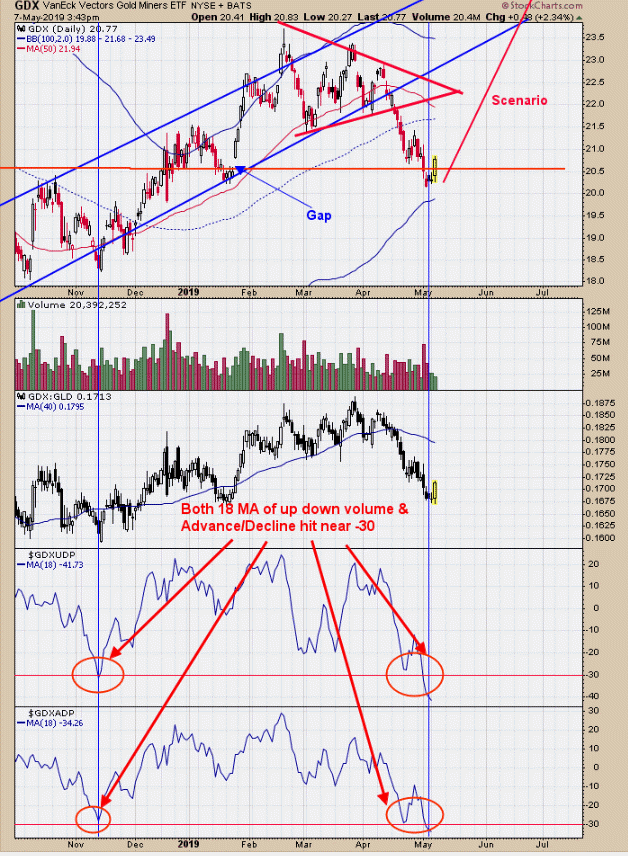 The bottom window is the 18-MA of the Advance/Decline, next window up is the 18 MA of the Up Down Volume and both are at levels where bottoms have formed for GDX. Over the last couple of days, GDX closed the gap of January 25 and tested the 2017 low near 20.50 while the Up Down Volume and Advance/Decline indicators tested their oversold levels, suggesting support is near. Last week marked the fourth week down in a roll, which is rare and bullish. Five weeks down in a roll most likely will not be seen, which is the reason we expect this week to be up. Today's rally is a good start and may continue. Also, GDX had a surge in volume on a down day on May 1, suggesting short-term exhaustion and adding to the bullish scenario. A time cycle low is due now and helps the bullish outlook. A possible upside target is the 2017 highs near 25.00 range. Long GDX on 1/29/19 at 21.97.
Tim Ord,
Editor
www.ord-oracle.com. New Book release "The Secret Science of Price and Volume" by Timothy Ord, buy at www.Amazon.com.