SPX Monitoring purposes; Sold SPX on 8/27/19 at 2869.16= gain .77; long 8/23/19 at 2847.60.
Monitor purposes GOLD: Long GDX on 1/29/19 at 21.96.
Long Term Trend SPX monitor purposes; Sold SPX 7/5/19 & 2990.41= gain 2.63%.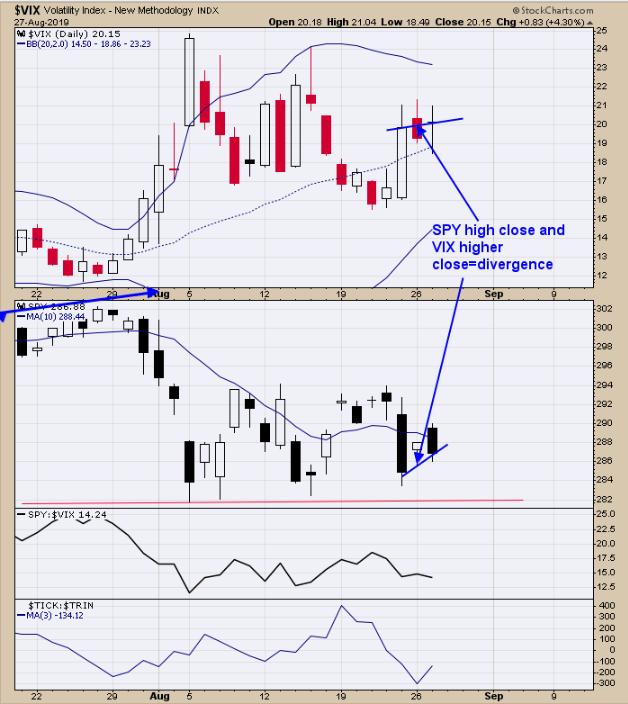 Over the last three days, SPY has made a higher close while VIX has also made a higher close. VIX trades opposite of the SPY; when they trade in the same direction, a divergence is present, and in this case it's a bearish one. VIX closed higher today compared to last Friday's close, even though SPY closed higher compared to last Friday. This condition suggests SPY may go back and test Friday's low and even could go lower. Sold SPX on 8/27/19 at 2869.16= gain .77; long 8/23/19 at 2847.60.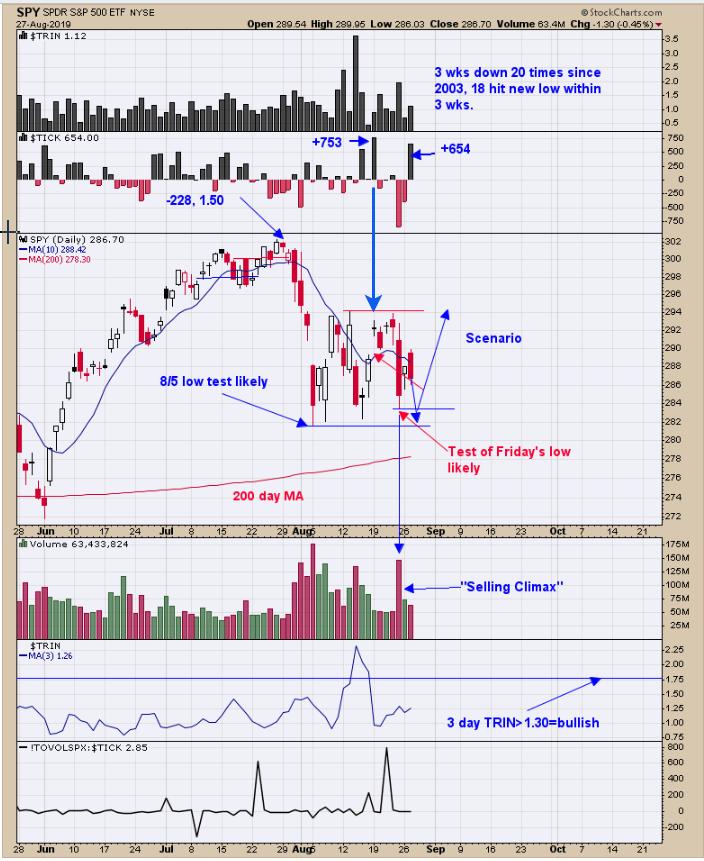 Volume exploded last Friday, producing a "Selling Climax." Most "Selling Climaxes" lows are tested and, therefore, Friday's low (2834.97 SPX; 283.47 SPY) may be tested before market reverses higher. Today's TICK closed at +654; the last time the TICK closed near this level came on 8/19, which was +753 (noted on chart). That was at the high. Also, the week before Labor Day week is usually down, which increases the chance for a test of Friday's low. At some point, we expect the August 5 low to be tested, which is less than 13 SPX points lower than Friday's low; both tests could happen this week.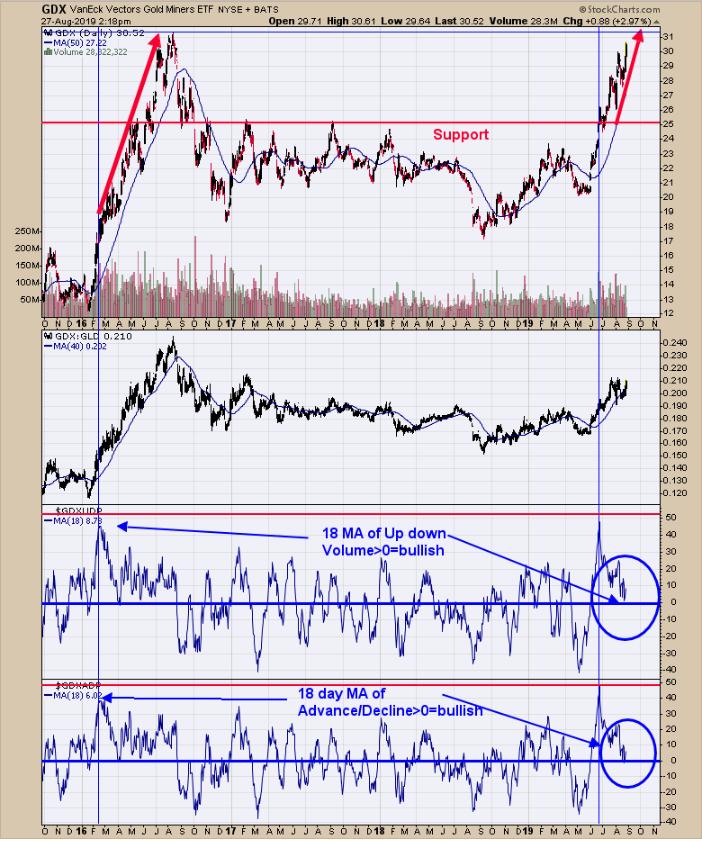 The 18-day moving averages of the Up Down Volume (second window up from bottom) and 18-day moving average of the Advance/Decline (bottom window) are still above "0" and both closed higher than yesterday's readings. Yesterday, we said "any short term weakness in GDX could push both indicators below "0" and would suggest GDX is heading to a larger consolidation period." Both indicators got stronger just when they needed to. Both indicators remain above "0" and are bullish for now. GDX is heading towards the 2016 high (near 31.00) and we will see what happens there. The longer-term trend remains up, while the intermediate-term trend remains up for now. Long GDX on 1/29/19 at 21.97.
Tim Ord,
Editor
www.ord-oracle.com. New Book release "The Secret Science of Price and Volume" by Timothy Ord, buy at www.Amazon.com.